By Melissa Viera

Whether summertime brings thoughts of sticky snow cones and splashing in the pool or family vacations and getaways, these short months with long days give life to new memories.
Summer months are a timer for New England kids to make memories while taking a well–deserved break from school. Those seemingly small things that turn into lasting memories might include working through the summer reading list, laughing with friends while waiting in a long line under the chocolate and vanilla twist sign at the ice cream stand and wearing flip flops instead of snow boots for a change.
For professional pet groomer Jessica Watt, one summer stands out.
"When I was eleven years old, we had a new neighbor move in next door who owned a grooming shop, Groom n' Style," says the now twenty–seven–year–old groomer, Jessica Watt.
Watt's mother did not want her to spend her summer around the house, so eleven–year–old Watt soon found herself helping out new neighbor Dawn Quaglia at Groom n' Style.
"I was so ecstatic to start my first job, and with animals no less, I couldn't have gotten luckier," says Watt.
Watt was already comfortable around animals, growing up on a small farm in Rehoboth, MA.
"We had just about every animal; from peacocks, turkeys, and chickens to our pet bull, always at least ten cats, and always dogs. I couldn't help but be obsessed with animals right from the start."
It wasn't long until she picked up on the routine at Groom n' Style and became the bather. With the help of her first grooming teacher, Watt would soon learn to complete pre–work along with bathing, and eventually she was completing full grooms.
"When my boss first started teaching me to groom, I was absolutely ecstatic!"
Even as the summers came to an end, Watt continued to work Saturdays at Groom n' Style until the age of twenty–one.
Learning to groom, Watt became confident due to the guidance and patience of her boss and teacher, and by taking things slow.
"Heads and faces were pretty daunting at first, but she was very patient, and once it clicked for me, I felt a lot of confidence."
In high school, Watt studied mechanics at Bristol County Agricultural High School in Dighton, MA. After graduating, she continued grooming, working at Petco and then becoming the salon manager.
Looking back, Watt remembers what the learning process was like for her when she first began grooming, which she was able to conquer with the help of her patient teacher.
"I doubted myself a lot, but once I got it, I never looked back," says Watt.
"We also had a significant amount of difficult dogs to groom, so at times that was hard but it also has made me the groomer I am today."
Her grooming career has brought with it new friends, new opportunities, lessons learned—along with her own two very special dogs.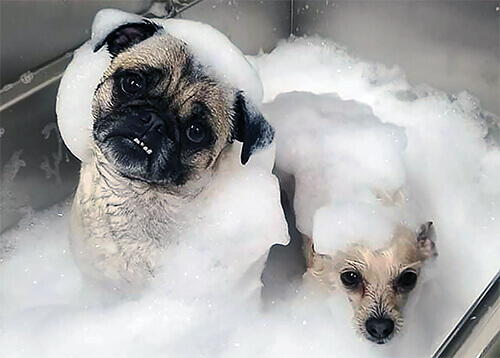 "My dogs that I have now are a pug named Hazelnut and a chihuahua mix named Sully, who are my whole world," Watt shares.
Hazelnut or "Hazel" came in one day for a nail trim and that is when Watt learned that the current owner did not want to keep the pug. At the young age of one, Hazel had many health issues and would have to undergo major surgery, but Watt was committed to helping and caring for her new dog.
"Because of her, I feel as if I have so much more patience and understanding for dogs than I have ever had. She has taught me so much and I'm so thankful for her."
Sully, the chihuahua mix, was also in need of a new home.
"Sully's family was bringing him to the shelter and someone who knew them told them about me," Watt explains.
Sully became Watt's foster dog which soon turned into an adoption.
"I'm so lucky for both of them. They love being shop dogs!"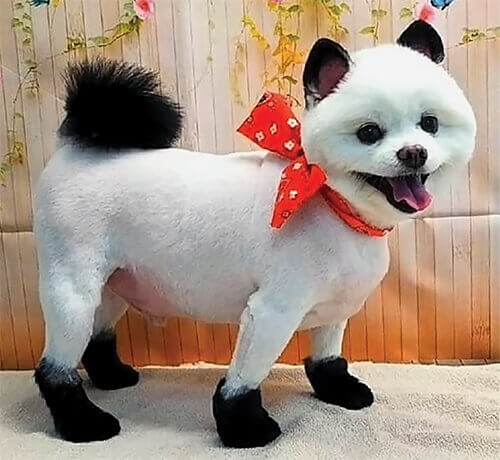 From the very short nails to the detailed styles, Watt's clients appreciate her caring work and her passion for grooming.
"I have always been told that I am a passionate person about whatever it is I do."
Watt explains what it is like to reach a point when grooming is not just about getting dogs done or making a living, but it is truly about loving the work with each individual animal; emphasizing the importance of groomers having to love what they do.
Bichons are one of Watt's most popular breeds when it comes to her clientele, and she loves any dogs that require hand scissoring and a big round head. Difficult dogs are another area of expertise for Watt; the ones that are fearful and do not have a whole lot of trust.
"In my opinion, there is no greater feeling than getting one of those dogs and finally having that moment of clarity for the dog," she says.
While her clients appreciate her work, they also appreciate her naturally caring attitude towards their pets.
"My clients have also frequently told me they like that I treat their babies the way I treat my own. And I strive to do that with every single dog."
Being a manager, Watt has figured out which qualities to look for in new groomers coming into the salon in order to increase the likelihood that they will be successful. There is one thing that she believes every groomer should have, and that is drive.
"You need drive and you need heart for this job. You will deal with dogs, pet parents and coworkers that will make you want to leave and never turn back. You have to be able to push through your emotions sometimes and never give up. Realize why you are in this profession. It's for the dogs. You make a difference, and if you let every little bump in the road affect you, this is not the job for you. You will have trying days where no dog will cooperate; no pet parent will listen to your advice. You will see a lot of cases of neglect, but you keep on going for the dogs."
All groomers know what it is like to work hard and face potential burnout. Watt has learned that it is important to recognize it and not to let it sneak up; taking time off when it is needed. Whether working with a difficult dog, having a client that is less than polite or having a bad day with coworkers, there are always challenges that will arise, but there are the many rewards, too.
Along with grooming, Watt has developed many skills and has many achievements working with pets, like becoming a manager and mentor at Petco and becoming a dog trainer and working for TADSAW, a program that trains service dogs for veterans. Watt made the move to work for a small family business, Wicked Clean Dog, which is where she currently grooms.
"Leaving corporate grooming for a smaller family business is a move I'm so proud of and couldn't be happier that I made," she says.
In her free time, Watt enjoys hiking with her dogs and she plans to combine her passions in the future by owning a dog daycare which provides hiking with dogs.
Watt continues to grow as a groomer, and she shares everything she knows with her clients in order to provide them with valuable education for providing the best to their pets.
"My mission as a groomer is to grow every day, learn every day. Teach pet parents literally everything I know, and to always put the dogs' needs first and foremost."
Watt continues to let her passion lead as she works hard and provides individual care for the pets that she works with. She understands the importance of not letting hard days define her career and if another groomer asks her advice, she would tell them the same thing.
"Unfortunately, we will not have an easy day every day. It's impossible, but, those moments, when it gets tough, they make us stronger groomers and stronger people all around." ✂️