By Dawn Omboy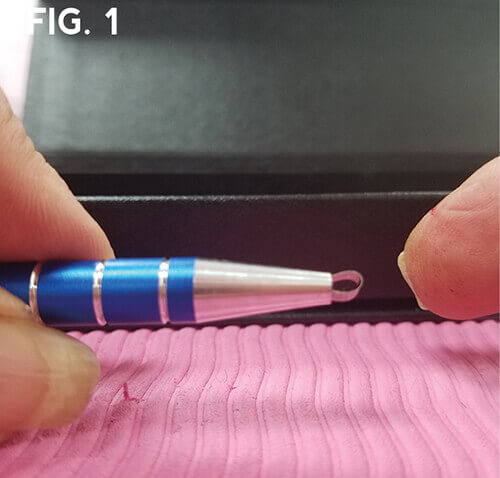 Razor Pens are the newest creative carving tool hitting the grooming scene. Like many tools in our industry, they are a cross over from the beauty industry. The small pen–shaped tool holds a very thin, very sharp razor blade that is folded and inserted into the shaft of the pen that holds it (Fig 1). The pen can then be—and I want to add, very carefully—used to carve out almost any design onto a flat coat.
Just look at the design put on the Schnauzer by Creative Artist Lori Craig (Fig 2). Being a very creative person, Lori freehanded the pattern onto a short clipped coat.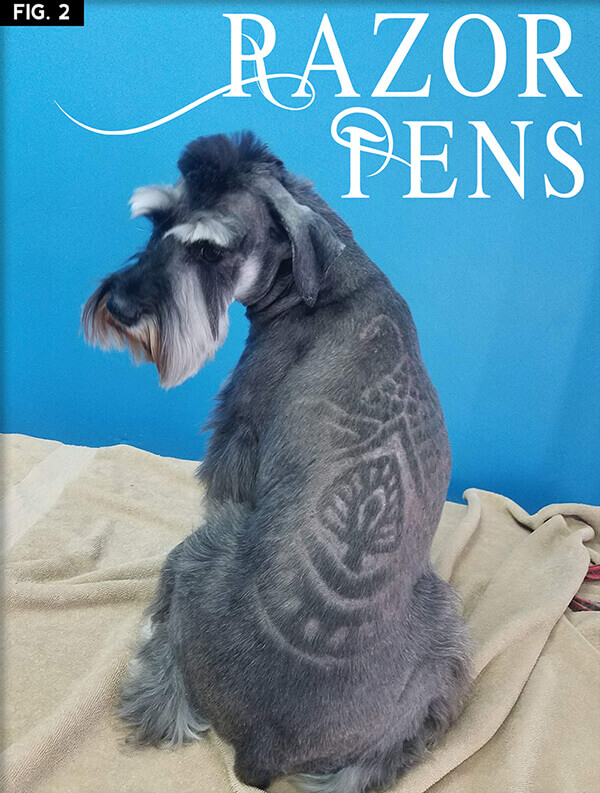 You can however use a stencil by placing it on the dog in the desired location and apply some ink with a blow pen or airbrush to mark your desired design onto the dog. You will then be able to remove the stencil and your pattern will be able to be followed with your razor pen. Start by holding the skin tight like you would when hand stripping, keep the blade flat on the coat—not at an angle. This is important since you are working with a razor blade and you don't want to cut the dog's skin. Using small strokes you will be able to cut the hair away following the lines of your pattern. This will allow you to be able to make some pretty unique designs. The razors come with 10 extra blades to keep you going for quite a long time. ✂
Making the World more Colorful, one dog at a time… Queen of Color.
Go to www.queenofcolor.com or visit me on Facebook.