By Kathy Hosler

Everyone faces challenges and difficulties in their life. Some are stressful or annoying, while others are life changing.
How you react to them determines whether the situation breaks you or makes you stronger.
When faced with difficulties, so many people spend their time and energy on anger or blaming others for the obstacles in their life—while others, like Staci Adam, simply fight onward. Hers is an unbelievable story of courage and overcoming impossible situations….
Staci Adam began her journey into the grooming industry when she went to work for Tropiclean in 1995. She and her husband, Matt, both worked for them until the end of 2008. That's when they purchased the Cosmos Bathing System division from its parent company, Tropiclean. Introduced in 1985, Cosmos was the first bathing system in the grooming industry. They rent and sell the systems to groomers all over the United States.
Matt and Staci enthusiastically embraced the role of business owners. "But, in the beginning, it was a real challenge." says Staci. "We knew all about the Cosmos system, shampoos, and groomers—but we knew nothing about being business owners."
They each had their own talents to contribute to the partnership. Matt did most of the contact work with manufacturers and parts suppliers, and Staci kept the office running. They both loved going to trade shows and to the different grooming salons to install their bathing systems. Their business steadily increased, and life was good. Then everything came to a screeching halt.
In March of 2014, 43–year–old Matt was killed in a tragic motorcycle accident. A shattered Staci was left to operate the business on her own.
"Trying to run Cosmos by myself was (at first) overwhelming," recalls Staci. "Since Matt died unexpectedly, some of it involved trying to figure out what he had in place. He handled the everyday operations, and I paid the bills, but I didn't know how he went about ordering, and what agreements he had with different businesses and suppliers.
"A lot of what Matt did was by verbal agreements. It worked great for him, but it didn't help me to know what to do." Then she quickly adds, "That won't happen anymore. I write everything down now."
Unfortunately, a couple of companies that they did business with tried to take advantage of Staci and her inexperience in running a business. They tried to charge her substantially more for some parts she needed for the shampoo system, and wanted her to place very large orders.
"I had to learn to think like a businesswoman," says Staci firmly. "Since I was familiar with the financial end, I told them that I knew those weren't the agreements that Matt had made with them in the past."
Staci stuck to her guns and eventually was able to work out a favorable agreement with the supplier.
"It was a real challenge for me to take care of my customers, handle the financial aspects of the business, and keep my inventory fully stocked," says Staci. "My father–in–law helped immensely by doing system installations. And the rest of my family did as much as they could, especially my son, Matthew."
Staci wasn't about to let her customers down, and was determined to keep the dream that she and Matt had alive. Things were starting to look bright when, once again, the unthinkable happened.
"My 23–year–old son, Matthew, was in a devastating skateboarding accident in August of 2016," Staci says. "He had multiple serious injuries, including a severe traumatic brain injury (TBI), he broke both of his femurs, and required multiple surgeries."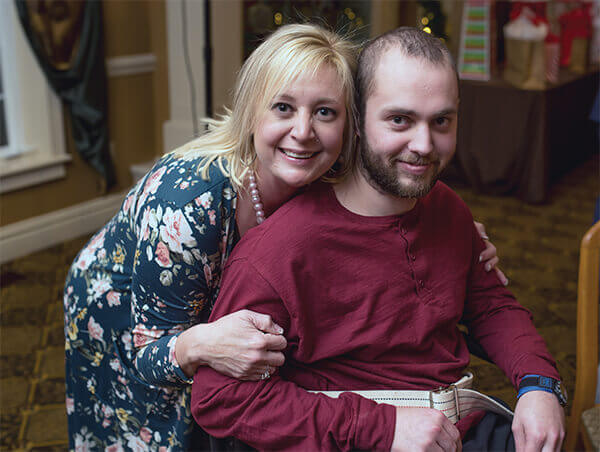 Matthew was unconscious for six months. After he started to wake up, it was another month before he began to speak. Trying to be there for him and also keep the business running was pretty tough. But now, he is recovering and re–learning to do things. It's a very slow process, but he is making progress."
Where does Staci get the strength to run her business and also be a full–time caregiver for her son? "From the Lord," she says emphatically. "When I was at my lowest, He was there to keep me going. And my family and friends support me in every way they can. Knowing that they are there really helps."
Matthew was in a nursing facility until the beginning of 2018, when he had improved to the point where he could move home with his mom.
"My son is now at a more stable point," says Staci with a warm smile. "He's still in a wheel chair, but his prognosis is good. I can take him to the shows with me, and he is with me in the booth wearing his headset or on his computer. Recently, I have started taking him with me while I am doing service work and local installations."
After everything Staci has endured, she remains upbeat, caring and courageous. And through it all, her focus has always been geared toward helping others.
"As my son continues to improve, I am able to devote more time to the company," Staci says. "One of my goals is to make life easier and better for the groomers. I want to help their businesses run smoother and their profits to climb."
Staci has faced a lifetime worth of tragedy and problems in the last four years. But, her faith, family and inner strength have helped her through each challenge and allowed her to forge ahead with her plans for the future.
For Staci Adam, quitting is never an option—in business or in life. No matter what!