Photos by Animal Photography
We've all heard the saying, "not all heroes wear capes." Well, the same holds true in other aspects of heroism. However, in this case, the saying would be followed up with, "sometimes heroes wear grooming smocks." 
Often there are hidden heroes who come to the aid of people within a professional community; heroes, because even the smallest act of kindness and contribution go a long way to help another who, for one reason or another, finds themselves struggling. Our wonderful grooming community is filled with everyday hidden heroes just like that, and at Barkleigh's PetQuest grooming show this past June, while some didn't even realize these heroes were at work, the community came together to help another groomer in need.
With the assistance of silent heroes like judge Susan Sholar and fellow competition groomer Blake Hernandez, they rallied companies like Diamondg and Foxy Roxy Supply Company to supply a groomer in need with nail grinders, scissors, brushes and combs so that she could fulfill her dream to compete in the U.S.
You may be asking yourself, why this is so significant? Who is this groomer?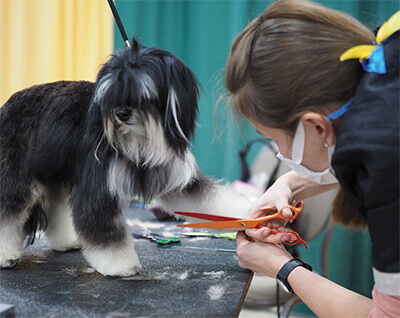 Anya Kravchuk is a Ukrainian pet groomer from the capitol city of Kyiv where she has worked for the last 12 years. She is certified with the European Grooming Association and has competed in several EGA grooming competitions. In 2015, she opened her own salon in Kyiv called "Grooming Territory" where she was also an instructor, running a small pet grooming academy in the same location. However, in March of this year, she sadly had to leave everything behind—her family, her tools, her livelihood—so she could flee the country with her five-year-old son to take refuge with a friend here in the United States after the war in Ukraine broke out.
Anya sat down with me at PetQuest so that I could share her story…
Jonathan: Hello Anya, thank you for doing this interview during such an obviously stressful time in your life. Please tell me a little bit about you and your family.
Anya: On the 23rd of February I had surgery on my face, but it was not difficult, so afterwards they let me stay at home. The hospital was close to my parents' apartment, so I stayed there with my five-year-old son. In the morning, around 5AM, I suddenly woke up because of the sound of explosions of anti-air missiles. That day we tried to buy food and gas, fast, but every store or petrol station was filled by crowds in panic. Finally we got some and drove a full day by opposite lane to the west of the country. Tanks were everywhere and war planes flew over our heads. We were scared because of the panic all around.
My husband, Sergey, has military duty and has to fight in the army when it's his turn, so he can't leave the country. My mother, Valentina, and father, Mikhail, also live in Kyiv and they were rejected evacuation abroad. Our three Yorkshire Terriers, Lola, Niki and Zhuzha, and my mother's five Canadian Sphynxes live together in my mother's house now. I came to the U.S. with my five-year-old son, his name is Yan. There is a rule that no men can leave the country during the war in Ukraine now, so we escaped only with my son.
Jonathan: I can't even imagine how that would feel. Thankfully you made it out safely. What was the pet grooming industry like in Ukraine before Russia invaded the country?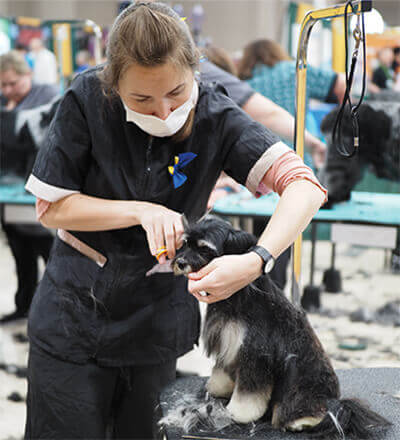 Anya: We had calm and quiet routine work in the grooming industry. Usually owners of pets came to get a new haircut not more than once every two months. Baths for the small dogs they usually do by themselves, but medium and big ones they bring to the salon. About 75% of our clients have dogs of little breeds, like Maltese, Shi-Tzu, Pomeranian, Spitz or Yorkshire terriers. We groom a lot of cats, too. I was surprised to see so many doodles in the U.S. In Ukraine it is not a popular breed at all. We have maybe a couple of them, but still medium size. Especially in the capital, people live in apartments, not in houses, that is why they prefer small or medium breeds of dogs.
Our groomers can groom five or six dogs a day. They also bathe these dogs by themselves; usually we don't use the help of groomer assistants. Nowadays, grooming is becoming a popular profession. Our academy had lots of students who wanted to open their own salons. Almost half of them were from other countries because education in Ukraine is much cheaper.
Jonathan: Have you spoken to any of your groomer friends in Ukraine? How are groomers dealing with what is happening in the country and what about the dogs there?
Anya: Many groomers escaped abroad and joined European salons. The experience and strong skills make it easy to compare with nearby countries like Poland, Turkey, Slovakia and Germany. There is not a problem finding work now. Some of my friends already returned because they missed their families and homes, but most continue to work in Europe. They are also proud to show their groom work. They are happy to get abroad experience and compare all they knew before.
In Ukraine, in our industry, for the first two months after the attack nobody worked. Nobody needs our services because they do not know what they will eat tomorrow. But we've had the war already for five months now and owners need to take care of the dogs somehow. They are not looking for expensive services, but groomers are starting to work again anyhow.
Jonathan:I know that making the decision to leave Ukraine with your son was a very painful decision, but a necessary one for your and your son's safety. Where are you staying in the U.S. and how has the adjustment been for you both?
Anya: We live in Bowling Green, Kentucky. My son started to visit a daycare center for kids from underprivileged families or who were hit by tornadoes. Yan likes the place, he learns English by talking with the kids, and he even has friends who hug him when he goes home. I admire the endurance, support and help of the teachers, as well as the head of the family enrichment center. Of course, my son misses his old friends, who, by the way, have scattered all over the planet in search of safety. Yan cries, wants to see his father, grandparents, his pets, but I'm afraid to return yet. We live now with an American family whom we met in Bowling Green.
Jonathan: I'm so happy you found a safe place. And since arriving in the U.S., you've competed in your first grooming competition in the United States at PetQuest in Ohio recently. I'm sure this was a nice distraction from the stress. How was that experience for you?
Anya: I have long dreamed of such a competition; an international competition with very strong competitors. But going somewhere meant giving up control of the salon, canceling my lessons at the grooming school, and leaving behind a lot of routine homework and a child. For me, it was almost impossible.
When I met Mrs. Lori Young, the owner of a grooming salon in Bowling Green, I found out that in just one month, one of these competitions would be held in another state not far from me. Of course, I didn't plan to participate then. It was hard for me to imagine with whom I would leave my son, organize the trip to Ohio, and find grooming tools. After all, I left my home, all my grooming tools remained at work, and no one knew that such grief would happen and life would never be the same. But Mrs. Lori and Mrs. Susan helped me solve a lot of problems. Special thanks for judging and searching for grooming tools, Mrs. Susan. I want to note that I liked the quality of the scissors and the work of the diamond grinder, which were kindly presented to me. I am incredibly happy with the grooming equipment.
Jonathan: Our special grooming community certainly is remarkable. I know the future is uncertain, but what else would you like to do in the grooming industry while you're here in the U.S.?
Anya: I can't plan anything for a long period as I really want to go home, and I pray that the war ends soon. The fact that I am alone without relatives ties my hands, at least in terms of leaving my son and going to conquer other competitions in other states.
I am used to solving life's difficulties on my own and I am ashamed to often ask for help. I noticed that I began to cry a lot when they offer me help and give gifts. I understand that I don't know how to accept something just like that. I got used to achieving it with my own labor or pay from my own pocket. Now I try to analyze a lot of different situations, look for logical chains, think about other realities of life and learn to live differently.
On my way to America, there were many people who betrayed, deceived and lied, but there were also many good things. From everything you need to learn a lesson, and God will judge or reward my offenders or helpers for me.
Jonathan: Thank you for sharing your story with me. I think I can speak on behalf of the grooming community here and say we are so happy that you and your son made it out okay, and we wish you and your family continued safety. ✂️