By Kelsey Ann Sexton

I've been pet grooming professionally for 14 years and I have decided to become a Nationally Certified Master Groomer.
It all began for me when I had a little Bichon/poodle mix in 2004. I know what you're thinking…I'm one of those "doodleheads." He was so fluffy and so cute…and entirely matted nose to tail because I brushed him with a banana.
When he was eight months old, I took him to the groomer—the cheapest one I could find, too. I walked in and said I wanted to keep his hair fluffy. I was the delusional client. I get him back and he's shaved everywhere. So I promised my dog we would never endure that again and I would learn to groom myself. I went to work for a corporate salon with zero experience. Thinking "Oh this will be easy…"
Fast forward through the gritty details….
I learned how to successfully clipper down a dog, held my shears wrong, but got by. Left corporate and went through a couple of jobs; mom and pop shop, rescue, high–end salon, mobile, vet's office, house–call—you name it, I've probably worked it. I learned from several Master Groomers and seasoned stylists along the way.
I finally got the guts and the legal mumbo jumbo aligned for my very own business. I now have a home–based salon right outside of Nashville, TN. I was working alone and lonely with nobody to bounce my ideas off of, so I joined a few groomer groups on Facebook and that's where I found out about all the trade shows.
The year was 2017, the place was Atlanta Pet Fair. I was finally on my mother planet. So many things! Shopping, competing, classes, groomers, friends! Also, I realized I knew nothing and felt like a fraud.
I became addicted to the shows and attended as many as I could. In March of 2018 I became a member of NDGAA. There are several organizations to choose from but this was the starting point for me.
So how does one actually become a Master Groomer?
First, you attend a workshop. There are several around the US. You can even request to have one in your area if you have a good space and enough people interested. In the workshop you see the four test groups demonstrated by your Master Groomer Certifiers.
The earliest one I found was in Fort Lauderdale. So I signed up and drove to Florida. I watched Pina and Joan groom after we did a mock written test. I realized I had a lot of studying to do. I learned so much, but my ego was bruised. I couldn't believe I had been grooming this long and didn't know these things.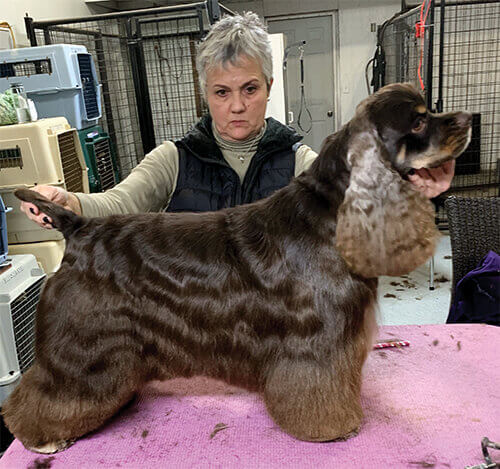 Obsession kicked in. I grabbed the AKC book, networked and found a Cocker Spaniel to groom for certification at APF. Then realized, I can't groom a real Cocker Spaniel.
Luckily, Judy Hudson lives close to me! I was fortunate enough to have one of the most wonderful teachers in my backyard. I would've never had the courage to ask her myself, but as fate had it, we met through a private lesson with a groomer friend.
Do not be afraid to ask! Do not be afraid to network! I would've never had the opportunities I've had thus far without admitting I needed help. Several Master Groomers offer private tutoring, and online there are subscription sites that offer tutorials.
Time had come to start the tests. I failed my Sporting written test by one point. Truth be told, I didn't know what I was studying for. So I had to retake it, but certified with the Cocker Spaniel practical at APF. I took my critique like a champ and moved on to the next test.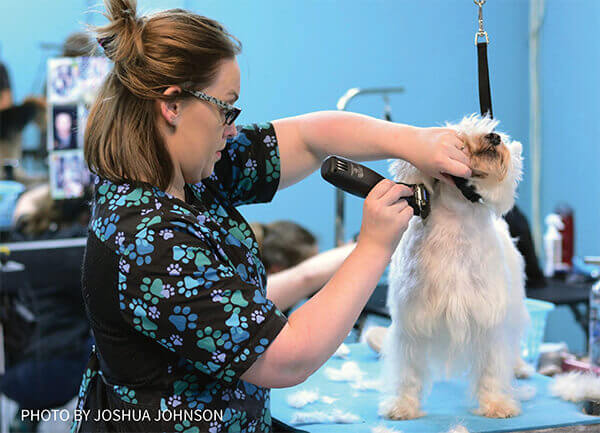 Networking with fellow Nashville groomers, we were able to set up a very successful workshop here. I tested with my Terriers. Passed my written tests with great scores and passed my Short–Legged Terrier practical. I am halfway there!
The three written tests cover various grooming information about the group you're testing on. The practical tests consist of four groups (Sporting, Short–Legged Terrier, Non-Sporting and Long–Legged Terrier). Then, when you have a passing score on those, you can take your written Master's Exam.
Why does this even matter in the pet grooming world?
I used to ask that as well. I can tell you, I have learned so much more about structure and efficiency while grooming because of this journey; the why instead of the how, not just what blade to use. Instead, I now see the dog and can confidently evaluate based off their structure.
Your pet clients will appreciate the special eye you start to develop. Instead of whittling away, you'll be able to confidently grab a shear and ace that round face. Credentials are impressive to your clients. Shameless social media plugs for your achievements will catch their eye and they will value you even more! ✂️