Photos by Abby Jakolski
There is no limit to what a person can do when they are given an opportunity, some encouragement and a little help along the way.
In the Kansas City, Missouri area, like many places all over the country, there is a lot of generational poverty. Children are born into it and that is all they ever know. The cycle continues generation after generation; single-parent families, abuse and neglect, crime, chronic unemployment and substance abuse all fuel this way of life that makes many think anything better is unattainable.
In an effort to help these people change their lives, Natasha Kirsch, founding CEO of "The Grooming Project," now known as "Pawsperity," came up with an innovative idea…
"My mom is a pet groomer in Iowa," Natasha says. "When I was growing up, she would drop me off at school, groom all day, then pick me up after school. She scheduled her dogs around our needs and it worked out well. That's what made me think that a career in pet grooming could be ideal for some of these single parents."
In 2016, The Grooming Project began in Kansas City. One goal of the program is to train single parents a marketable and transferable skilled trade that will pay them a livable wage—and pet grooming is a perfect fit. Most of the applicants to the program are single mothers who have little education and limited skills. As these women go through the state-certified pet grooming school, at no cost to themselves, they receive hands-on and classroom training.
Many of the students have faced trauma, abuse and neglect since birth. That's difficult to overcome, but they get help with it. In addition to the pet grooming curriculum, the instructors at the school are trained in trauma-informed care and are supported by social workers. The trainees often say that they find grooming very therapeutic and the human-animal bond gives them something that they never had.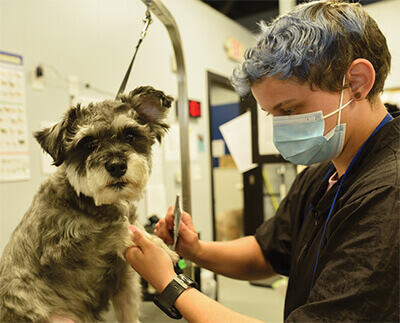 Pawsperity is also a program to help their entire family have a better life. While the students are there to learn to groom pets, they also go through a parenting program. It helps them learn other vital life skills that will enable them to better care for their children and change family dynamics that have been repeated for generations. In addition to parenting, financial literacy is a new concept for most of them. Many have never opened a bank account or know how to set up a budget to run a household. Now they are learning all these things.
The program has been a huge success. Since 2016, Pawsperity has graduated 100 students and has had 100% job placement. On average, their graduates are making about $40,000 within a year after graduation, with the highest earners bringing in $70,000-$90,000 a year. And, 73% of them have come off of welfare in their first year of pet grooming and become self-sufficient.
"One of our graduates owns a successful pet grooming salon, 'Classy Canines,' which employs other graduates from our program," shares Marketing Specialist, Leilani Haywood. "Truly, the art of dog grooming is transforming families."
In the last two years, they have had over 600 applications from people who want to get into Pawsperity.
"Unfortunately, due to space limitations, we can only graduate about twenty students per year," says Natasha. "They learn on dogs from our local community and we charge the pet owner a reduced grooming fee. But, we are booked out about two months in advance and have no room to add any new dogs.
"We are losing earned revenue by not having a larger facility, and there are a whole lot of people we are not able to help," Natasha continues. "And with our limited space, we are not able to meet the demand for trained professional groomers that the community needs."
It was time for a drastic and exciting change. So, they are now introducing "The Empower Pawsperity Campaign." It's about grooming, love and hope—and it's changing the lives of hundreds of families.
"We're changing our name to 'Pawsperity: Pet Care that Unleashes Human Potential,'" says an enthusiastic Natasha. "It reflects the impact of grooming bringing prosperity to families in a historically, economically depressed area of the Kansas City metro. In June 2022, a groundbreaking was held for our new building that has triple the square footage of our existing facility."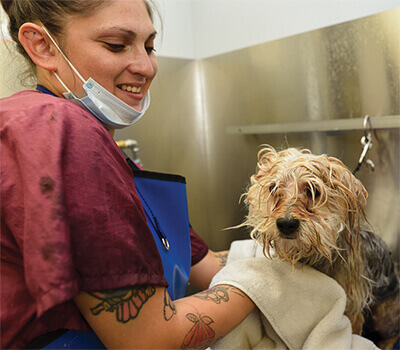 The new two-story, 16,000 sq. ft. facility will contain the pet grooming school, an indoor/outdoor doggie daycare and grooming staff offices on the first floor. It will also feature a new market-rate grooming salon staffed by graduates of the program. On the second level, there will be a training center for soft-skills classes, the staff offices, a break room and a food pantry for students. The training center will be large enough to serve a dual purpose and allow them to hold grooming conferences, and host meetings and guest speakers.
This new building will accommodate up to 80 pet grooming students per year, and there will still be no charge to the students for their training.
"We build our own housing," says Natasha. "There was such a great need. Before, we had students sleeping in the parking lot; some in cars and some just sleeping on the ground. That spurred us to do family housing."
A lot of the trainees' kids were in foster care. Through Pawsperity and their comprehensive parenting classes, many families are being reunited. And because of the parenting and life-skills courses they receive, when the students graduate and have a stable income, they know how to buy a car, get an apartment and live on a budget; things they could never do before.
The new on-site pet grooming salon will be run by the graduates of the school. In addition to honing their grooming skills, these graduates will learn how to run a business; how to hire employees, bookkeeping, customer service skills, etc.
"The new market-rate pet daycare and graduate-run salon will provide much-needed earned revenue for our organization," says Abby Jaskolski, Director of Communications.
"We're really excited about our expansion," Natasha adds. "The doggie daycare is brand new to us. With it, we are going to start a youth workforce training program in pet handling and safety. We've had such a great impact with the moms and the dogs, we're hoping we can connect with some of the teenagers in the same manner. If we can reach them through the doggie daycare training and help them find something positive to do, we can do a lot of good in their lives.
"There is a nationwide need for qualified pet groomers," Natasha continues. "Our hope is that everything we have learned through Pawsperity so far will serve as a model for future national replication."
Pawsperity: Pet Care that Unleashes Human Potential does so much more than train people to groom pets. Pawsperity is eliminating poverty and hopelessness one person, one family, one city at a time.
Visit www.pawsperity.org to learn more about Pawsperity and to follow their progress. ✂️