Photos by Devin Veilleux
"Our animals are a gift to us. My hope is that we'll use their example and follow their lead and try to see each other in the same way. The world will be a better place if we have more of that."
-Liz Hutchinson
Liz Hutchinson's Palmer, MA pet salon, Pawmastè, specializes in nurturing care in the form of dog, cat, rabbit and guinea pig grooming services, as well as pet massage therapy and reiki.
"I always wanted my salon to be a place of well-being for everyone. I chose the name 'Pawmastè' as a play on the Sanskrit word, 'Namastè,' which means, 'I see you and we are one.' That's the vibe I want in the salon," owner and groomer Liz says.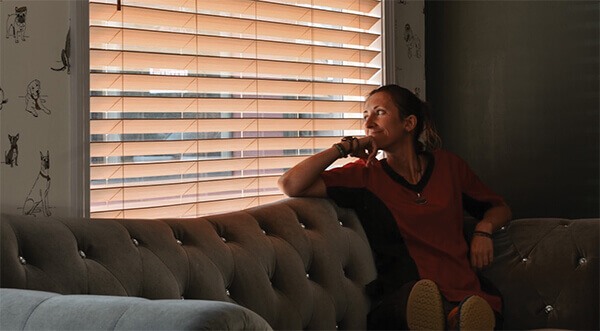 Pawmastè grew out of a salon expansion in the winter of 2022, and it reflects Liz's outlook and calm demeanor. "Originally, I called the shop 'Rufflections' which I opened in 2017. We're in a shopping plaza near Springfield in Palmer, Massachusetts, and were outgrowing our space. When the space next door became available, my landlord asked if I was interested. I said, 'Yes!' This doubled our space, and I added what I call a 'wellness room' for reiki and massage therapy."
During the course of the buildout, Liz thought about how she'd bring her passion for self-care to the forefront. "I thought about who I wanted to be as a person and business owner. How did I want to show up in the world? I realized I wanted more love and connection with each other and our clients. I wanted to give the salon a higher purpose of being an engine of love, which I think there is not enough of in the world," Liz shares.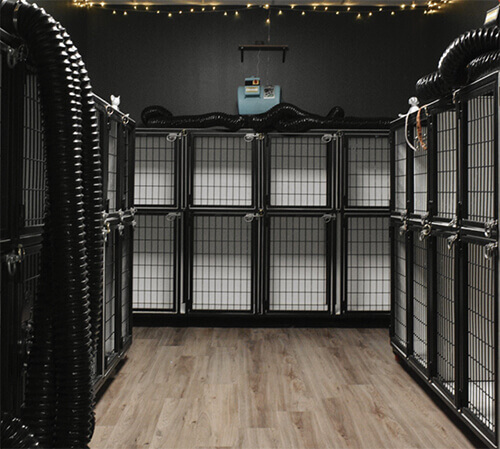 One of Liz's specialties is emotionally needy dogs (e.g., fearful, anxious, traumatized, aggressive), so she made sure Pawmastè offers a calm oasis. "I like to make people and animals feel safe. My favorite dogs are ones that require a little more patience," she continues. "I like to build relationships with them and help them feel safe while providing them with an important service. I like to earn that trust, and I love making clients feel their dogs are safe with me."
She says she goes slow with these dogs and lets them set the pace. "If I have a client call and express concerns about their dog's anxieties and/or behavioral issues, I usually have them come by for an initial greeting where we just meet each other without the pressure of a full groom. We get a feel for each other's energy, and the dog gets to walk out the door on a positive note.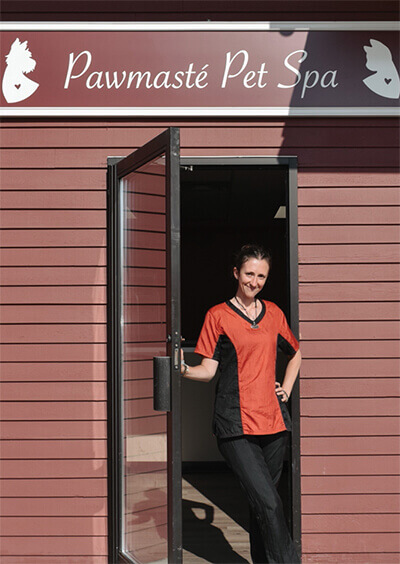 "We might have a few more of these visits involving small things, like nail trims or brush-outs, before we decide to proceed with a full bath/haircut. It's all up to the dog. We go slow. And I never put looks before comfort. I recently sent a dog home with an ungroomed head because he just wasn't having it," continues Liz, "and I wasn't going to push him or myself. Maybe we'll get it done next time. My top priority is always to keep stress to a minimum and build/maintain trust, and most owners are very understanding."
Liz expresses that she treats herself and her staff the same way. "My goal is to be a source of love and connection. It's very important to me that everyone under my roof feels that love. I think a lot of groomers forget to love themselves. And that's where it all starts. I think it's one of the most important things to focus on as a team leader. I'm constantly reminding myself and my staff to slow down. I believe that groomers are natural caretakers, and we often say 'yes' to too much and forget about our own needs."
In addition, Liz says she aims for shorter days and shorter schedules for her staff. "I try to pay them enough, so that's possible. Self-care is an area in my life that's slowly turned into a passion, so it feels right that it should overflow into my business. Lately, it feels to me like there just aren't enough groomers to care for all the pets out there, and part of me wonders if that's because [grooming] has a reputation for being a stressful and hectic career. I'd really like to change that!"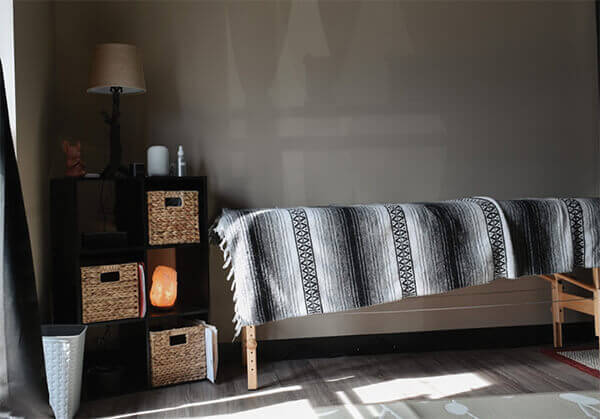 Kimberly Veilleux is Pawmastè's cat, rabbit and Guinea pig groomer, and has this to share on cats: "Cat grooming starts with listening to the cats. You have to greet them, acknowledge them, and give them a moment to take in the environment. Cats don't respond to negativity; they want calm and commiseration."
Kimberly looks for stress signs like growling, dilated eyes, drooling and a racing heart, and often takes breaks when the cats need them before they get to "the point of no return."
Kimberly also says that grooming cats requires special handling techniques. "I speak gently, sing softly, and try to work as efficiently as possible. If necessary, I do use an air muzzle for their safety and mine, but I take it off as much as possible."
One thing that helps calm the kitties is separating them from the dogs. "The cat room is the only 'no dogs allowed' space, so there's no dog scent. I use pheromones and a Hypochlorous acid disinfectant between each cat as it removes odors and disinfects without perfume. I also have towels that are cat-only and washed separately. Plus, the walls muffle sounds." Kimberly says.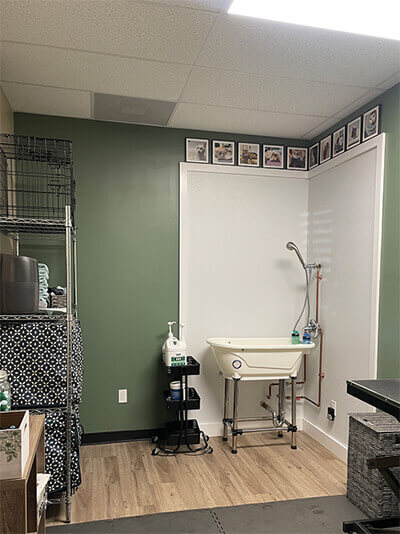 Liz added, "Kim loves to share videos of her cats having baths on our Facebook page! They usually melt right into it after a visit or two. Initially, if they aren't used to the grooming process, they might be a little unsure, but once they start seeing Kim regularly, they get pretty comfy with her in our safe and quiet cat room. Even if they don't totally love it (Let's face it, those cats exist!), Kim is really patient and helps them through the process so lovingly."
On a final note, Liz has this to share: "Our animals are a gift to us. My hope is that we'll use their example and follow their lead and try to see each other in the same way. The world will be a better place if we have more of that." ✂️