By Melissa Viera

Grooming professionally wasn't always what the now 28–year–old, Nadia Bongelli had in mind. But since her grooming career began nearly seven years ago, she has become completely immersed in grooming, competing, and dog shows. Bongelli is the sole proprietor of The Purple Dog Groomer, out of Toronto, Ontario, Canada.
"Before I was grooming, I was attending York University in Toronto," says Bongelli. Although she enjoyed her studies, Bongelli could not clearly see a future goal for herself that would make all of her hard work feel purposeful, leading to feeling unhappy as a student.
 "I was enjoying my schoolwork, but I couldn't see a light at the end of the tunnel. I couldn't see a purpose in my academics beyond a diploma," she explains.
Bongelli's studies included Classical and East Asian studies with a focus on Japanese Language. Along with being a student, she was also working at a pet food store and helping a groomer on weekends. "I was in university and I was unhappy," says Bongelli. "I was helping a groomer on weekends bathing dogs, as I had just gotten my first dog and I had met her through my puppy's regular grooming appointments." Bongelli enjoyed the opportunity to interact with the dogs so much that she made the decision to change directions dramatically in her life.
"I felt so happy in her salon, bathing her dogs, and spending time with her and the pets there. It was scary for me to make the change but I soon dropped out of university and began attending grooming school."
Learning to groom would prove to be a challenge for Bongelli at first. Being a left–handed groomer had challenges all on its own, added to the common challenges faced when learning any new skill well. She experienced a lot of frustration early on; mentioning how the skills and techniques that come naturally to her now were so time–consuming in the beginning. "Oh my goodness, frustration; so much frustration," Bongelli says when talking about what she remembers from the learning period. "I always tell new groomers to stick it out because it definitely gets a lot easier."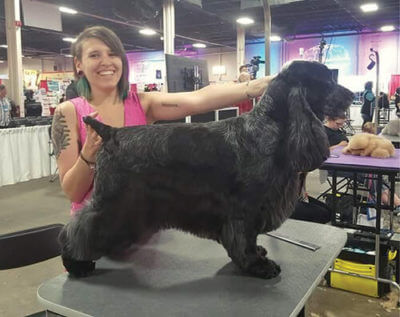 To Bongelli's surprise, many of the tools she was learning to use were not available for left–handed groomers at the time. "Being a lefty is a little frustrating," she says. "Some specialized tools aren't made for left–handed people."
Even finding left–handed scissors was not always easy, not to mention tools like stripping knives. In the last few years Bongelli has been pleased to notice that more manufactures are providing left–handed tools compared to what she remembers being out there when she first started.
Bongelli soon found that there were other left–handed groomers facing similar challenges as herself. "I've been asked a few dozen times about what lefty–friendly tools I use and am always more than happy to share my experience." In order to connect with other groomers and share tools, tips, and ideas, Bongelli started a community Facebook page, "Lefty Groomers."
Helping other groomers is something that Bongelli is motivated by. "It makes me really happy to see people improving and exploring their potential." Along with grooming professionally, Bongelli enjoys competing in grooming competitions. She enjoys sharing her skills and knowledge with others who can benefit. "I feel that competing and educating are my passions and would jump at the opportunity to help others, says Bongelli.
When teaching other groomers, Bongelli has an abundance of tips to inspire them. One piece of advice that groomers just starting out, or any groomer looking to improve their skills can learn from Bongelli, is her suggestion to save photos of their work so they can look back at them after a few months and see how they are progressing.
"In the beginning it is hard and that can be discouraging, and it can be difficult to notice your improvement unless you really take the opportunity to observe yourself over larger periods of time," she explains. "It sounds silly, but I also tell them to write down something new they learned every single day after work. This was something I had to do in grooming school and I really feel that it helped me retain what I had done that day."
Being involved in dog shows also helps Bongelli hone her grooming skills. It was close to four years ago when Bongelli purchased her first show dog, and has since hired a handler to show her dog. In joining her handler at shows and helping out at ringside, Bongelli's interest in showing grew so much that she decided to start handling her own dogs and went on to purchase more dogs that were show quality.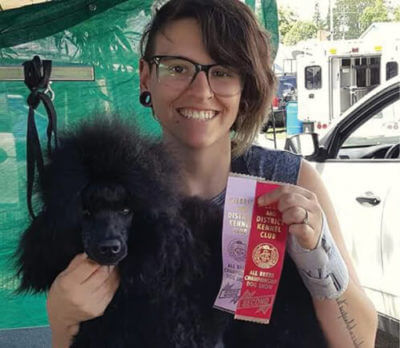 Although she has only been showing her own dogs for a short time, Bongelli enjoys the sport. It allows her to travel with her dogs, getting them out for some fun and bonding. Meeting new people and showcasing her grooming while learning new things make shows the perfect activity for Bongelli. "Just this past weekend I won a best baby puppy in show with my English Cocker puppy. I was over the moon!"
Bongelli is happy doing exactly what she is doing now and will only continue to grow as a groomer and a competitor. She has begun teaching seminars and plans to do more of them along with competing as often as she can and showing her own dogs. She also wants to try other activities and sports with her dogs including obedience, dock diving and agility.
For other left–handed groomers out there, Bongelli can relate to the challenges that arise, especially when starting out. She shares a bit of advice just for them. "Don't use right-handed scissors! Embrace your left-handedness and don't feel silly using exclusively left–handed scissors—they were made for you, and will perform better for you if you learn to use them correctly!" ✂