By Daryl Conner

It has been said that there is nothing new under the sun, but when groomers see stylist Remy Viens with his dog Case, they can be heard to say, "I've never seen anything like that!"
"It began when I saw my friend Patrick Lakosh Marceau creating designs on both people and dogs with a clipper. He is an amazing artist and can cut any design into hair. I wanted to try it on my own dog, but he is hand-stripped so I could not."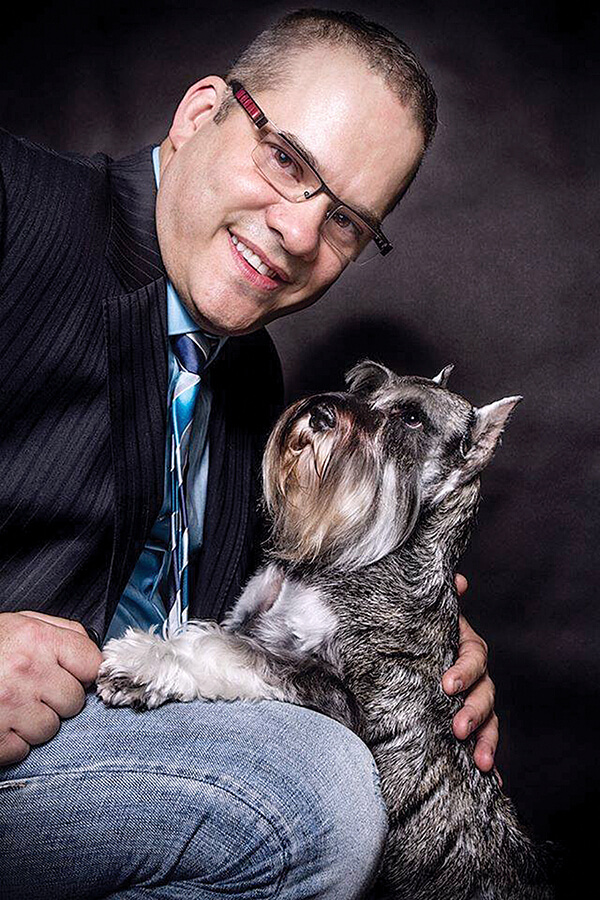 Remy's dog, Case, is a handsome five-year-old retired American and Canadian Champion Miniature Schnauzer. Remy keeps him looking his best by hand-stripping his coat to retain the correct texture, but the idea of having Case sport an intricate pattern kept niggling at him. Then it occurred to him that by using the technique of hand-stripping, he actually could create designs. He could mimic the work his friend was doing with a clipper by pulling his dog's dead coat in specific areas, creating areas of shorter and longer hair to design shapes and patterns.
He created a template on paper and then turned that into a stencil. "I had to measure every part of the dog and then work pulling only three to four hairs at a time from his coat. I could only use my fingers, but if someone were working on a larger dog with a lot of flat area, they could use tools."
Remy knew that no one had ever stripped a creative design into a dog's coat because the process is incredibly time consuming. "Timing is important," he said, "You have to plan it so the coat will look its best when you want to show it. It looks best six to eight weeks after you set the pattern. After that, you have to strip all the rest to make the design reappear. It looks really good in the winter, because the skin is very light since it is not exposed to much sun. There is a big contrast between the design and the skin."
The first time he attempted this, he spent time every day over a two-week span. "Probably 15 to 20 hours all together. It was a big project, but it takes me less time after a while." Remy is a very creative man, and he is forever on the lookout for something new and unique to try. "I am always waiting for Case's coat to grow so I can do something different. I am constantly making corrections and creating new designs."
Remy has been grooming dogs and cats for 30 years. "I worked with my father when I was 12 years old. I groomed for him in the summertime." Remy now owns and operates the well-known Poil Luxe grooming and boarding facility in Quebec City and employs seven other talented, pet-loving people. He often puts on training seminars to bring new information to groomers in his area.
Remy debuted Case and his hand-stripped creative design at Groom Expo 2013. "People really like it; he attracts so much attention." Groomers constantly want to take photos of Case, to touch him, and ask questions about how the design is created. Remy says, "I would like more groomers to do this. It is really fun. Someone who has a real talent in drawing could do a lot, really make art. I think my work is only the beginning; someone with big talent in drawing could really do something incredible. I just play. I have really good ideas, but I have to create hair by hair." To this talented groomer, bringing new ideas and skills to other groomers matters!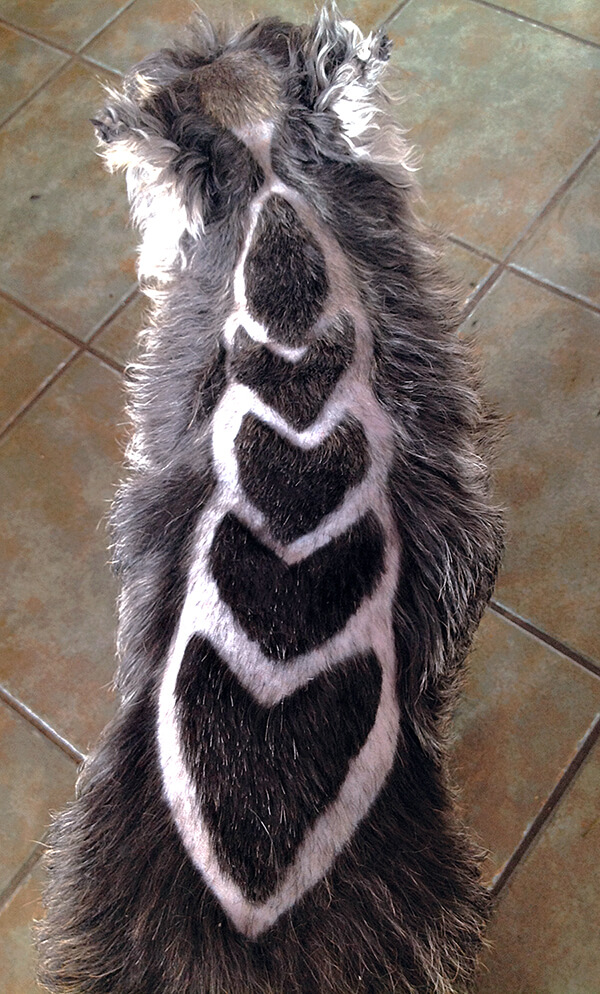 Side bar suggestion: Hand-stripping is a grooming technique that involves pulling (or plucking) the dead outer coat of wire or rough-coated breeds by hand or with a specialized tool instead of cutting the hair with scissors or clippers. This encourages new, crisp coat to grow in. The process maintains proper coat texture and color in the breeds where it is employed.