By Kathy Hosler

Groom Expo is incredible…It's so much more than I expected," exclaims first time attendee, Diane Madden. "I used to be a hairdresser and have gone to many, many hair conventions, but none of them compare with what I have seen at Groom Expo."
Here is Diane's experience….
I knew that Groom Expo was the largest grooming show in the world, and when I got the opportunity to attend, I wanted to see what it was all about. I was a little bit apprehensive. I heard they were expecting over 5,000 attendees and the only person I knew who would be attending was my sister–in–law. I soon found out that my fears were unfounded.
As I entered the registration area, I was warmly welcomed by Mr. Frank Brown, who is known as the resident host and friendliest face at the Expo. What a delightful surprise. I have never been personally welcomed to any show before. Then, when I picked up my name tag at registration, I got a map of the convention center and schedule of events listing the times and locations of all the seminars, contests, etc.
Later, a group of us first–time attendees went on the Newbie Tour that was guided by Debbie Beckwith. The convention center was huge, but Debbie took us through the trade show, navigated the contest area, showed us how to get to the educational seminar classrooms, and so much more. It was really great. I met new friends during the tour that I saw all weekend long and I have stayed in contact with.
I was told that Groom Expo has always been described as the 'learning' show and now I see why. I went to several seminars and the speakers were fabulous! They all shared so much information and they presented it in an easy to understand format.
I attended Joey Villani's (aka, the Dogfather) day–long seminar, Paving the Way to Success. He began his presentation by saying, "Most groomers are really great at grooming, but they don't know much about running a business." Then he jumped right into it with, "If people don't know about you or where you are, they can't become your customers."
Joey gave us many tried and true ways to attract customers by using different forms of advertising. He explained how to brand ourselves, how to become a leader, how to build a great staff, manage money, and so much more. It was incredible how much I learned in that seminar. It made me realize that there is a lot more to grooming than just the grooming itself.
It was like that with every seminar I attended. I went to classes about creating a spa experience, low stress grooming, tricks of the trade, snap–on combs for everyday grooming, and creative grooming. Oh, how I wished I could have cloned myself and attended everything!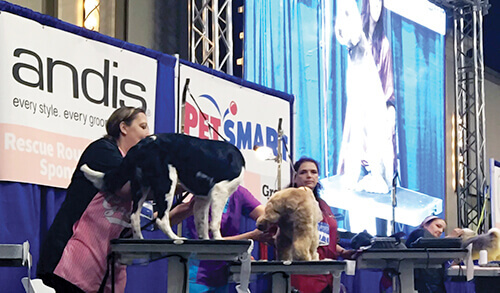 There were a lot of grooming contests throughout the weekend. Groomer TV was broadcasting the competitions on a huge screen at the back of the stage area where they showed close–ups of each contestant as they executed their groom. It was amazing to watch them work on their dogs as they took them from overgrown to show–ring ready. I got to see what products and tools they were using. It was like getting private lessons from some of the most talented stylists in the world.
I was blown away by the immenseness of the Trade Show. There was booth after booth of everything a groomer could ever want, and it seemed like all of them were having show specials. Several of the booths were doing grooming demonstrations. It was great to be able watch the presenters and ask them questions about their grooming techniques and the tools they were using.
The booth people were really friendly and knowledgeable. They answered all of my questions and showed me special features of their products. As I was looking at equipment or other products, groomers would stop and begin talking to me: saying things like, "I've had a Clipper Vac for many years and I wouldn't groom without it." Or, "I use this shampoo all the time and I love it." And, "I always get my new scissors when I'm at the show. I go to all the booths and I can try them on to make sure they fit my hand comfortably and feel balanced. You can't do that when you order from a catalog."
The meal functions at the Expo gave me the opportunity to enjoy marvelous meals and to get acquainted with groomers from all over the world. I met Anne FitzSimon, who traveled all the way from New Zealand to attend Groom Expo. She told me all about grooming in New Zealand and why she and her friends come to this show.

The Barkleigh Honors Awards Banquet was an evening that I will never forget. After a sumptuous meal of surf and turf expertly prepared by the award winning chefs of the Hershey Lodge, the winners of each tournament of the Friday and Saturday Groom Olympics competed for the World Championship Best In Show. The five flawlessly groomed dogs were presented to the judges and the final decision was made. The winner was a magnificent black miniature poodle.
After that was the Abstract Creative Runway competition where beautifully sculpted dogs—and two cats —strutted their stuff on the catwalk as they vied for gorgeous trophies and big prize money. Many of the stylists were dressed in outfits that complimented the designs that they put on their dog or cat. I loved it!
Then it was on to the Barkleigh Honors Awards. It was a time to honor special people and recognize the contributions that they have made to the grooming industry. There were categories for everything from Up & Coming Groomer of the Year, New Product of the Year, Speaker of the Year, and many more. This ceremony and the entire weekend showed me how much these groomers cared for each other and for their industry and its future.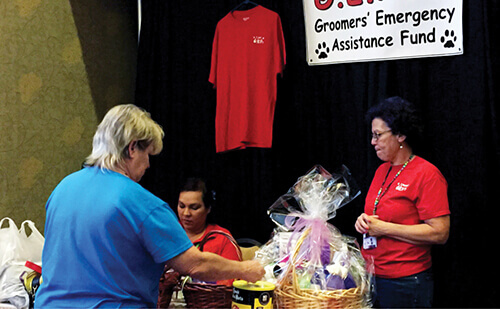 Their heartfelt caring was evident at the Internet Social, the Silent Auction, the Groomers Emergency Assistance Fund (GEAF) booth, and the Trade Show. The groomers and vendors all rolled up their sleeves to donate equipment, products, and money to help other groomers in need—especially those affected by the recent hurricanes.
I saw it again as I watched the Rescue Round–up when stylists groomed homeless pets in an effort to help them find forever homes. It was heartwarming to see the transformations of those pups and the gentle way the stylists handled those that were scared and not used to being groomed.
After the Rescue Roundup came a competition that I had been especially eager to see, the Creative Grooming Competition. I had never seen one in person, but I saw lots of the finished creations on Facebook. I couldn't wait to see what these artists had in store for us.
It was amazing. The stage was filled with vividly colored dogs of all sizes. Each artist was showcased on the big screen as they carved and colored their entry. Watching that competition was a real education in itself. I can't even imagine how much time and talent went into each entry. In my book, every one of them was a winner!
At the end of the show–close auction, I got a chance to talk briefly with Teri DiMarino, the winner of the AKC Leadership Award. She asked me how I liked the show. I said I loved every minute of it and that I learned so much. I then told Teri that the thing that impressed me most about the Expo was the people. Everyone was so friendly, so willing to help, and eager to share their knowledge. I never experienced that at any of the hairdresser shows I attended.
I assured Teri that, although this was the first time I had been to Groom Expo—she could count on seeing me back here every year. Best weekend ever! ✂