By Dawn Omboy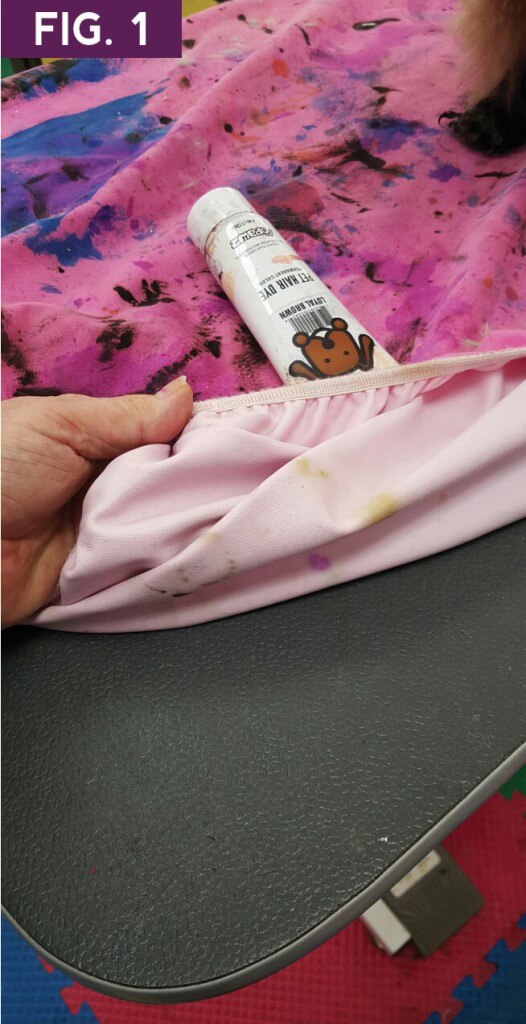 Today we were not too busy at the salon to play with some dogs who are fortunate enough to be temporarily housed at one of my favorite no kill shelters. A volunteer brought these two by to get a bath and a touch of color before they were off to an adoption event.
I decided on simple designs that would get these two noticed and draw more people to the adoption event. One of the dogs is an older bully breed and the other a young and spunky mix with a short coat. On the younger dog I chose to do a colorful design that I hand painted on. And for the bully, I did a simpler paw print design using sponge stamps. I will share both techniques with you as they can easily be repeated in a short time in either a salon setting or a mobile as well.
Fig 1) First begin by covering your grooming table for protection against spilled coloring product. As you can see in the picture, it is waterproof on the back and will keep dyes off your table top.
Fig 2) For the younger mixed breed, I carded out any excess soft undercoat and then used a paintbrush to dab on random spots of one color up the front leg, continuing over the back and down the back leg on the opposite side from where I began.
Fig 3) Then I added a second color to the spots to make it a bit more dramatic.
Fig 4) I then finished it off with black outlines to really make the whole thing pop and to resemble a funky sort of animal print.
Fig 5) On the bully breed, I decided on paw prints just done randomly on his coat. I used different sized foam stamps to create the shape. Simply dip the stamp into the dye and press it onto the smooth coat.
Fig 6) I am showing you on paper because we did it so quickly in the shop that I wasn't able to get good photos. Stamp the coat 3 times, overlapping to create the paw pad.
Fig 7) Then use a smaller foam stamp to create the toes. Let the dye sit on the dogs for about 25 minutes then bath thoroughly.
Fig 8) The results are traffic stopping and will help bring people in to see these beautiful souls who are looking for their furever homes.
Making the World more Colorful, one dog at a time…
Queen of Color