By Kathy Hosler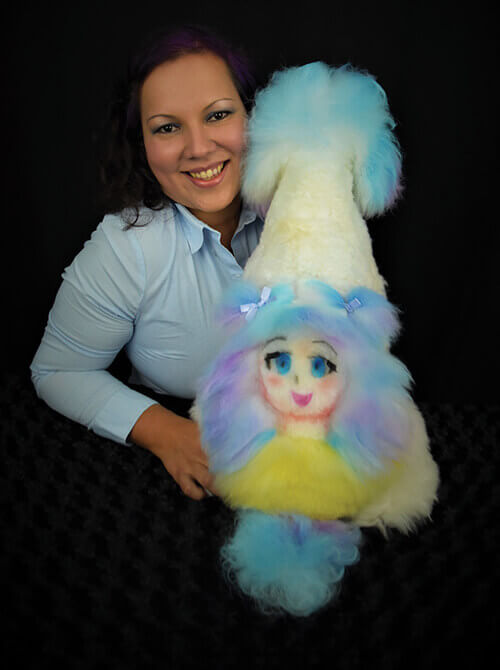 Five years ago, Milena Bermudez of South Amboy, New Jersey, never dreamed that her creative grooming would be featured on the Netflix original series, Orange is the New Black, or that her skills would be showcased in the new Hugh Jackman movie, The Greatest Showman.
In fact, five years ago Milena was not even in the grooming industry. "I never in a million years thought that I would be in the position that I am now," exclaims an enthusiastic Milena. "When you do what you love and what you are passionate about, you attract everything good."
"I believe in PMA—a positive mental attitude. I listen to audio books every day for self–motivation. I'm always in tune that anything you put in your mind, you can do. I always have the attitude that I will never quit."
"I used to work in sales, and my fiancé, Jameson Kon worked for Audible," shares Milena. "We did very well financially, but we reached a point in life where we wanted something new."
"I graduated college as a graphic designer. I'm very artistic with my hands and extremely creative," she continues. "I debated between cake decorating and dog grooming as a new career, and my passion for dogs helped me make the decision."
Milena was born in Colombia and came to the United States when she was thirteen. She always had a great love for dogs. When she was little, Milena would run to and try to pet every dog she would see. She got bitten, and had to have a series of rabies shots two separate times—but that didn't stop her from loving every dog she met.
"I did some research and found out about mobile grooming," says Milena. "Jameson and I went to our first show, Intergroom, in April 2012. Then in July of 2012 we got our first grooming van."
"It was actually a leap of faith," confesses Milena. "We didn't have any customers and I had no professional training in grooming. Up until then, I was just grooming my four Schnauzers. I had learned how to groom them by watching a video I purchased on EBay."
Milena started to watch a lot of videos, take classes, and go to shows. She got a membership in the online course Learnhow2groomdogs.com. While Milena was building her grooming skills, Jameson was concentrating on the business part.
"I'm a real 'numbers guy'," says Jameson with a wide smile. "Because of my experience as an analyst and vendor manager at Audible, I was able to use that knowledge for the mobile grooming. I know how to route, how to talk to people, and how to explain the product and services to them."
"That's really important," adds Milena. "One of the biggest reasons people fail in the mobile business is that they don't know how to talk to people and explain to them how the services work. It's basically a sale. You've got to make a sale to book that customer."
By ten months into their mobile business, Driving Me Knots LLC, Jameson and Milena did so well that they bought a second van. Both Jameson and Milena attended the National Cat Groomers Institute of America so that they could better serve the needs of their feline clientele.
Building their business wasn't always easy and they had some challenges along the way, but Milena and Jameson firmly believe that whatever you set your mind to, you can achieve.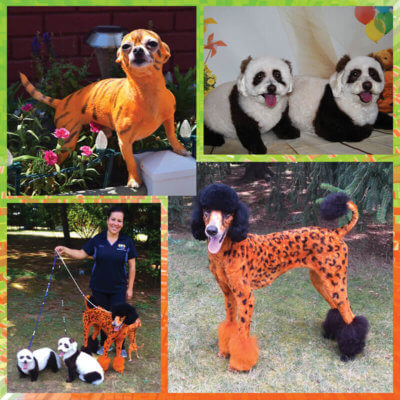 "That first year we went to Groom Expo in Hershey and I saw creative grooming for the first time, I said to Jameson, I'm going to do that," Milena said. "I was new to everything, and my skill level was not there, but I had such a desire to be successful and so much motivation to make it work. I truly felt that I had found my passion."
"I started competing in Creative Styling competitions two years ago. My very first entry was at All American in Chicago in 2015," says an enthusiastic Milena. "I won the People's Choice award with my Wonder Doggie and Friends entry!"
Word got around of Milena's creative skills, and one day she got a call from the Netflix show, Orange is the New Black. Milena was (almost) speechless when they called and asked her to do creative grooms on some dogs for an upcoming episode of the show. She was already a fan of the show, and was totally on board with doing the grooms.
"I was so excited I wanted to scream!" says Milena. "The hardest part was that I could not tell anyone about it until the episode aired."
Season 5, episode 3 featured a flashback episode of one of the actors who used to be a groomer and he transformed dogs into other animals. Milena creatively groomed four dogs turning them into pandas, a tiger, and a leopard.
All of her neighbors and clients were thrilled about Milena's part in the episode of OITNB, and a lot of them began to request coloring during their pet's grooming appointments. They were busier than ever and Milena wondered what she could do to top her involvement in Orange is the New Black.
She didn't have to wonder for long. Milena was contacted once again to work her creative magic to turn two black horses into zebras for the soon-to-be-released Hugh Jackman and Michelle Williams movie, The Greatest Showman, a movie about P. T. Barnum.
"I had never done horses before," Milena confesses. "But, I knew I could do it. Zebras have two distinct patterns. We experimented and did one on a white horse and one on a black to see which one the producers liked best. They chose the black."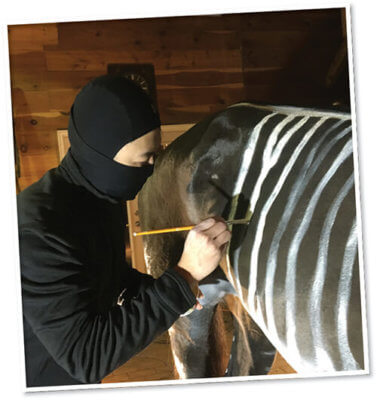 On December 6, Milena and Jameson traveled to Connecticut to turn the two black horses into zebras.
"There we were—in a barn with no heat and minimal lighting, in December, in Connecticut," Jameson and Milena recall. "It was about thirty degrees. We got there at 2:30 P M, had the horses done by 11:30 P M, then drove to our hotel in New York. The movie set was an hour away from the hotel and we had to be on the set at 6:30 A M. We were on set for three days doing touch–ups to the Zebras. What an amazing experience!"
The movie will be released in December 2017, but the Official Trailer is already being shown. You can get a preview of Milena's handiwork when you watch it and see the pair of zebras in harness hitched to a carriage.
Jameson and Milena are one super busy couple. Not only do they have their mobile grooming business, drivingmeknots.com, they also have an online store that carries handmade bows and grooming accessories, dmkbowtique.com. They also own dmkmarketingsolutions.com, and it's just what the name implies. They design all kinds of products to help grooming professionals market their business; anything from business cards, to reminder cards, to social media artwork. They have designed over 500 custom logos for mobile groomers.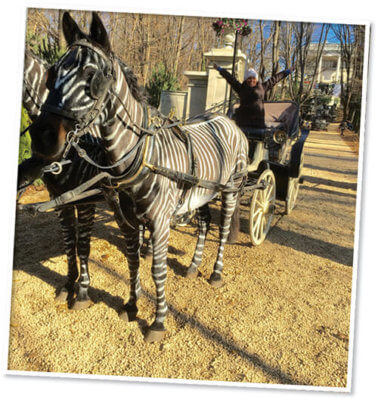 In just five short years, this incredible couple has gone from being non–groomers to sought–after superstars that shine a positive light on our industry. They have started three very successful businesses, and they have helped bring creative grooming into living rooms and on the big screen to be seen by millions of people.
Jameson and Milena hope their journey will inspire and motivate others. All you need is a 'paw'–sitive mental attitude. ✂