By Kathy Hosler

Everyone's pet is special to them. And to prove it, some pet parents like to dress their fur kids up in designer outfits with flashy jewelry, or have unique creative styles, colors, and designs put on them.
Creative grooming has become incredibly popular with pet owners everywhere. Many stylists have found that this fun and profitable service adds an impressive new stream of revenue for them with very little time and effort.
If you don't currently offer this service, it's not really difficult to get started. As you learn how to safely and professionally apply coloring products using the correct techniques, the experience becomes fun for the pet, its owner, and you.
We've asked some of the industry's top creative artists for their comments and suggestions for anyone who is contemplating adding these services to their business. The number one suggestion was education.
"There are many ways to educate yourself," says Cindy Oliver. "One way is to attend a creative seminar or class at a grooming show. You could also attend or host a hands–on creative workshop, or take private lessons with your favorite creative pet stylist."
"Most of my learning to color was by trial and error," shares Sandy Hartness. "And, while nothing beats hands–on learning, now there are many wonderful books and videos to help you learn step–by–step."
A Creative Collection and The Ultimate Guide to Salon Creative are two books authored by Angela Kumpe. They are both filled with step–by–step instructions on applications, products, and techniques.
Learn2groomdogs.com hosts multiple videos that feature creative stylists such as Dawn Omboy, Angela Kumpe, Lori Craig, and others. And, you can find plenty of videos on sites like YouTube.
The Creative Groomers Association (CGA) and National Association of Professional Creative Groomers (NAPCG) have websites and Facebook pages where you can get lots of great information and connect with other stylists.
Cindy Oliver suggests that once you have spent time educating yourself on the basics, techniques, and products—then it's time to get dabbing in a little color. "You want to color dogs that enjoy the process and that are used to getting groomed and pampered," Cindy says. "If the dog is constantly moving or fighting, and you end up with more color on you than the dog, then that dog is not cut out for creative."
Angela Kumpe says, "Start with simple color application on the ears and tail, or do a mohawk to learn the proper technique. Use proven products to avoid disappointment. And, always use extreme caution with any products you plan to use on cats."
"There are so many fun products to try when you start creative grooming," says Lori Craig. "The best way is the temporary color route. Blow pens are an all–time favorite; easy to apply and normally lasting one to six baths. Chalks are also easy to apply, but can be very messy as it has a tendency to rub off."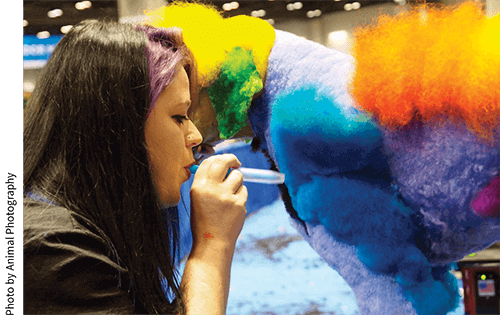 "Blow pens are one of my favorite things to use for beginners. The plus side is they wash out with water," says Amy Triezenberg, then she adds with a smile, "The downside is they wash out with water. If you use them on a client's dog, and the dog goes outside and gets wet, the color could run and get on their furniture."
"For someone who is just getting into creative grooming, I would recommend starting with temporary products such as chalk, blow pens, or my favorite—temporary airbrush inks," says Dawn Omboy. "Airbrush colors can be washed out easily so there's plenty of room for error. Also practicing on model dogs or wool mats is a great place to start. You can scissor creative designs and place color on them. As long as you're using temporary products, you can wash the color out and practice on them over and over."
"The safety of every pet is key when they are in your care," says Adriane Pope. "I only use products that are specifically labeled for use on pets."
Adriane and Lori emphasize that creative is about making things fun for the human clients too. They often like to add feathers or some rhinestones when they are doing color on a pet. And, add–ons such as hair extensions, eyelashes, temporary tattoos, and ear bling can put a fabulous finishing touch on any fur baby—and a huge smile on an owner's face.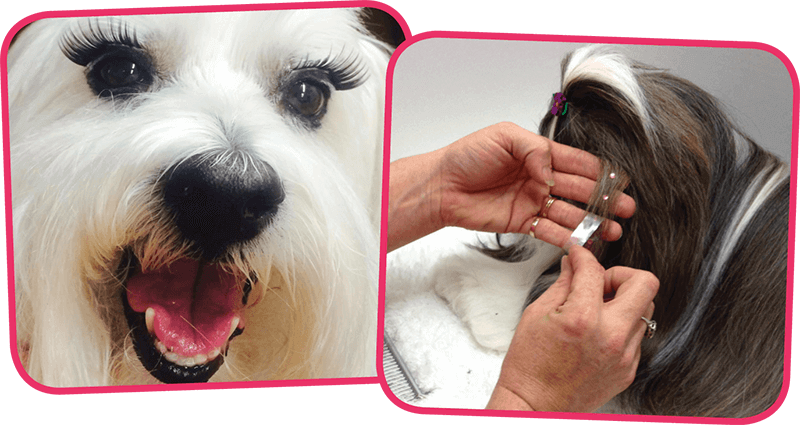 Coloring pets can be time–consuming and messy, but these creative stylists have lots of great tips to make it easier.
"Always try to keep a table top cover that you can use only when you are going to dye a dog," says Dawn Omboy. "And keep extra loops that you use just when you color pets."
"I use potty pads on my table," says Lori Craig. "They are inexpensive and disposable."
"We always have table covers, disposable gloves, apron/smock, plenty of towels that you don't mind getting color on, multiple dye bowls, and several brushes." says Milena Kon. "And last, but not least, baby wipes. You will be glad to have them around when you make some mistakes that you can wipe off quickly from any surface."
"Pets who move or sit when I am applying color can be a big problem," says Sandy Blackburn. "Mess will happen, but if you have the pet properly restrained, you can lessen the chance of messy mistakes."
"If possible, have two tables when you are applying color, one for the pet to be on and one for all your coloring products," says Milena Kon. "You want to focus on the pet on your table, without worrying about your colors or equipment getting knocked off."
"All designs have to start somewhere. Do your research, know the products you are going to use, and know the dog or cat you are going to work on," Milena continues. "Patience is the key. Sometimes you won't get it right the first go around, so make sure that you learned what worked and what didn't, so you can try again."
Practicing with temporary colors will get you ready for the next level of creative grooming, semi–permanent and permanent colors.
"With semi–permanent color, I always do a dye test," Justine Cosley states. "This is very important, even if it's not convenient for your client. If a client arrives for a grooming appointment and expresses their desire for semi–permanent color, tell them that you can do color at their next appointment, but today, you can do a dye test. This will not only let them know if their pet will have a reaction, but it will not leave you with a surprise as to the way the color will turn out."
"If you have clients that want color on their precious babies, have them sign a waiver to cover and protect you," says Cindy Oliver. "Be sure you explain the whole procedure from start to finish, what products you are using, the cost, etc. Also, if their dog doesn't seem healthy or has skin issues or sensitive skin, DO NOT color their dog!"
"As creative groomers, we are in the public eye," says Justine. "We should be promoting safety for the pets and setting a standard within the industry."
Are you ready to unleash your inner artist and learn how to apply color safely while creating unique, fun looks for your client's pets? ✂