By Dawn Omboy

Temporary coloring is one of the most popular color mediums among our clients, as many of them do not want long term color, and with airbrushing it's pretty easy to do detailed designs as well. You can get in lots of practice and if you mess up your design— no worries — it's temporary so you can wash it off and start over. I practice my design first on a paper towel. Because of the absorbency, it simulates the dog better than just paper.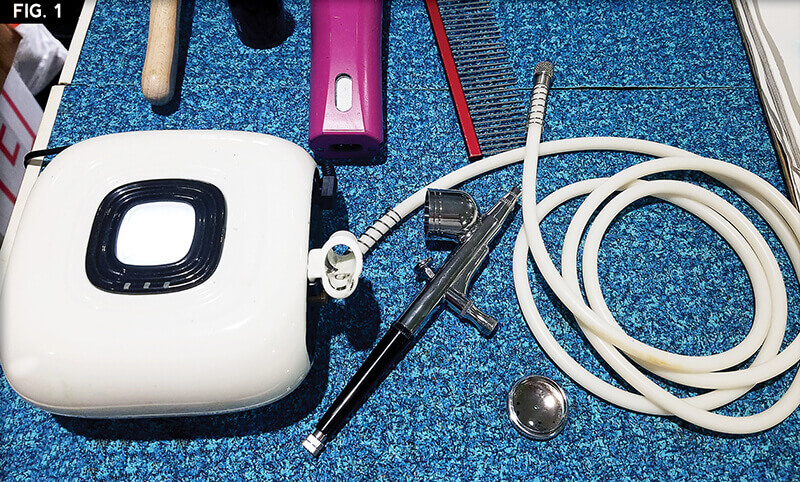 Fig 1) I like using a small portable compressor and the one pictured here has everything you need for easy use and easy care.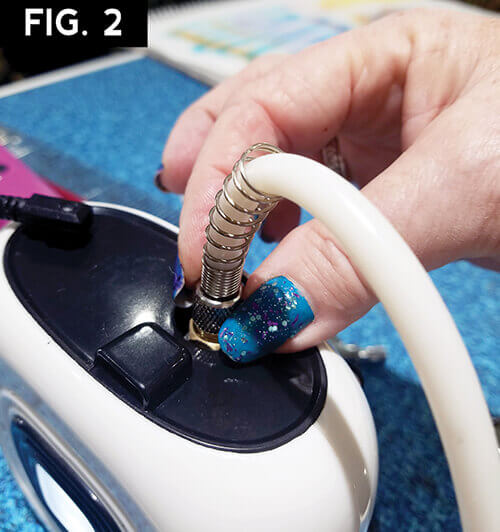 Fig 2) The unit comes with an easily detachable airline that screws onto the side of the compressor.
Fig 3) And this one has a holder that slides into the built-in bracket on the side of the unit to keep your airbrush gun upright when not in use.
Fig 4) The airbrush gun screws onto the other end of the airline tubing which makes it easy to switch between guns, as sometimes you can get a clog and may need to do a quick change until you have the time to clean the needle and unclog the gun.
Fig 5) Ink is placed into the well on the top of the gun and covered with the provided top. This helps prevent spills while in use, as it is easy to tilt the gun too far when working on a moving target.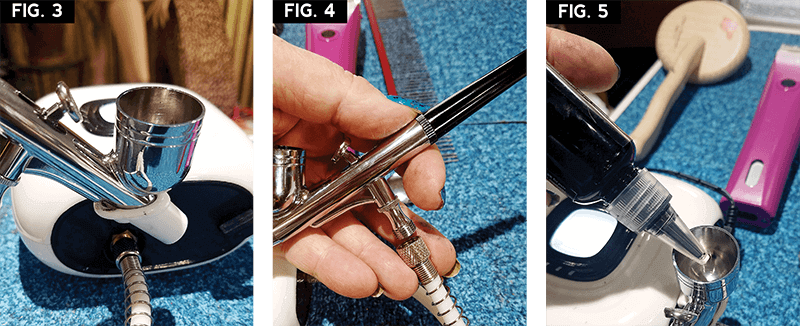 To begin, turn on the compressor. Air is released when the trigger is pushed down. You will hear the compressor cut on and off as the trigger is pushed down.
Fig 6) As you pull the trigger back, it moves the needle inside which releases the ink. Pull back a little or a lot depending on your desired effect. This unit has three air control settings so it is easier not to blow hair apart when in use.
When you finish using your airbrush gun make sure to clean it before putting it away. Cleaning solutions will depend on the ink formula you use. Most of the time I use a combination of water and alcohol. You can also use Windex to do an overnight soak should you have a stubborn clog. Then make sure to clean the needle of any stuck on ink.
I have never been a big fan of the Lion trim on my own Pomeranian, Cupcake. But as she has aged it has become necessary for her to have less coat as she would need more frequent baths due to health reasons. This gives us a new chapter for her. So I decided to try a basket weave design on her using temporary colors in my airbrush machine.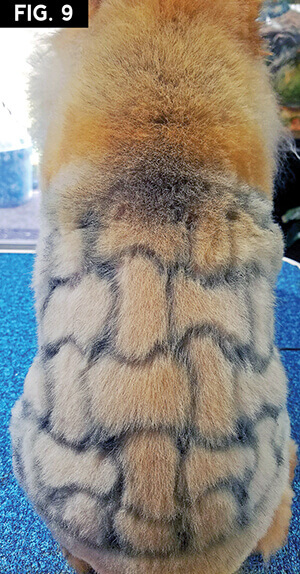 Fig 7) This weave design is not as complicated as it looks. Start with evenly spaced dots covering the area of your pattern.
Fig 8) Next, connect the dots alternating inside and outside of the dots.
Fig 9) Once this is completely done in one direction, connect the dots in the other direction.
Fig 10) Darken your lines and do a bit of shading to give it a 3D effect then outline the whole thing to finish the edges.
This cute pattern will last until her next bath. I like it so much that I think I will cut it in next time. Keep an eye out for more pictures of Cupcake in her weave pattern on my Facebook page Dawn Omboy Queen Of Color! ✂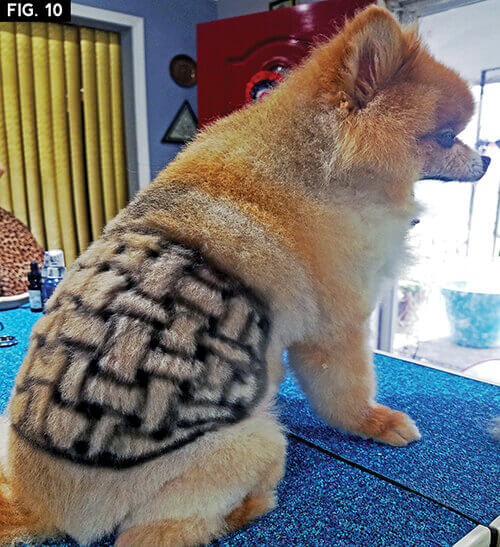 Making the World more Colorful,
one dog at a time… Queen of Color.
Go to www.queenofcolor.com or visit me on Facebook.