By Kathy Rose

Thus far we have learned some key points relevant to property inspection, zoning ordinances and pertinent questions to ask a potential landlord regarding the property and lease. To narrow your choice further, negotiation must take place with the prospective landlord. Understanding the lease document itself is arguably one of the most important aspects of selecting a rental location.
Understanding the variances and terms of a commercial lease can be frustrating. CAM, R.E.T, C.P.I. and Rent Abatement are just of few of the terms that may infiltrate a commercial lease. So, next I will try to demystify some of the legal jargon which frequents these documents and provide you with some tips for negotiating with the landlord for those extra "perks" that may save you money!
Negotiation
Negotiating the details of a commercial lease can be complicated. Most leases are customized to the landlord's needs. It is important to remember that the terms and language of a commercial lease almost always favor the landlord. It is crucial to remember that many of those terms are negotiable.
Understanding the lease document itself and how it will impact all aspects of your business is the most important aspect of lease negotiation. Obtain legal council to decipher the jargon and absolutely don't sign without thorough understanding.
Gross Lease & Net Lease
As a prospective tenant, you should become familiar with some basic concepts of the commercial lease. Although many variations and terms are available, there are basically two types of lease. A gross lease usually means that rent includes items such as real estate taxes, insurance and maintenance of the common areas. A lease that is referred to as a net lease generally means that the landlord sets a base rent and then charges the tenant additionally for other expenses.
Usually the base rent is calculated by multiplying a dollar amount by the square footage. It is not uncommon for a gross lease to be calculated on the space or building without reference to square footage, but it would be unlikely this would happen with a net lease. It is imperative to understand precisely what space is included and how the landlord determines the square footage. The landlord's description of the rentable square footage may include the thickness of the walls and some of the common areas such as hallways.
Pass–through Expenses
Additional fees charged by a landlord are referred to as pass–through expenses. These expenses are sometimes broken down further, to include all the costs related to maintaining the property or common area maintenance (This is referred to as CAM.)  Your share of the real estate tax, which is usually based on your portion of the property, is called RET.
Insurance is another pass through expense and usually refers to the insurance on the property and not your liability insurance, should a client (person) sustain an injury while in your facility. Most landlords will require proof of one to two million dollars liability insurance. This does not usually cover pet injuries, but all insurance questions should be addressed to your insurance company.
It is especially critical to understand that these pass–through expenses can significantly increase your monthly rent payment. One of the most common mistakes a prospective tenant can make is to not fully understand the impact of pass–through expenses on future profits. These expenses are potentially limitless. Ask for an expense history and know your audit rights. You may even be able to negotiate a cap on some of these expenses. A cap will limit the amount of the increase on controllable expenses such as CAM and office fees.
Rent Increases
There are a variety of different methods for determining rent increases. One method uses the Consumer Price Index also known as CPI. This method is based on cost of living increases and can vary from year to year. More commonly, a designated percentage rate is used to calculate annual rent increases. This is a set increase based on a percentage of your rent. Two, three and four percent are figures commonly used by landlords to establish rental increases.
Whichever method the landlord employs, it is advisable to ask for a cap on the rent increase. This becomes relevant if the landlord chooses not make increases annually (even though permitted in the lease) and then the space or shopping center is sold. A new owner or the existing owner may, depending upon the lease verbiage, collect retroactive increases. This means that if you received no increase for, say five years, a landlord can demand an accumulated increase to include all of those five years.
Also be aware of terms in the lease that state if the landlord makes an error and does not collect what the lease permits, the landlord is not at fault and the tenant must still pay the "defaulted" amount. This could potentially go back years.

Term
The lease length and termination requirements should also be established. A short–term lease, with options for renewal, may be safer for a new business. However, if you are already established, a long–term lease along with one or more options for lease renewal may provide more security and offer more bargaining leverage with the landlord. Renewal options generally renew the existing lease. Be sure you understand when the lease begins, when it ends, and how much notice is required for renewal or non–renewal. Find out if the space can be subleased or assigned to another party, as well as the conditions in case of the sale of your business.
Security deposit
Define the security deposit requirements and terms of refund.
Permitted Use of Space & Exclusivity Clauses
Be sure that your lease spells out what the permitted uses are. Grooming is obvious, but don't assume that the landlord knows that. If you plan on boarding pets overnight, make sure that clause is included in the lease and zoning approved. It is also a good idea to ask for an exclusivity clause. This will prohibit the landlord from renting space to a similar business.
Signs & Parking
Determine if your landlord has specifications for signage. Most strip centers and plazas have specific requirements for signs. Permits from the county, city or municipality are usually required for signs. Parking restrictions may also be included in your lease. If you are in a busy plaza with limited parking, consider asking for a few assigned spaces directly in front of your store for easy drop off and pick up of your clients' pets.
Property Maintenance & Repair
Determine who is responsible for the repair and maintenance of the space and common areas. Many times the air conditioning and heating equipment is located in the common areas, but is still the tenant's responsibility. If it is your responsibility to maintain and repair such equipment, be sure to get a clause insuring the landlord's responsibility for such repairs if the cause for repairs is through landlord negligence, such as roof repairs, etc.
Many lease documents contain the words, "As Is" condition. However, make sure that the space is legally rentable and up to code. This may help you to avoid battles about costs of repairs for code violations present prior to you taking possession of the space. 
Landlord Concessions
You may be able to obtain some concessions from the landlord in the way of free or reduced rent, called rent abatement. In addition, many landlords will agree to deduct a Build–out or decorating allowance from your rent or even up front payment, to offset the cost of the renovations referred to as the build out.
Get Legal Advice
There are some less obvious items which are often hidden in the language of a commercial lease, which unless you are familiar with legal terminology, you may have difficulty deciphering. A commercial lease is a legally binding contract that you many not easily be able to break, and there are few commercial consumer protection laws to fall back on.  Hire a lawyer familiar with contract law to review the lease document before signing anything!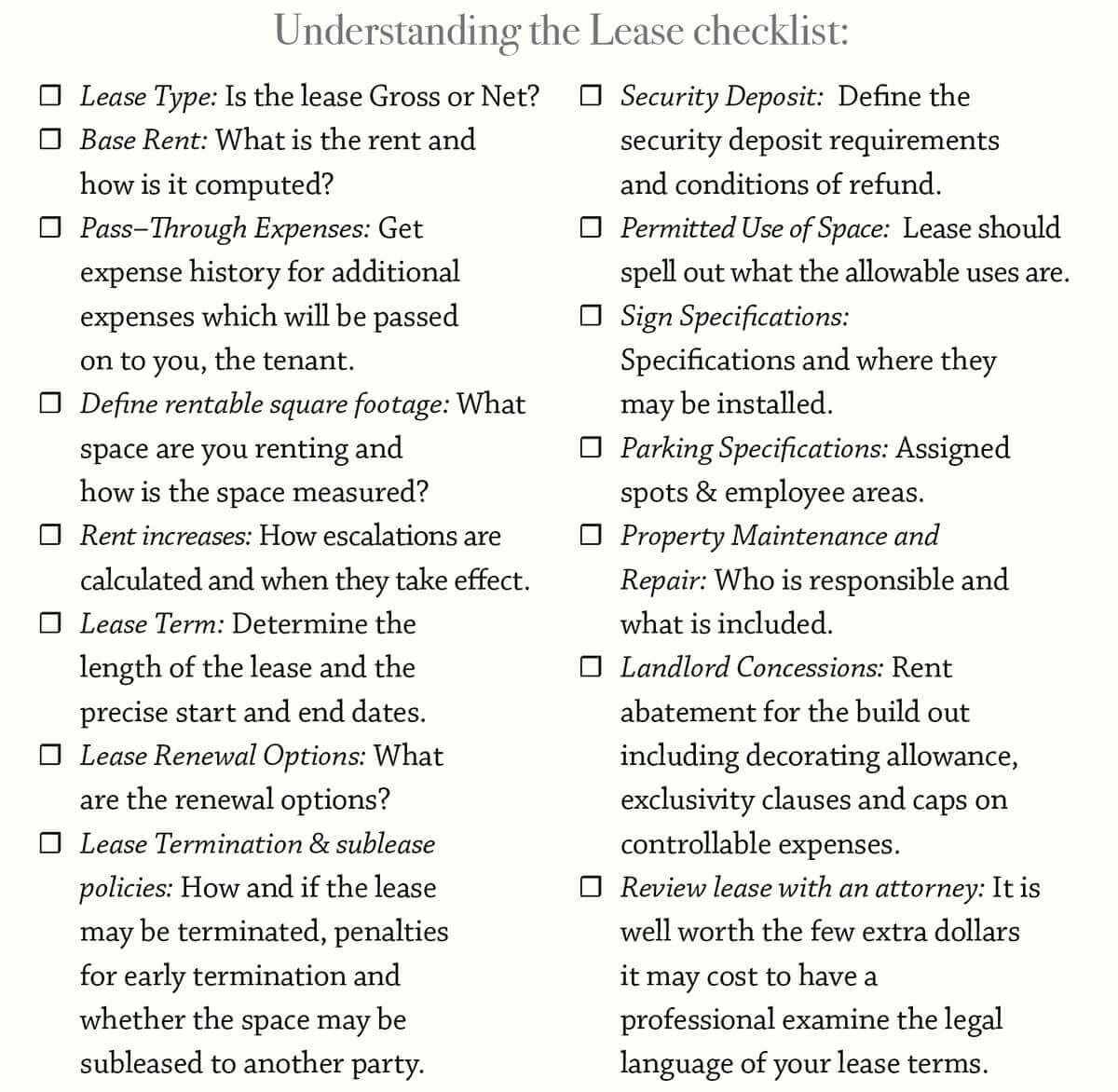 Next Month: Part III  Floor
Plan Design
Recommended reading:
• Negotiate the Best Lease for Your Business By Attorney Janet Portman & Attorney Fred S. Steingold: This practical handbook explains how to analyze space needs, find the ideal location & then get the best possible terms.
• http://www.bls.gov/cpi/home.htm    The Consumer Price Indexes (CPI) program produces monthly data on changes in the prices paid by urban consumers for a representative basket of goods & services. ✂