By Kathy Hosler

It is estimated that between six and seven million animals will go into a shelter this year. Many of them will never leave it alive. Three to four million of the pets that enter a shelter will ultimately be euthanized.
Many animals that wind up in shelters have done nothing wrong. Their owners divorce or move and can't take the pet with them, a new baby enters the family, or someone becomes allergic to the pet. In other cases the pet has too much energy, the cute little puppy grew too large, or it sheds too much. We have all heard stories like this. That's why the need for animal rescue groups has never been greater.
"Behind every shelter dog's eyes is a story," says Danielle Rebisz of Emerald City Rescue Inc. (www.emeraldcityrescuenj.com) in Glasser, New Jersey. "They just need the right person to believe in them."
"We partner with shelters. The shelters often keep the highly adoptable dogs and give us the ones with issues or health problems. Most shelters just don't have the time to devote to these dogs," Danielle continues. "Our rescue will take the pets and put them in foster care where they will be loved and cherished and can truly thrive. In this way we can learn their true personalities and help match them with the right forever homes."
Rescue organizations can help pets that are going through difficult circumstances in ways that shelters can't. Take the case of Lucy. Lucy was hit by a car and had a badly broken leg. The owners were going to have her put to sleep. A caring neighbor stepped in and contacted a rescue. They accepted Lucy, got her the surgery she needed, and placed her in a foster home while she recovered. Ultimately, Lucy was adopted into a loving home and given a second chance at life. Most animal shelters don't have the time or resources to care for 'special needs' pets like Lucy.
Some rescues are small, while others care for hundreds of pets a day. "Our rescue was started by two single moms who had a passion for animals," says Dorothy Ochotny, President of Furever Yours Rescue in Maple Glen, Pa. "We travel to southern states to save dogs from high volume kill shelters. We have taken in many heartworm positive dogs, dogs with injuries, and unwanted puppies. Our website www.fureveryoursrescue.org, Pet Finder, and Facebook all help us find new homes for these pets."
The adoption procedure for most rescues begins with the prospective adopter filling out an application. Then there is usually an interview with them, and often a home visit is scheduled. After they have been approved, a meet–and–greet is set up between the adopter and the pet. Although all of these steps are necessary to make sure that the pets are going to good homes, this process can be quite time consuming.
Unfortunately some potential adopters are put off by the extensive screening system that some (but not all) rescue organizations require. People can get frustrated by the lengthy process. Often you will hear these people say, "This is taking forever. I could just go somewhere else, buy a pet, and take it home immediately."
To help streamline the process of matching pets with people, many rescue organizations use their websites and other social media to display photos of the available animals, and viewers have the ability to fill out an adoption application online.
"We don't just want to find someone a dog—we want to make sure that we are finding the dog a perfect home," says C J Holcomb of All Breed Rescue (www.allbreedrescuevt.com) in Williston, Vermont. To help achieve that goal, we do a lot of media marketing. We post videos and photos all the time on Facebook, Instagram, Twitter, and Snapchat."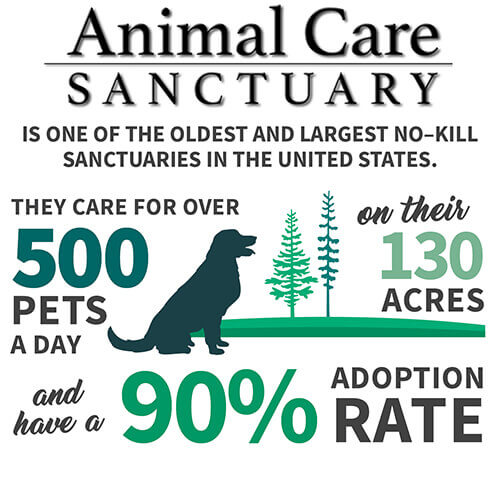 Animal Care Sanctuary, animalcaresanctuary.org, is located in Wellsboro, Pennsylvania. It was founded in 1967 and is one of the oldest and largest no–kill sanctuaries in the United States. They care for over 500 pets a day on their 130 acres, and have a 90 percent adoption rate.
"We have many programs—like our Low Cost Spay/Neuter and Wellness Clinic, that is open every weekday," says Joan Reese, Executive Director of ACS. "In the summer, veterinary students from all over the country come and stay with us. They really get a lot of hands–on experience with the animals."
Theresa Huber, of the German Shepherd Rescue of New Jersey (www.gsrnj.org) says, "We do rigorous temperament testing of all the dogs before they are accepted into our rescue. We try to put all of our dogs in foster homes to get a true sense of their personalities, and to help match them with the right family."
Carla Mohan of the New York Bully Crew (www.nybullycrew.org) says, "We specialize in Pit Bull breeds, but we don't turn away any dog who is in dire need. Many of the over 70 dogs a day we care for are battered, bruised, neglected, abused, or in medical need. We get them the care they need to recover and then help them get adopted."
Many rescues incur enormous expenses in veterinary bills and pet care costs. Most of them depend solely on fundraisers, sponsors, and donations to finance their operations.
To showcase the work that animal rescues are doing and to aid pets in finding new homes, a lot of pet industry shows are featuring events such as the Rescue Roundup competitions. In these contests, pets supplied from local rescue organizations are groomed. The exposure the pets receive, along with a beautiful new groom helps them to find forever homes. And, the rescue organizations get publicity for the lifesaving work they are doing.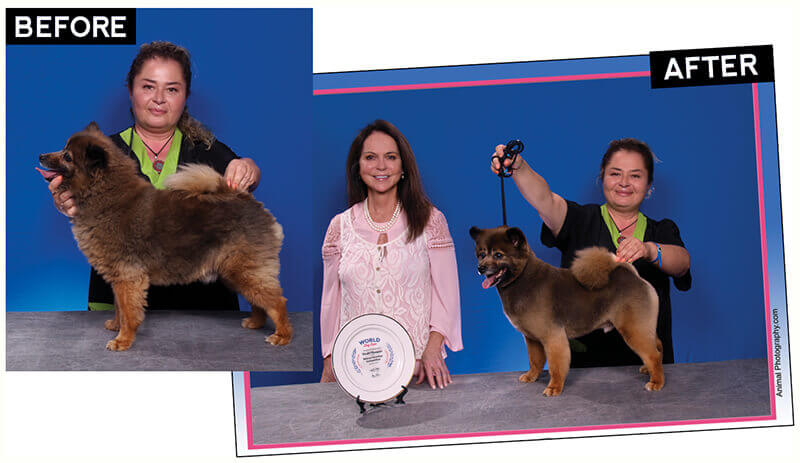 How can you help rescue groups? You can become a volunteer and help feed, walk, and care for the pets in rescue. Volunteers are the backbone of rescue success.
You can also provide your grooming, training, or boarding and daycare services free or at a reduced rate. There is always a huge need for foster homes. If you can't foster, you could sponsor a pet.
Rescues are always in need of pet food and treats, cleaning supplies, crates, leads and collars, and towels and blankets. And, of course, there is always a great need for monetary donations. "Basically, the more money we take in, the more pets we can help," says Theresa Huber.
Yes, every pet has a story. Rescue groups try to make sure that the story has a happy ending.✂