By Kathy Rose

There is a vast amount of equipment available to the pet grooming industry that will accommodate every budget and preference. As services, floor plans, budgets and individual tastes vary, so shall the equipment choices from one salon to another.
Never the less, there are a few key factors to consider when setting up your salon.
Safety—Is the equipment safe for the pet, client and staff? Some manufacturers of electrical equipment, such as dryers and dehumidifiers, are UL (Underwriters Laboratories) listed which may offer an added safety buffer. UL Listing means that UL has tested representative samples of the product and determined that it meets UL's requirements. These requirements are based primarily on UL's published and nationally recognized Standards for Safety.
Efficiency—Does the equipment help to make the job more efficient?
Reliability—Is high maintenance or frequent replacement required to keep the equipment safe and efficient?
Ergonomics—Does the equipment contribute to comfort, safety, efficiency, and ease of use?
Aesthetics —Is there eye appeal?
Value—Is the importance or usefulness worth the price?
Tables
Stationary grooming tables, because of conservative cost and portability, may have a place in the salon. Many are available with adjustable legs to provide a variety of heights. Unfortunately adjustments can be cumbersome between dogs so they are best suited for portable use or set for use at a stationary height.
For everyday grooming of a variety of dog breeds ranging from tiny to giant, the hydraulic or electric adjustable tables are the way to go. Electric and hydraulic tables offer ergonomic benefits to improve stylist and pet comfort as well as safety. They are both offered in a variety of sizes and some models even offer a rotating top.
The hydraulic table is usually more economical than the electric and still offers the benefit of easy height adjustment with minimal physical effort. The up and down movement can be a bit shaky but the lower cost is a plus.
The big benefit of the electric table is the greater height variances available and smoother action for lift and lower. Typically electric tables are priced higher than the hydraulic tables.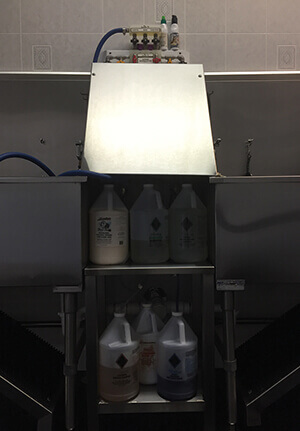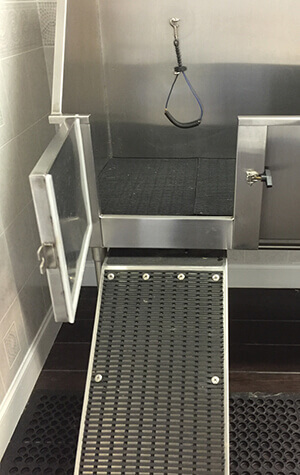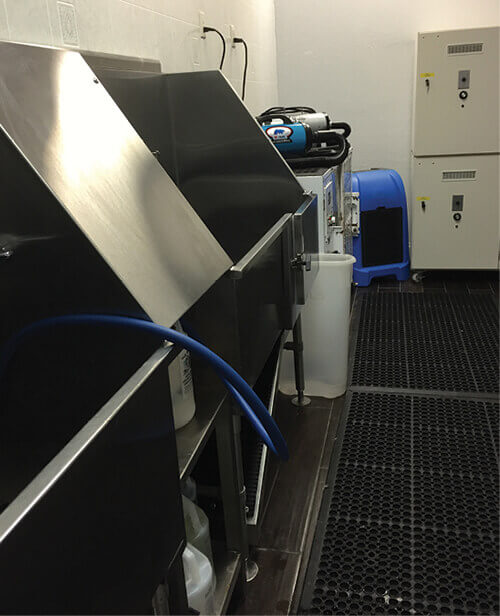 Tubs
Non–corrosive professional pet tubs can offer years of value and ease of maintenance. Professional pet tubs offer many advantages over typical mainstream tubs. Pet tubs are elevated, a must when it comes to a professional operation. They come in various sizes and offer built in ramps, doors, shampoo holders, racks, hair traps and a variety of other upgrades to suit different requirements and budgets.
Stainless steel is a solid choice and may offer many years of service if properly cared for. The tubs in my salon are more than fourteen years old and still look and function as new.
Some tub manufacturers will custom fit your tub with back splash and storage racks. This can also be accomplished after market through a stainless steel welder, but probably at a premium price. I was able to re–fit my older tubs with custom back splash, shelving and cover to accommodate the new location.
Not all stainless steel is equal. 14–16 gauge high quality, 304 grade stainless is preferable. Higher gauge may be considerably more economical initially but could be more susceptible to deterioration over time.
Most tub manufacturers also produce tub racks to fit their tubs. A rack in the tub will help to elevate the pet from the tub floor and facilitate easier rinsing. I recommend placing a heavy rubber mat that has drainage holes, on top of the rack. This provides a softer platform and will help prevent long nails becoming entrapped in the rack crevices.
It is advisable to place rubber floor matting in and around all wet areas. Some durable rubber mats have drainage holes and can be trimmed to fit specific areas such as tub grates and kennel mats. Other choices for slip–resistant matting with drainage can be found in many wholesale pet supply companies or online.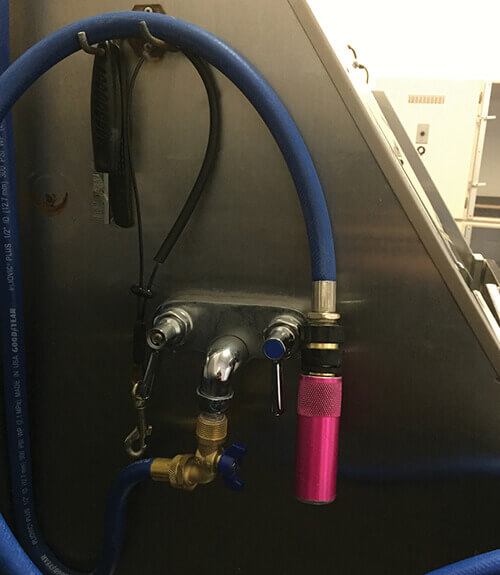 Shampoo Systems
Shampoo bathing systems can help to reduce shampoo costs, energy and time. There are a large variety of systems available to choose from. Compressor driven pre–mixed shampoo applications, recirculating and non–recirculating all function differently. Some will require electric others depend upon water pressure for shampoo dilution. I have used most of these over time and find that what works well for one salon is not right for another so the best bet is to get direct information from the manufacturers.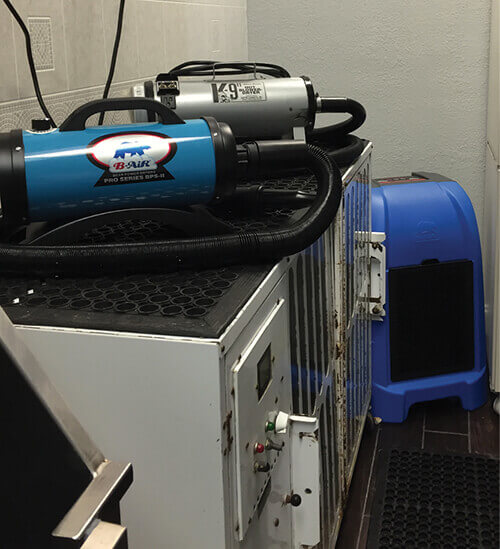 Dryers
High Velocity Dryers
High velocity dryers save time without the use of heating elements. Some manufacturers offer quiet motors that are controlled by a variable speed dial for fine–tuning the airflow to the velocity you need. The twin motors warm the air without a heating element. This helps to make drying faster and more comfortable for the animal. Washable filters help to keep pet hair out of the motors. The variable speed allows the dryer to not only high-velocity dry, but also gently dry at lower velocity, pet faces, small dogs, and cats.
Fluff Dryers
There is a diversity of fluff dryers available with a variety of amenities. Fluff dryers use a heating element to heat the air and provide a steady flow of warm air at a lower rate than High velocity dryers. The purpose is to be able to direct the flow of air onto the pet while brushing. These are available as stand dryers or wall mountable in a variety of styles and makes.
Kennel Dryers
Walk–in kennel dryers can provide safe, hands–free, stress–free drying for one or two pets simultaneously. This method is especially good for cats, puppies and senior pets that do not tolerate high velocity blow–drying. The best walk–in kennel dryers provide easy access to the filter, timed auto shut off and temperature control. A glass front allows monitoring of pets at all times. The average pet will dry in twenty to thirty minutes. As with any piece of equipment, pets should be monitored at all times.
Keeping the Humidity Down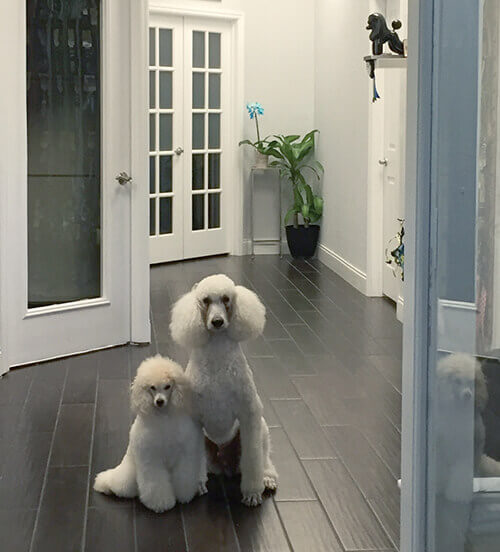 The use of a dehumidifier may prolong equipment life, reduce drying times and improve HVAC efficiency. A dehumidifier can change humid air conditions in the bathing area into dry arid air. This helps to dry pets fast and keep a healthy environment for staff as well as pets. A humid environment results in hard to dry pets, rust forming on valuable grooming tools and equipment, and promotes wet pet odors and mold. I have witnessed a huge improvement in reducing humidity in our salon environment, by adding the use of a dehumidifier.
Clipper Vacuum System
Clipper vacuum systems will improve efficiency all around. The hair is vacuumed as you clip, reducing the floor vacuuming time and keeping the bulk of clipped coat off of your table and floor. The constant airflow over the blades keeps them cool, which prolongs their life and helps to keep them sharp. Repeatedly going over the pet with the clipper is not needed because the coat is lifted as you clip, providing a smooth finish. This also reduces the amount of scissor finishing needed to complete the groom.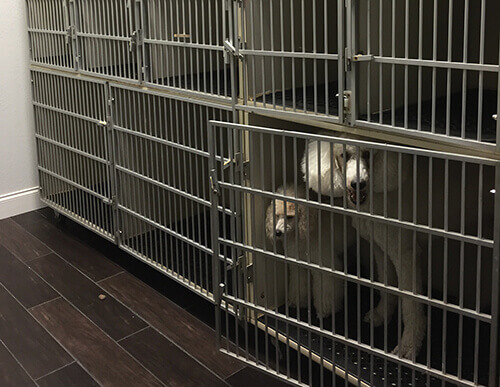 Cages, Kennels & Pens
Even the smallest salons will need to house pets at some point during their stay. Cage and kennel banks are offered in a variety of materials such as stainless steel, fiberglass and laminates such as Formica.
Your budget will probably determine equipment choices. Make a list of must–haves descending to the wish list. Contact various manufacturers to get estimates for services, warranties and pricing. Industry trade shows are the best resource for gathering information and getting hands–on demonstrations and information about the products and equipment available. Trade magazines such as the Groomer to Groomer Buyer's Guide offer lists of companies with their product and contact information.
Setting up an efficient, safe and appealing salon requires careful research. Many manufacturers offer assistance in designing your dream salon and may offer discounted packages, free or reduced shipping, or additional perks such as shampoo or other supplies. Take full advantage of their knowledge and, above all, do your homework!
Hiring the right contractor and designing your floor plan are key steps in the build–out of your new salon. Creating an efficient plan and following some basic concepts can help you to create the salon of your dreams.
With your livelihood and perhaps a substantial amount of money at stake, you should choose your location wisely, thoroughly research the credentials of the contractor, and make sure you fully understand all aspects of the lease. It would be wise to seek the advice of an attorney before signing any documents.
Whether you are relocating, expanding or striking out on your own for the first time, creating a successful pet styling salon requires careful consideration and planning. Locking into the wrong location or signing a lease you don't fully understand may not only cost you thousands of unnecessarily spent dollars, but can spell disaster for your business! ✂