By Reva Choi, Healthy Spot

Released on November 16th, the Netflix docuseries, DOGS, explores the emotional bonds that form between dogs and their caregivers.
Each of the six intimate stories examines a different dynamic relationship, with Episode 4 dedicated to the world of competitive dog grooming.
"Scissors Down," directed by Life Animated's Roger Ross Williams, follows two successful Japanese dog groomers, Kenichi and Miki, on their journey to compete at Groom Expo West in Pasadena, California.
"I am interested in seeing how judges from different cultures appreciate my style, and getting to share the stage at Groom Expo West with top groomers that I admired for years, like Cat Opson and Jackie Bolton is an honor," said Kenichi about the filming of the documentary.
Kenichi Nagase is a world–renowned dog groomer from Tokyo, Japan. He opened BUBBLES Salon in 2004, and is a leader in creating the latest styling for dogs.
"I am inspired by human hairstyles and the unique features of the dog. But most importantly, I believe to truly be a professional groomer, you must honor the dog's inner being, thoughts and feelings." said Kenichi.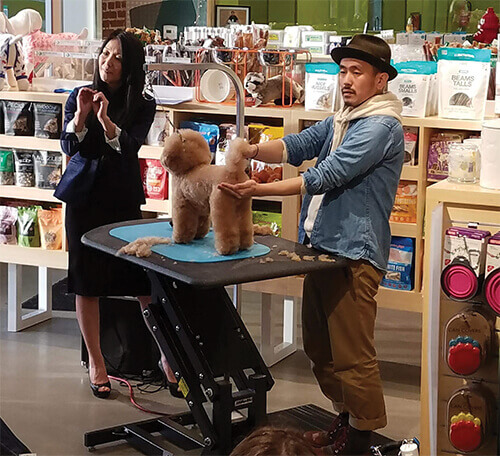 Kenichi is not only known for his styling, but he also teaches seminars worldwide and has developed many of his own original products. Along his journey to the competition, Kenichi shared his wealth of knowledge with LA–based pet retailer and groomer, Healthy Spot, at a seminar in their Hancock Park location. The two have a long–standing relationship, with Kenichi returning annually to offer their groomers styling tips and share the latest trends.
In the episode, both Kenichi and Miki face an uphill battle when they encounter American judges who literally and figuratively don't quite understand them.
"What I wish people see from the documentary is (that) I create a connection with the dogs I groom, not only when I am alone in my salon, but more importantly when competing and the dog meets me for the first time," shared Kenichi to Healthy Spot Grooming Instructor, Koko Fukaya.
Be sure to watch the entire episode to not only see if Kenichi and Miki place in the competition, but to also learn more about Japanese styling and its influence in the grooming world.