By Dawn Omboy

"Shine like a Flower." This is a quote from groomer Tanja VanDer Vooren who works at the Hounden Trimsalon Ursi, which translates to Grooming Salon Ursi in Helmond, Netherlands. Tanja has been grooming since 2004. Ursi was the name of her first dog who was an inspiration to her career; as with most of us, it all starts with that one special "heart" dog.
Tanja has always loved seeing the Creative Grooming done on real dogs. For her, it is very inspiring to see the beautiful works created by talented groomers around the globe.
"I've always wanted to do Creative Grooming. It was a dream for me," said Tanja.
But she didn't have a dog available to color or do creative grooming on. Also, the Netherlands was not happy about dying of dogs and neither were her customers. Then she learned that model dogs were available and what a great alternative they are for practicing not only breed trims, but Creative Styling as well.
Tanja says, "Once you have done it, you are addicted!"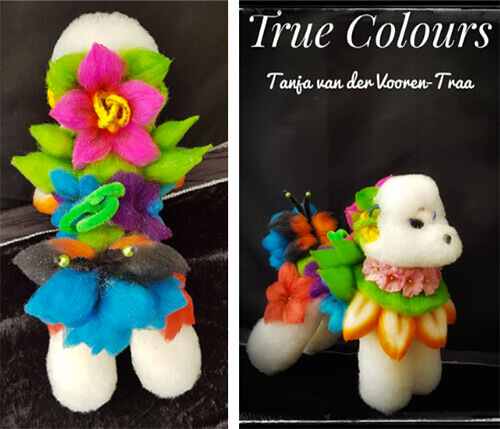 Her first model dog competition was in May of 2016, which was also the first time she had done creative on a model dog. She took 2nd place with her Honeybee design and was immediately hooked. This model dog had to be made perfect and was very special to her. It became her Flower Dog. As we all have our heart dog, the Flower Dog is hers and is kept safely in a custom made glass display box. This is the one that began it all for her.
Her goal after this competition was to excite the groomers in her country about the model dog craze. Tanja was invited to a large event to demonstrate creative grooming on model dogs. Since that time, Tanja has created many more model dogs and won prizes with them. She puts a lot of love and feelings into each one she creates and each creation has its own story, but the flower dog came straight from her heart and that is where the flower dog was born.
Flowers have meaning, all of them, each one can tell you something beautiful and this is why she said, "If you see the true colors of the world, you can shine like a flower."
Keep up the exciting work Tanja, others are inspired by you and will shine like a flower, too!