By Joy Nachmias

Lag Roms are a double coated non–shedding breed. They have a heavy wool coat and should not be blown out. They should not carry a lot of coat as pets or show dogs. They should not carry more than an inch and a half of hair.
Pet owners and breeders will tell you Lagotto Romagnolo are groomed to look rustic, whether pet grooming or show grooming, the difference is length of coat and how much corrective work you will put into accentuating size, balance, proportion and angles.The good news for you? You do not fluff dry this truffle dog and do not do a tight scissor finish—this is what "rustic" means.
The Bath
Do use a good water soluble silicon oil spray for detangling in the tub. This step will help you work through matts and add elasticity, as well as help you get curl definition for the final finishing steps. You can get through matts on a dry coat. I find tub brush–outs to go smoother and show less coat damage.
Do not use conditioner or coat softening products.
Do use a good cleaning shampoo and do a brush or comb-out while the dog is wet and in the tub, this will help with elasticity.
Do not use an oil stripping shampoo. Do your bath and brush–out in the tub and use your shampoo to lubricate and slide that dead hair out. Rinse, rinse, rinse.
Do towel dry the dog and put the dog under a cool fan or blow dryer until dry.
The Body
Other than an all over shave down, the typical pet will get a 7, 5, 4, 3/4 or 5/8 blade on the body with leg hair being one or two blade sizes longer, or scissored legs. Use the same blade that you used on the body on the throat latch and rear angle, as well as on the top and sides of the tail. Attachment combs can be used but are difficult to move through tight curls, scissoring leg hair is generally easier. A typical summer cut is a 5 on the body and 5/8 on the legs with a short scissored head. A winter cut would be 5/8 on body and scissor legs.
The Head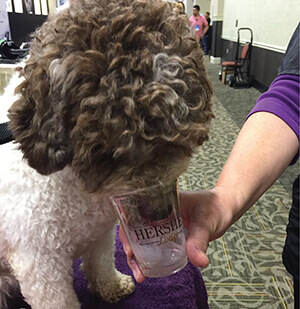 Outline scissor from a side profile to show the length of skull, occiput to stop is longer than the length of stop to nose. The ears should lay flat on the head and show that they are curly. You can use a 5/8 blade to skim over and blend the ears, then follow the far outside edge of ear with scissors on an angle to the ear leather. From the front view the ears will look triangle and fall and blend effortlessly into the total look of the head. The stop and around the eyes is not shaved. The finish outline can be done roughly with scissors then chunked up with thinning shears or chunkers.
The Rear
The final outline includes the rear angulation and the throat latch to clearly set a balanced look. I set the rear outline and the front outline in this step. The 5, 4, 3/4 or 5/8 blade allows you to fix and define a rear assembly as well as set a front assembly to show a well laid back shoulder angle. I always use a 5, 4, 3/4 or 5/8 blade, depending on body length to accentuate these important angles on the pets and show dogs alike.
The Finish
This includes a light mist of shine spray, towel off, and fingers run through the hair and tuff. Scissor to finish the final outline. Lay a damp towel over the dog's body and spray or drizzle with water to set in curls, then use a damp towel to scrunch the head and muzzle. Allow dog to air dry. Clean up all front angles, shoulder angles and rear angles. Scissor finish a carrot tail, including a nice finish on the top line and round feet. ✂
Joy Nachmias is the owner and founder of B3 Salon Products, LLC and a New York School of Dog Grooming graduate. Joy has been grooming, showing and hobby breeding dogs for over 25 years. Specializing in Poodles and recently adding the Lagotto Romagnolo to her family of dogs. Champion Perfetto Here For A Good Time was Best Of Opposite Sex in the 2016 Westminster dog show. Co-Owned and shown by Joy Nachmias and bred by Andrea Shaffer, "Nutella" was used at 2016 Hershey Groom Expo at the B3 Salon Products booth as the Lagotto Romagnolo Breed demo dog.
Photos by: Joy Nachmias