By Staff

Intergroom is an international grooming conference held each year at the Meadowlands Expo Center, April 11–14. It's a glorious, chic, red carpet event unlike any other grooming expo.
We are excited to announce that Groomers Helper is the 2019 naming sponsor! We want to thank them for their continued support and involvement in the grooming Industry. Groomers Helper is a safety and positioning system that is now being used by the top professional groomers in salons around the world.
Additionally, Intergroom will have more than ten countries being represented this year including: Canada, Brazil, United States, Japan, China, Korea and Malatya. The expo consists of 50 widespread continuing education seminars, taught by industry leading professionals, with topics of current interest to salon owners and groomers.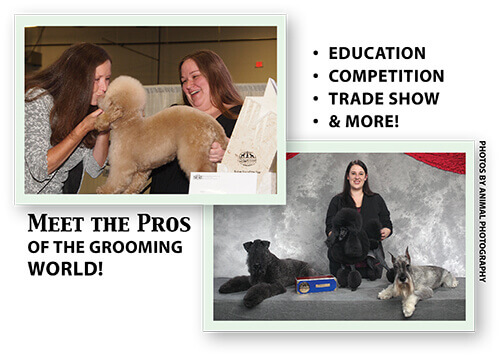 Attendees also have an opportunity to view top–of–the–line, industry–related products and equipment from dozens of companies. The trade show is well on its way to setting the record for most booths ever!
For those of you who love Intergroom and plan on attending every year, there is now a Lifetime Do–It–All Pass. The pass is $500 and allows you to partake in all of the educational seminars and trade show, forever.
One of the most exciting highlights of Intergroom is the World Championship grooming competition that has a grandiose top prize package of $1,200 cash, a Memorable Trophy, International Winner's Rosette, Hotel and Entry Fees for 2020 offered by Intergroom and thousands of dollars in tops prizes from show sponsors such as: WAHL, Andis, EZ–Groom, Wag'n Tails, Foxy Roxy's Supply Co., A.K.C, 123 Pet Software, Petlift and Bardel Bows. There are sponsorships still available for pet care companies that may be interested.
For more information on Intergroom, the Intergroom International Competition or the Lifetime Do–It–All  Pass, check out Intergroom.com.