By Staff

If you ask any pet owner, they've likely heard of the American Kennel Club. For more than 130 years, the AKC has been the country's trusted authority on all things dog. But what does that have to do with groomers? More than you may think.
Although some dog owners prefer to groom their dog at home, according to the APPA, $6.16 billion was spent on pet boarding and grooming services in 2017, a 7% increase from 2016. The AKC connects with these dog owners every day by providing breed information, and dog care, health and training advice to its 7 million monthly website visitors and 5 million social media followers.
Groomers are an integral part of this rapidly growing pet care industry, and the AKC recognizes that grooming professionals play an essential role in helping keep dogs healthy and happy. There are many ways the AKC is available to support groomers in this effort, from providing grooming safety education and access to AKC's government relations resources to advancing its mission to protect canine health and well–being through advocating for responsible dog ownership.
Take Advantage of AKC Educational Resources
The health and safety of pets, when outside of their care, remains a genuine concern for pet owners. In 2015, the American Kennel Club launched its AKC Safety in the Salon course at Groom Expo West to share best practices focusing on pet care, health and safety. Now taught at grooming and pet expos nationwide and available online in AKC's Canine College, this comprehensive class, created in partnership with Susan Divine Sholar, founder of the International College of Pet Careers, provides vital information on safety measures and protocols within the grooming facility.
As part of the AKC S.A.F.E. Grooming Certification Program, the AKC Safety in the Salon course was created to enhance trained groomers' knowledge of the most up–to–date safety practices to help them ensure that these needs are met for all dogs in a salon. The course covers accident avoidance, pet and zoonotic diseases, sanitation and how to handle special cases. Additional grooming education courses will be launched on Canine College in 2019.
Grooming professionals can also take advantage of the AKC Canine College's 30+ breed and breeding educational online courses. Anyone who wants to learn more about specific breeds can enroll. The AKC breed pages offer a treasure–trove of breed–specific information, including breed history, traits and standards, and care, grooming, health and training needs too.
AKC S.A.F.E. Grooming Certification Program
Grooming professionals who successfully complete the AKC Safety in the Salon course and pass the associated exam can apply to become AKC S.A.F.E. Certified Groomers and Salons. At the center of the AKC S.A.F.E. Grooming Certification Program is the AKC S.A.F.E. Certified Groomer/Salon Oath, which specifies a commitment to holding pet safety in the highest regard. This is one way that grooming professionals can demonstrate their commitment to pet safety and well–being to their customers.
Get Connected with AKC Government Relations
As the number of proposals at the state and local level to license and regulate professional groomers and grooming salons increase, it is important that grooming professionals keep up–to–date about happenings in their communities. Getting involved in advocacy and politics can be daunting, but the AKC Government Relations Department is available to help.
The AKC GR team is comprised of nine full–time government relations and legislative experts, plus a number of federal and state lobbyists, with decades of experience who can help analyze a bill and develop effective talking points and strategy, and they have assembled resources to help you become an effective advocate. In 2018, AKC GR tracked and responded to numerous bills that impact pet grooming and safety. In 2019, AKC GR plans to provide new updates and information specifically for groomers. If you hear about a local issue impacting dogs, grooming professionals are encouraged to contact AKC GR at [email protected] or 919–816–3720.
The AKC Makes a Difference for All Dogs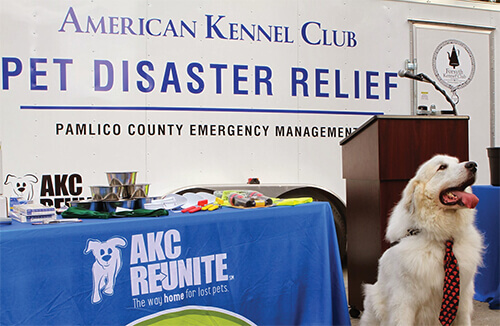 As a not–for–profit organization, the AKC is not only the largest purebred dog registry in the world, but it is also committed to providing vital support for dogs everywhere. Here are just some of the ways the AKC has given back:
Donated $42+ million to AKC Canine Health Foundation, which is dedicated to the prevention and treatment of diseases in all dogs and awards grants to scientists to advance canine health research
Provided more than $7 million to pet disaster relief efforts, resulting in over 70 AKC Pet Disaster Relief Trailers being donated to communities in need across the country
Established the Canine Good Citizen® Program, the gold standard for canine good manners at home and in the community, with more than one million dogs tested to date
Founded the AKC Humane Fund, which provides grants for domestic violence shelters and rescue organizations

Reunited more than 500,000 lost pets with their owners through AKC Reunite

Conducts thousands of kennel inspections annually to monitor care and conditions at kennels across the country
Supports the AKC Rescue Network, the largest network of dog rescue groups in the country, representing more than 450 rescue groups and 160 AKC–recognized breeds
Promotes responsible dog ownership through AKC Public Education, including its Canine Ambassador and Patch Program
The AKC is proud to support responsible grooming professionals as they strive provide the best care possible for all pets entrusted to their care. To learn more about how the AKC can help you, visit akc.org or contact AKC Groomer Education at [email protected].