By Kathy Hosler

September 2, 1931 – May 21, 2020
"It is with great sadness that I share the news of the passing of an industry legend, Shirlee Kalstone. She will be remembered for generations to come as a pioneer in the pet grooming industry, founder of Intergroom, and an integral part in the formation of GroomTeam USA. She will live forever in our hearts and in her writings. Her grooming guides inspired many a professional stylist. Rest in peace, Shirlee. You did a great job and you will be missed."
This announcement, penned by Teri DiMarino, was how many of us in the pet grooming industry learned of the passing of Shirlee Kalstone.
Shirlee was a truly remarkable woman who influenced the lives and careers of countless stylists worldwide. If you never met Shirlee, perhaps the best way to tell you about her life and the impact she had on the entire grooming industry is through those who experienced it with her…
"Shirlee was just as important to our industry as our forefathers were to our country," says Joey Villani. "She led our industry. Shirlee had deep roots—not only in the grooming industry, but also in the dog show world."
Pursuing these two passions took Shirlee and her husband, Larry, all over the world. She connected with people on so many different levels. Whether they were just entering the industry, or were established experts in their fields, Shirlee left an indelible mark wherever she went.
Many people were introduced to Shirlee through her books and grooming guides. She authored 15 books, and much of the information in them is still pertinent today.
"When I opened up my shop," says Sue Zecco, "I bought the whole series of Shirlee's grooming books. When someone called and said, 'Do you know how to groom a certain breed of dog?' I would always say, 'Yes I do,' and then I would follow the step–by–step instructions in her book."
I feel I was 'Shirlee self–taught'. I used all of her grooming guides. One of her later books actually had a picture of me and my Poodle winning at Intergroom," adds Sue.
"Shirlee was one for style and flair," says Teri DiMarino. "Her passion superseded anything we could ever imagine, and she put it on paper. Her legacy lives in her books."
Shirlee introduced many young groomers to the endless possibilities the pet care industry has to offer.
"I've known Shirlee for 46 years," says John Stazko. "I first met her in 1974 when I was a grooming student at a Manhattan grooming school. She came to the school and gave a lecture and signed her Poodle book for me. After I graduated I opened my own salon.
"Shirlee launched my career. She was the catalyst that got me into more than just being a groomer and having a store. She and her husband, Larry, took me under their wing and helped me. I was asked to do a program at Intergroom. That began my speaking career that took me all over the globe," recalls John.
"I started working with Shirlee in 1984 at Intergroom," says Joey Villani. "She took me all over the world with her as her sidekick and helper. Shirlee was an encyclopedia of knowledge. She knew so much about anatomy, structure, coat type, breed characteristics, and how and why a lot of that came about. She was all about the art and the beauty of the haircut. She trained and educated my eye to look at things differently.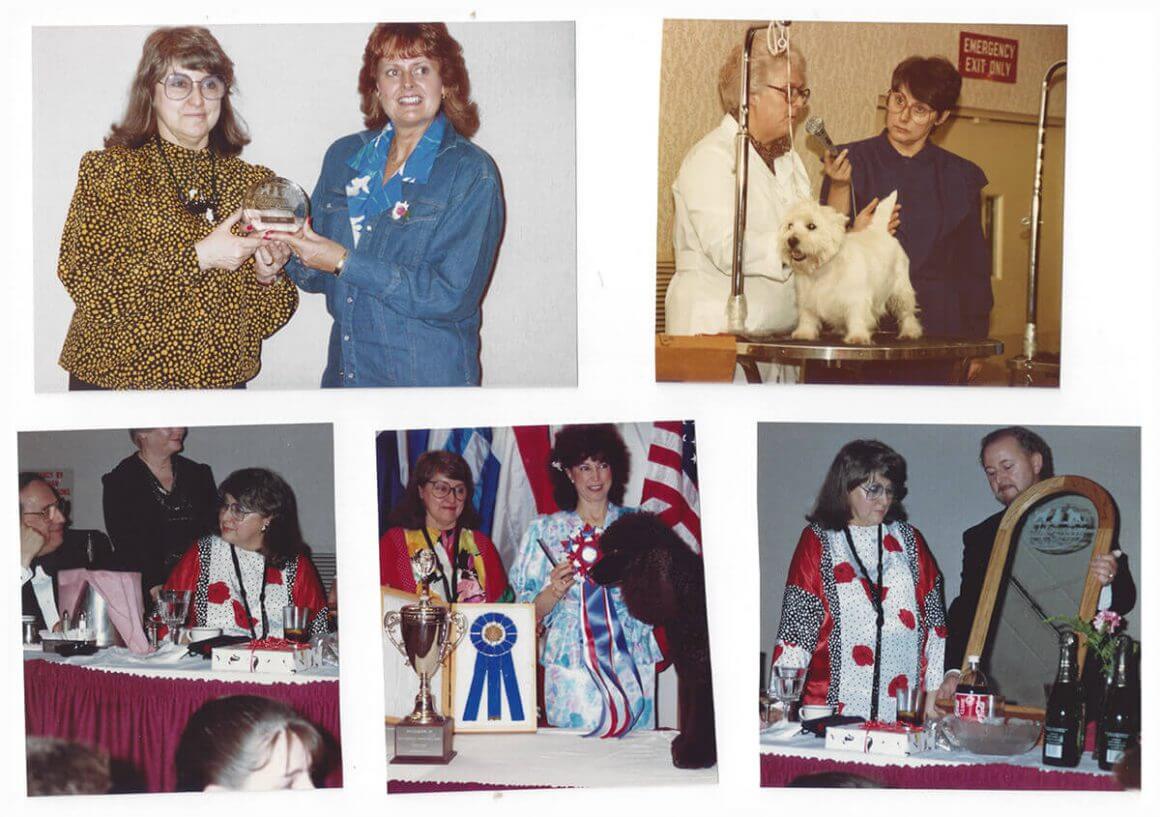 "Intergroom was originally called Groomarama," Joey continues. "But she changed the name to Intergroom, because she wanted it to be an international affair with groomers from all over the world attending."
Many people feel that Intergroom, and how it brought stylists and the grooming world together, was Shirlee's greatest accomplishment.
"I remember my first Intergroom," says Sue Zecco. "I met people from Italy, France, Germany. Even when I was in the bathroom, people were talking about dog grooming. It was so exciting.
"I'm still very good friends with the people I met there. We spent the whole weekend with a group of Italians who didn't speak English, and we didn't speak any Italian. We communicated with hand signals, etc. and we got along fine," shares Sue.
"Shirlee put her personal touch on everything she did," explains Kathy Rose. "If a group of groomers would come from Italy, Shirlee would send a bus to pick them up at the airport. She would also plan things for them to do and see while they were in America. Yes, if you came from a different country, it was truly like you were Shirlee's guest."
Denys Lorrain, Vice President of the European Grooming Association, traveled from Milan, Italy to attend Intergroom. "I first met Shirlee in France in 1991," says Denys. "She was judging the French grooming championship that I was competing in. I learned about Intergroom and Shirlee's ideas to unite the entire grooming world.
"Some friends and I decided to go. It was amazing! The show was so wonderful, we had to return every year to enjoy it and to share our experiences and knowledge with all the international and American groomers."
Shirlee wanted to raise the professionalism of groomers and it showed in everything she did—from the show venue to the spectacular banquet and the Cardinal Crystal Achievement Awards.
"Intergroom was a monumental, monster of a show," says John Stazko. "It was known as the Red Carpet Show and it lived up to its billing in every way. It was by far the most prestigious grooming convention in the industry. The banquet was 'the' event of the year. The men wore tuxedos and the ladies had on their finest gowns."
"Absolutely," agrees Hilery Zusi. "The banquet was 'class all the way' and so was Shirlee."
"Shirlee did everything first class," adds Sue Zecco. "The best in show presentation was always a huge, really big deal. And, after the banquet, everyone got together to hear the live band. That's where we all got to know each other. It was such a great feeling and lots of laughs."
"That's for sure," says Kathy Rose with a smile. "Shirlee was meticulous about every detail of Intergroom, but she also had a great sense of humor and always joined in the fun. I remember the year she entered a banana eating contest."
In addition to having fun, it was important to Shirlee that groomers had the opportunity to learn and improve their skills while they were at Intergroom.
"Shirlee was a one–of–a–kind groomer and human being," says Hilery Zusi. "She and I worked together back in 1973 and 1974 for the Lambert Kay Company. She was my first real friend in the grooming industry and she taught me so much.
"Education was very important to Shirlee," says Hilery. "She came up with the innovative idea of having reps from different companies (that had a field of expertise) and other industry experts put on educational seminars for the attendees at Intergroom."
Grooming competitions were always a huge part of Intergroom and of Shirlee's life. Her influence guided one groomer at a time, yet also touched the entire world.
"I met Shirlee at Intergroom in 1986 as a young groomer starting out in the competition ring," says Kathy Rose. "Meeting her opened my eyes to what she did for the industry. I was judged by her back then, and her critiques really helped me. Later in my career, I had the privilege to judge alongside her."
"There were differences in the way grooms were executed in France, the Netherlands, and other parts of Europe," adds Joey Villani. "Shirlee wanted to bring everyone together. It was sort of like going to a music festival and bringing multiple bands together that play different types of music. Fans love them all."
And, it wasn't just individual groomers that Shirlee wanted to showcase, she saw team competitions as another way to bring the grooming world closer.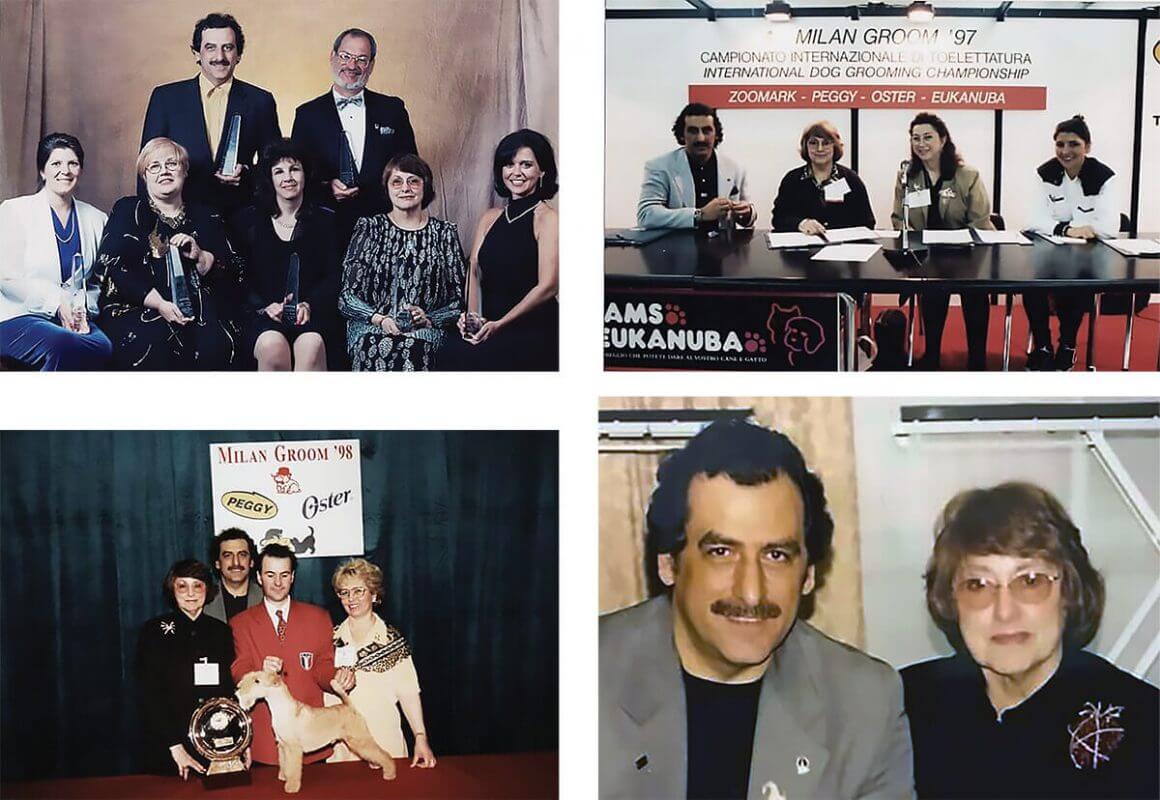 "Shirlee was one of the founders of GroomTeam," shares Sue Zecco. "So many groomers want to compete, and their top goal is to make GroomTeam and be able to travel to other countries and compete for the United States. All of that has to do with Shirlee."
"Yes, what Shirlee did for the industry, nobody has matched," adds John Stazko emphatically. "Shirlee put the whole world together. All the groomers. It was phenomenal! She would have teams from all over the world to compete. It was the best of the best competing together…pretty revolutionary at the time."
"The first World Team Tournament was held at Intergroom, and it was amazing," Joey Villani exclaims. "As each team entered the arena, they sang their national anthem, and groomers from all over the world cheered them on. Then later that night, everyone gathered in the bar/lobby of the hotel, and people again started singing. Americans sang their national anthem, the France, Canada, etc. Even though we didn't speak each other's languages, we became one international family that night. It was the beginning of something great—all because of Shirlee. Without her, we wouldn't have team competitions. These competitions are the pet industry's Olympics."
Groomers from all over the globe competed at Intergroom, and then shared what they learned with others.
"I met Shirlee in 1985," says Umberto Lehmann, President of the Italian Grooming Association and organizer of MilanGroom. "After winning the first grooming contest of my life in England, I was surprised to receive an invitation from Shirlee Kalstone to participate in Intergroom. It was a dream; my first trip to the USA to compete in the most important grooming contest in the world.
"I started organizing grooming competitions in Italy," Umberto continues. "Shirlee encouraged me, as President of the European Grooming Association, to hold the World Team Grooming Championship in Europe. Shirlee created the Oster Invitational Tournament of Champions which is considered the most prestigious individual title a groomer could win. She and I worked together on a project that became the Oster European Invitational Tournament of Champions."
Sasha Riess, who was born in Serbia, was also invited to compete at Intergroom.
"In December 2002, the postman brought an unexpected letter to my door," says Sasha. "I could not believe what I was holding in my hands. It was an official invitation to the Oster Invitational Tournament of Champions at Intergroom 2003. The invitation was signed by Shirlee Kalstone.
"I didn't realize that it was the same Shirlee Kalstone who wrote the book, Poodle Clipping and Grooming—the book which left the biggest impact on my career, and awoke my imagination and creativity. I read the book during my schooling in Budapest in 1991," continues Sasha. "I didn't understand English at the time, but that didn't stop me from looking at the pictures. I remember trying out the dozens of Poodle styles in that book. I was just 16 years old. I went to grooming school and entered the world of professional grooming, earning the nickname 'Sasha the Poodle Man'.
"In 2003 I competed at Intergroom and won a bronze medal, but more importantly, I realized my dreams. After the award presentation, Shirlee approached me with her latest edition of Poodle Clipping and Grooming the International Reference. Then she opened the book and wrote, 'Dear Sasha, It was such a pleasure meeting you at Intergroom. Your grooming is outstanding, Shirlee'
"At that moment, I stood frozen and speechless. I was standing in front of the woman who wrote the book that introduced me into the world of grooming and Poodles. Shirlee and I became great friends and her husband, Larry, helped me start my own line of grooming products," shares Sasha.
Shirlee's influence has been felt all over the globe and has led to untold advances to the pet grooming industry.
"When I think of some of the top industry people in the world," says Sue Zecco, "I know they are people that made their connections through Intergroom. That's where they all got to know each other and all came together. Now they are running their own shows."
"I met Shirlee when I was 16," says Kitty Dekeersgieter, organizer of Groomania which is held yearly in Belgium. "I came to the USA all alone to compete at Intergroom. Shirlee was wonderful. She helped me and introduced me to my future friends for life. She taught me that, in our industry, everything is possible. With her encouragement, I became a passionate groomer and shared my knowledge with all, and went on to design grooming equipment, and created a wholesale business.
"I never thought that I would be able to organize an event like Intergroom," continues Kitty. "But, I am the organizer of Groomania, the biggest event in Europe with 34 countries traveling to be with us every year. Shirlee is my example. I look up to her and am very thankful that she has been part of my life."
"The first time that the name Shirlee Kalstone appeared in my life was through a book; the first book written by Shirlee," says Sergio Murilo Villasanti, of Sao Paulo, Brazil.
"I was about 16 years old when a veterinarian asked me if I wanted to work in the grooming area at his clinic. I readily agreed. I had Shirlee's book and had seen the pictures, but I didn't know English. Following the book, I managed to do my first groomings. Without her even knowing it, Shirlee helped me start a career as a groomer.
"In 1999, I went to the United States for the first time to compete at Intergroom. I was very scared. In addition to not speaking English, I was in a contest and everything was completely foreign to me. The first person to greet me was Shirlee. I was with a friend who translated for me. Shirlee had a sweet, calm voice and a smile that calmed me down a lot. She said to me, 'Thank you very much for being here. You are the first Brazilian to compete at Intergroom. Thank you very much.'
"Despite everything that was going on," continues Sergio, "I couldn't take my eyes off her. I watched how she ran Intergroom, how she spoke to people, how people greeted her, and how much she was liked by the people. At the gala banquet she gave me a bottle of champagne with my name on it and announced my name so that everyone could hear it. It was a magical moment for me.
"When Intergroom was over, she said, 'Thank you very much for coming. And, congratulations on your work.' I never forgot this. Because of Shirlee, I wanted to hold events like this in my country. I began to plan the first grooming contest in Brazil, and I asked Shirlee to judge at our first competition," Sergio evokes.
Throughout her career, Shirlee was often recognized for her achievements and received many awards.
"I was born and raised in New York," says Teri DiMarino. "When I would go back to visit family, I would always visit with Larry and Shirlee Kalstone. They had a beautiful apartment overlooking Central Park in New York. As you entered Shirlee's apartment, the first thing you saw was an antique table with all of her industry awards. She truly treasured them.
"The Kalstone's apartment was like walking into a museum. Their collection of original works of art, tapestries, paintings, and other purebred dog memorabilia was unimaginable. The shining light is their collection of over 100 unique dog walking sticks and canes, which they amassed as they traveled around the world. The Kalstones donated the fabulous cane collection to the AKC dog museum in New York City where it is now on display," shares Teri.
The awards and memorabilia she garnered during her life were very precious to her, but Shirlee's greatest joy was seeing groomers the world over grow, blossom and reach new heights in their careers.
"She was there during a very important time in our industry—when we were going from dumpy American groomers to adding nice flair and style to our grooms," says Teri DiMarino. "Look how far we have come. We have her to thank. She laid the rungs in the ladder of success in the industry for us all to climb."
"Shirlee definitely had an impact on every groomer, whether she met them or not," adds Hilery Zusi. "All of us have benefited from her wisdom and her ideas and concepts."
"Shirlee's is a life that does not cease," says Sasha Riess. "It is eternity in a radiance that does not abate. It's an inspiration. Shirlee, thanks for everything." ✂️