By Melissa Viera

Growing up, the now 25–year–old Macie Pisa was no stranger to competitive dog grooming. Looking back, she remembers the hard work and excitement that filled her home in the days leading up to a grooming competition.
Being the daughter of a competitive dog groomer taught Pisa a lot about the world of dog grooming. Her grooming story began long before she started her own grooming career.
Pisa is the co–owner and salon manager of "The Laundromutt," a self–service dog spa and grooming salon located in Kenmore, NY. Her days are filled with doing what she loves—grooming dogs. Along with a busy work schedule, Pisa is a passionate and active competition groomer.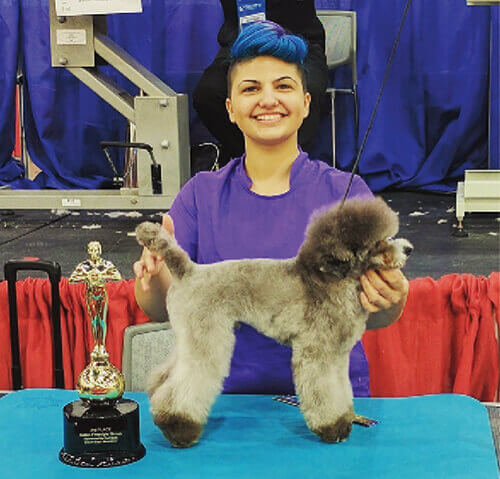 In 2014, Pisa started grooming competitively and she has not looked back. Since her competitive grooming debut, her dedication and passion have shown through her work and she has had many accomplishments along the way, such as becoming one of the youngest competitors in the open division. She was also nominated for The Barkleigh Honors "Up and Coming Groomer of the Year" Award in 2016.
Grooming was a normal part of life for Pisa when she was young, as she watched her Mother, Jeanette Anson (Genthner), compete in dog grooming competitions, worked alongside her Mother in her salon "Dressed to Impress Doggie Spa," and spent time with visiting contest dogs. From the time she was about nine years old, Pisa was washing and drying dogs.
"I grew up in the salon," says Pisa. "I was three when my mother started grooming, so it was always part of my life."
Although Pisa enjoyed spending time with the dogs and helping around the salon, she did not always know she would become a groomer. It wasn't until later that Pisa started to take a real interest in grooming as a profession. In 2010 Pisa started grooming professionally. Her passion for grooming only grew, as did her skills. Soon Pisa's love for grooming was a major part of her life.
Becoming the co–owner of a salon with her business partner, Corina Stammworthy, was an exciting next step for Pisa after she had been grooming for a few years. "The Laundromutt," is more than just a grooming salon. The business operates as a self–serve dog wash where owners can come in and bathe their own dogs. Customers have access to a tub, shampoos, a dryer, and as many towels as they need. Before customers use the service on their own for the first time, they are given a mini–lesson to learn how to use the equipment and safely wash and dry their own dog.
Along with the do–it–yourself dog wash option, the business offers full–service professional grooming. Dogs that are getting professionally groomed are always washed by the groomers and bathers instead of the owners to ensure they are washed to professional standards.
Pisa describes the work environment as a calm one, explaining that their process for booking appointments allows pets to be dropped off and picked up without having to wait around. This type of calm space benefits the animals along with the staff.
The business model has proved successful for "The Laundromutt" which has over one hundred 5 star reviews on social media. As the business grows, so do the goals of owners, Pisa and Stammworthy. The team not only manages the day–to–day operations of the business, but they are now working together to teach other groomers about self–serve salons through seminars and coaching.
Just like every other groomer, Pisa had to start somewhere and growing up in the grooming world does not mean that she did not experience frustration early on when she started to groom. "I dropped my clipper all the time and I'd be afraid I was going to cut a dog," says Pisa.
For new groomers, Pisa suggests that finding mentors is a must. She advises new groomers to find mentors, and use the resources available to them. "Finding someone to help you is not as difficult as it may seem," explains Pisa. Finding a mentor could be as simple as sending an email or reaching out to a groomer on Facebook.
From running around at the grooming shows as a young child while her mother was competing, to falling in love with grooming herself—becoming an accomplished competitor and groomer as a young adult—Pisa has come a long way with grooming. She has big plans to continue growing and taking the next steps in her career. For Pisa, her grooming story and the journey is only getting started. ✂