By Kathy Hosler

The lowly comb. It's often treated like the Rodney Dangerfield of the grooming industry. It's used & abused, but "It don't get no respect!" The basic comb is a workhorse of a tool. In fact, you can't complete a groom without one. But, it seldom receives much in the way of recognition or glory. It's a simple tool that we take for granted. A comb is just a comb—right? No, not any more.
Today's stylists have a vast array of combs to help them turn out spectacular grooms. There are specialized combs for every need. Some are designed expressly to help with de-matting, undercoat removal, and finish fluffing. Others have long teeth (pins), short teeth, double rows of teeth, and ones with alternating lengths of teeth. Additionally, there are those with widely spaced teeth, others with rotating teeth, and the newest uniquely shaped specialty combs. There is a comb for every hairy situation a groomer could encounter.
"A comb is the first tool you pick up when you place a pet on your table at check–in, so you can determine the condition of the coat. And, it's the last tool you use when you complete a groom," says Sam Kohl, owner of Aaronco Pet Products, Inc. Mr. Kohl has designed and manufactured a variety of special purpose combs through the years.
"Many of the combs are designed for a specific job in an effort to make the labor intensive job of grooming a little easier for groomers and their hands," says Mr. Kohl.
"And just like every tool you use, combs must be able to withstand continuous use without falling apart."
As with anything else, finding the right tool for the job makes it easier to achieve the desired result.
"Selecting a comb is a matter of personal preference," says Ruth Ashley, owner of Ashley Craig Pet Products. "The weight of the comb and the way it's balanced is a big determining factor. If you have small hands, you might not be comfortable with the same comb as a person with larger hands."
"A good comb should be able to get into the coat and be strong enough to do the job, without bending the pins," Ms. Ashley continues. "A well–made comb can last a stylist for many years."
Some of the new specialty combs, like the half–moon shaped comb, have become must–have favorites for many stylists. Olga Zabelinskya, Certified National and International Master Groomer, says, "Dogs' faces have areas that can be difficult to reach—like under the eyes. The half–moon combs make it easy to get into these spots and fluff out all of the hair, which makes it much easier to scissor those adorable round faces. The corners are rounded which lessens the possibility of injuring an eye or other sensitive areas."
"Premium combs help prepare the coat for scissoring," continues Olga. "They allow you to get a smooth, even finish without scissor marks. That's very important when you are competing."
You always want a comb to feel comfortable in your hand and while you are using it. And, although how the comb feels in your hand is very important, the way you use it is critical in preventing stress and strain to your hand, wrist, and shoulder.
Judy Hudson, NCMG (National Certified Master Groomer), owner/operator of Grooming Tails Mobile Pet Grooming, and one of the Grooming Professors, gives suggestions on how to prevent these kind of injuries.
"Don't bend your wrist, keep it straight while you are combing," says Judy. "You want to position your grooming table low enough so that you are not reaching way up (above your head) to comb the dog. And, you should always keep your arm close to your body."
Having your body properly positioned in relationship to the pet on your table is more important than you may think. It can make a world of difference in your comfort and it may contribute to how long your grooming career will last.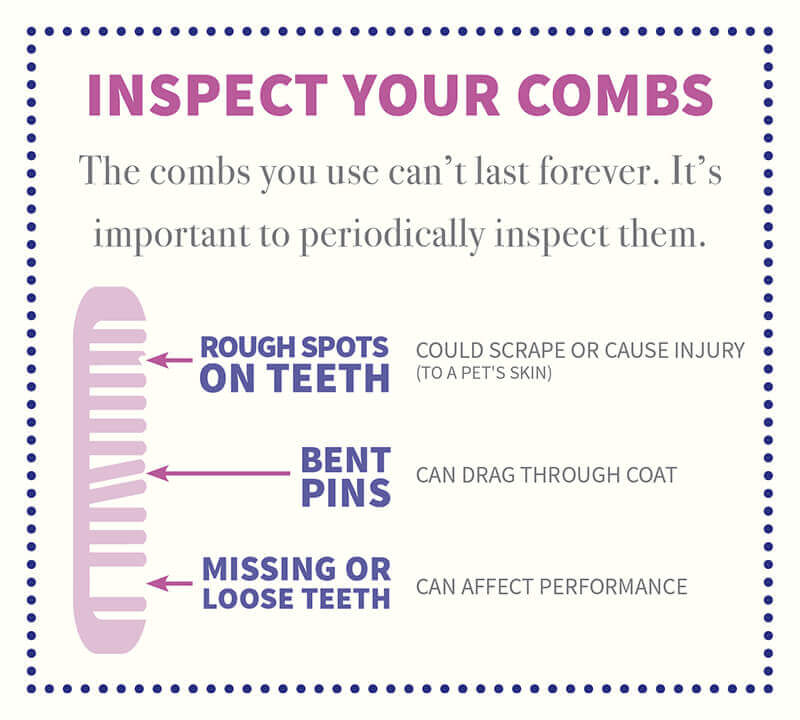 The combs you use can't last forever either. It's important that you periodically inspect them. Feel the ends of the teeth or pins to see if they have any spots on them that are rough and could scrape or cause injury to a pet's skin. Bent pins can drag through the coat, and missing or loose teeth can really affect a comb's performance.
Many stylists don't really give much thought to the combs that they use, but in reality, combs are like magic wands that help us complete every groom we do. Look at the new cutting edge designs and see how adding some of them to your comb arsenal will help you increase your speed and efficiency to produce spectacular grooms. Combs are indispensable. It's time they get a little 'respect'! ✂