By Dawn Omboy

My standard poodle, Brook and I were invited to attend a special ribbon–cutting event so I decided to color Brook with fun pink and blue accents for the occasion.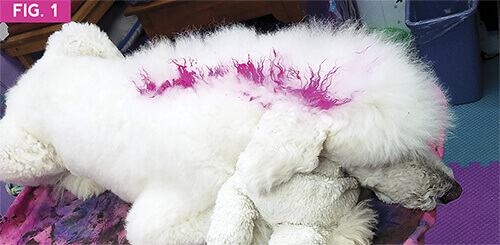 Fig 1) For the dye job itself, we began with a clean, prepared coat. I applied a thin line of pink dye from over the top of her ears down just past the withers to section off the part that would become her mane.
Fig 2) Then using foil to act as a barrier, I folded my foil against her skin and applied more dye so the hair was well saturated and then folded it over on the hair. This process was repeated until I reached the topknot area just over the tops of the ears.
Next I brushed in dye from the roots out along the foil barrier I had created so that I could then make quick work of filling in the rest of the mane with dye. I did this by brushing it all in the direction of the foil, using it as a barrier and guideline. You may want to foil the second side and then fill in if you are more comfortable with that method.
Then in small sections at a time, I brushed in the dye until her topknot was completely saturated, taking care not to get too close to the eyes. Her face was not shaved during the dying process in case there were any 'oopsies' that could be easily fixed by shaving that hair away.
Her tail was then dyed the same color as her mane and topknot and covered in foil to prevent color transfer.
Fig 3) I wanted the bottom of her legs to be flared out and sport two different colors so I separated some of the hair from the top of the flare to prevent the colors from blending into each other by brushing the hair from the top of each flare and holding it in place with a bit of foil. Saran Wrap works great for this too.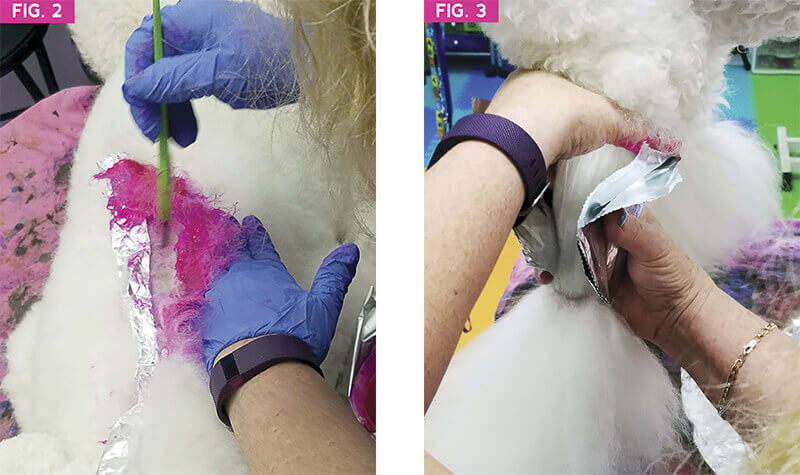 Fig 4) Once this was all in place, I began color application from the bottom of the leg working upward, until I reached the section that was separated off for the next color.
Fig 5) Next I covered the bottom of the legs where I just applied color and released the top part that was sectioned off and began the second color.

I then had her lie back down on the table with a towel protecting her body from the dye on her back feet while I colored the front. After about 30 minutes, we rinsed the color quickly with cool water and then dried as normal.
The result was beautiful and fun and she was a big hit at the event!
Making the World more Colorful, one dog at a time… Queen of Color. Go to www.queenofcolor.com or visit me on Facebook.