By Melissa Viera

Setting goals and dreaming about the future is the easy part compared to the hard work that it takes to reach those goals. If you want to be great at something, you must do a whole lot more than dream about it. You have to put in the hard work and long hours. There will always be obstacles, but it's how you handle the challenges that will make you great. When faced with challenges, you can either give up and find something easier to work towards, or you can do whatever it takes to move forward.
No matter what your grooming goals might be—learning to groom a difficult breed, competing for the first time, making GroomTeam USA or opening your own business—it is inevitable that you will encounter many unexpected challenges and distractions on your journey.
Judy Hudson, who resides in Kingston Springs, Tennessee and owns Groomingtails Mobile Grooming, was determined to learn everything she could about grooming when she began her career 30 years ago. Growing up on a farm in Kentucky taught Hudson a lot about working hard. She spent a lot of time caring for horses and other animals even as a young child. Hudson enjoyed working with the animals, especially grooming and brushing the horses, even though the work was far from easy. Winters could be especially challenging. Hudson recalls taking an ax and breaking away the ice from the horse's hooves so they could walk comfortably in the harsh winter.
As a child and a teenager, Hudson had spent a lot of time grooming horses but she did not know the dog grooming world even existed until later in her life. "I probably thought I would work in the horse world," says Hudson. "I came from a small town in Kentucky and I didn't know there was such a thing as dog grooming growing up. I didn't even know there was such a thing as dog shows or anything like that, until I was in college."
After graduating from college with a veterinary technician degree, Hudson began working for a veterinarian in the Nashville area. "I noticed that the groomer got to leave every day as soon as she was done with her work and she was making more money than I was with my college education," says Hudson. "That appealed to me, because I was the sole support for my family," she explains.
Hudson was already comfortable with clipping since she used clippers on the horses quite often—clipping their muzzles and bridle paths. As a veterinarian technician, there were times that she would clip dogs and clip around wounds. It was when the groomer that worked at the veterinary clinic where Hudson was a tech walked out that her career changed drastically.
"Literally the groomer walked out of the vet clinic where I worked and I picked up the old Stone dog grooming book and started grooming," says Hudson.
Hudson realized that she wanted to become a skilled groomer. When she saw Rick and Susan Cleveland on the front cover of Groomer to Groomer Magazine, a light went on. "I called them up and said I want to do the kind of grooming you're doing."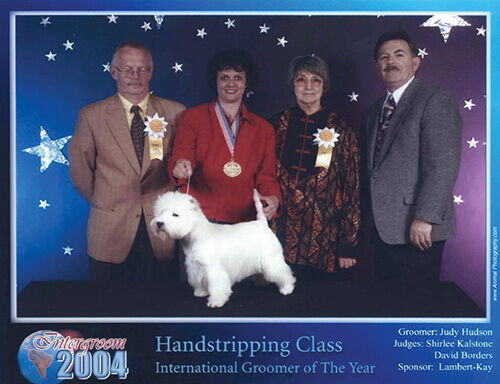 They told Hudson that they did not teach groomers, but she did not give up. "I said, 'you don't understand I'm a hard worker and I'll work for free if you will teach me.'"
After a few more conversations, Hudson's desire to work with the Clevelands was clear and they finally agreed. Hudson began working Saturdays with the Clevelands while she was pregnant with her daughter, Annie Kate.
 "I drove an hour and half each way to their shop."
After the birth of her daughter, Hudson continued to work hard at becoming the best groomer she could be. She would bring her daughter to the shop on Saturdays and groom while her daughter napped in the middle of the grooming room.
When Hudson started her own mobile grooming business, she was also working another job to support her family. Her days were spent working and her nights were spent grooming on the road with her new business.
Having a new baby, working and running her new grooming business was a lot for Hudson, but she was still working towards another big goal, which was to make GroomTeam USA. Another friend and mentor of Hudson's, Chris Pawlosky, encouraged her to become an Oster Ambassador. Hudson had met Pawlosky at a dog show.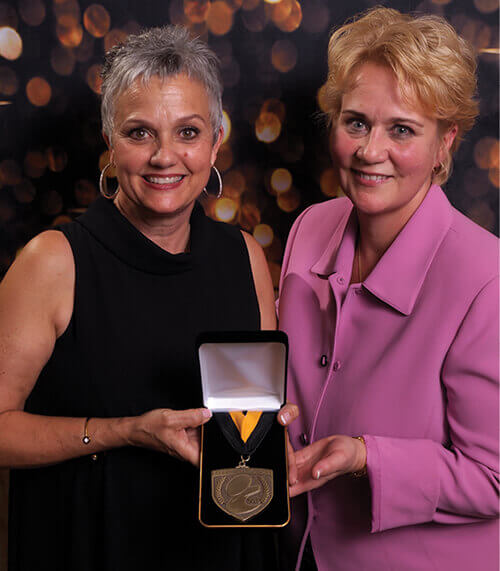 "She has been a great mentor and I would drive to wherever she had a dog show and we would show dogs all day," says Hudson. After showing and working hard all day, Pawlosky would give Hudson grooming lessons.
"She wanted me to be an Oster Ambassador and I said, 'I don't think I need to be an ambassador until I have done something that makes me worthy enough for people to want to come and hear me speak.' So, I wanted to make the United States GroomTeam."
Not only did Hudson make GroomTeam USA, she won a gold medal in France in 2005 with her American Cocker Spaniel and her team took home the silver.
"Probably the highlight of my career was going to France and winning the gold with my cocker and the silver with my team," says Hudson. "That was an experience you can never replace."
Hudson's achievements did not stop after France. Hudson is an international judge and speaker, an Oster Ambassador, a grooming coach, a Nationally Certified Master Groomer, a certifier, and a pet CPR and first aid instructor. Over the course of her grooming career, Hudson has won multiple best in shows and has been recognized and admired for her work. Teaching others how to have a successful grooming career is what Hudson currently enjoys.
"We all make mistakes. We all make mistakes every day and we are just like you," says Hudson.
"We groom everyday—dogs; the shave downs, the matted dogs, the biting dogs, the ones that have accidents on your table. Being consistent is one of the most important things I think is key to having a good groom and a good experience every day in the shop."
Hudson believes that the secret to staying motivated as a groomer is to keep working towards something. "Progress equals happiness," says Hudson. "So, challenging yourself, learning a new breed, learning a new technique every day…. that's the thing about this industry, there is a new mountain to climb all the time."
Hudson is currently very focused on helping others. She is working on webinars along with speaking and teaching. Her message to all groomers and anyone struggling with feelings of not being good enough is one she wants to share. "You are enough and I think that is real important for all of us to know," says Hudson.
Hudson knew she wanted to be the best she could be at grooming and she wasn't going to let anything get in the way. She has no plans of slowing down. What will you do to be the best you can be? ✂