By Kathy Hosler

In 1909, Pascual Artero, a sheep shearer and knife sharpener in Barcelona, Spain, founded the Artero Company. From the beginning, Pascual's company specialized in and sold animal clipping equipment.
Today, brothers Edu and Alex, the fourth generation of the Artero family, operate the business. The Artero Company distributes and manufactures tools, shears, dryers, grooming equipment, shampoo and coat care products for the pet industry. They are also a driving force in the beauty industry in Spain. Artero products are distributed to more than 35 countries throughout the world.

For many years they have held Jornadas Artero, a yearly grooming show, in Barcelona, Spain. This magnificent international event showcases grooming experts from around the globe, sharing their expertise in all phases of grooming.
Now, you can attend this ground–breaking event—and you don't have to travel to Spain to experience it! Mark your calendars for May 20th and 21st, 2018. The two–day grooming extravaganza, Artero Jornadas USA, will be taking place at the The Riverside EpiCenter (also known as the Bronner Center for the Performing Arts) in Atlanta, Georgia.
"Artero Jornadas is the first show of its kind in the United States," says LuLu Rodriguez, NCMG (National Certified Master Groomer) and Assistant Show Coordinator. "We want to make the show experience more accessible to people throughout the world and allow them to participate in this interactive, one–of–a–kind event."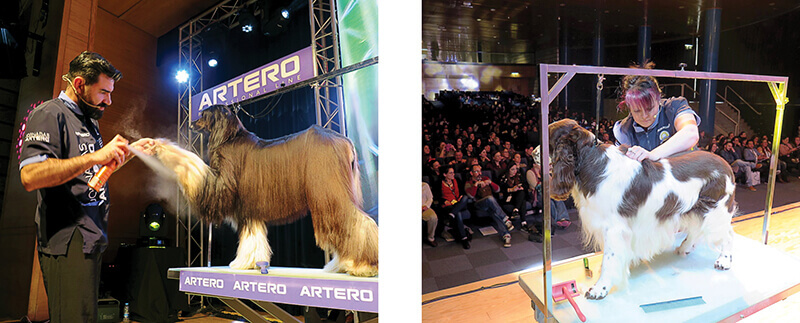 "It's all about education and connecting with others in the industry," says Edu Artero, co–owner of Artero. "These kinds of events bring professionalism to the stylists who attend, and elevate the pet industry as a whole."
Touted as the ultimate educational experience, industry experts from all over the world will be presenting training and demos in their specialty field.
"This is a no stress event," says Mr. Artero. "It is the perfect opportunity for stylists to 'recharge their batteries', and return to their salons with a new enthusiasm for their careers."
The format of all–day seminars allows attendees to relax and really get into the learning. With the top groomers from all over the world as presenters, you will be able to see how grooming is done here and in other countries. Additionally, attendees will get in–depth instruction on the latest styles and techniques in the grooming industry.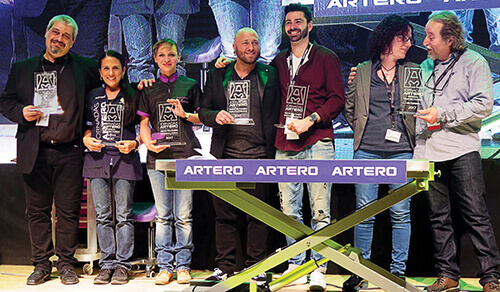 "Guest hosts Sue Zecco and Victor Rosado, along with fourteen industry greats, have been invited to share their talents and knowledge on the stage," says Edu Artero. "The two days will be filled with world renowned experts presenting information–packed talks and in–depth grooming demonstrations,"
GroomTeam USA will be among the first set of presenters. With four tables on the stage, they will simultaneously be grooming the same breeds of dogs that they won the World Championships with; Lindsey Dicken with a Bichon Frise, Victor Rosado with a Scottish Terrier, Mackensie Murphy with an American Cocker Spaniel, and Michelle Breen with a Standard Poodle. These 2017 World Championship winners will be duplicating their winning grooms for all to see.
The latest in high tech audio visual equipment will broadcast close–up views of the presenters and every detail of their presentations. Every attendee will enjoy great all–encompassing coverage of all the demonstrations no matter where they sit. After each session, the speakers will be available for questions and there will be a little meet–and–greet where you can chat and have your picture taken with them.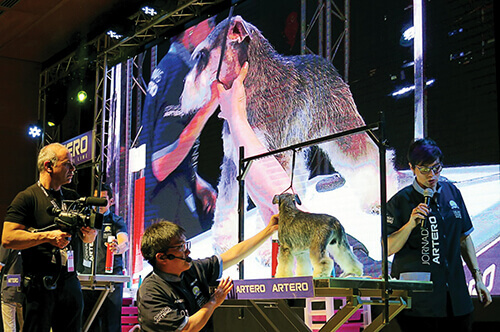 Attendees of the Artero Jornadas USA 2018 will be entered into a prize drawing for everything from baskets of Artero products, to an all–inclusive 5 day trip to Madrid, Spain to experience the 2019 Artero Jornadas.
Pascual Artero founded his company on hard work, quality, and integrity. Education was also of foremost importance to Pascual, and has become an integral part of this family–owned business. Bringing experts from all over the globe to an event like Jornadas gives groomers the opportunity to learn from the best.
"Artero Jornadas USA will be educational, interactive, and fun for all attendees," says Edu. "We are confident groomers will walk out with a renewed passion as well as many tips and tricks of the trade to use in their salons."
To get more information about Artero Jornadas USA, go to www.artero.com. There is a list of all the speakers and demos, a complete schedule of events, and information on prices and seating. Contact your local Artero distributor to receive a discount code that will save you money on registration for this exciting new event. ✂