By Adriane Pope

After three years in the making, documentarian Rebecca Stern's first feature documentary, Well Groomed, made its debut at this year's South by Southwest Film Festival in Austin, TX. The film follows top creative groomers Angela Kumpe, Nicole Bookman, Cat Opson and Adriane Pope through their journey to the most prestigious creative grooming competition at the world renowned Groom Expo in Hershey, PA.
And this is Adriane's story about her one-of-a-kind experience at this remarkable event….
"I am so honored to have been able to attend South by Southwest Film Festival in Austin, Texas for the premier of Well Groomed. The trip to get there was a long haul but well worth it.
Gucci, Encore and I drove from Conway, SC all the way to Austin, TX. When we arrived in Austin on Friday, our first stop was at the Dirty Dog Self-Wash so that the movie stars, Gucci and Encore, could be pampered from the start. Saturday morning began with a photoshoot with the whole cast and crew. It wasn't just any photoshoot, it was the real deal; I mean, fans blowing our hair and all. It was a great feeling.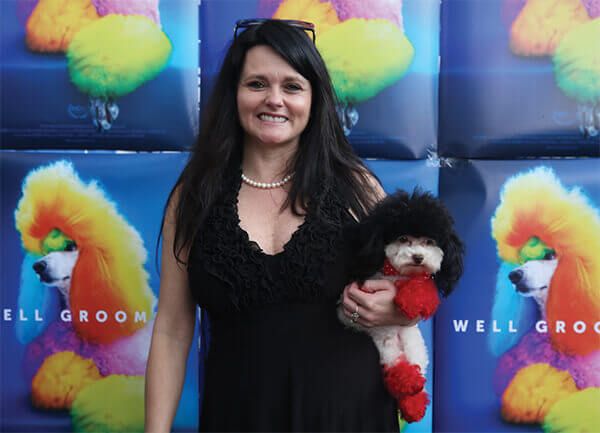 As I was leaving the photoshoot, I ran into Dan Rather in the hallway of the hotel—and he wanted his picture with Gucci! We left the hotel and went for another photoshoot at a studio. This shoot was several hours and very detailed. There, we were able to take pictures with Rebecca Stern and everyone who made this film possible. It was an experience like no other.
Saturday afternoon was filled with promoting the film in downtown Austin. We walked the dogs from the film downtown and handed out bandanas to other dogs on the street. This called for many photo ops. Everyone went crazy over the colorful dogs! Of course Gucci was a diva and made me carry him for many, many blocks. It was so great to experience this with Cat and Nicole and their husbands.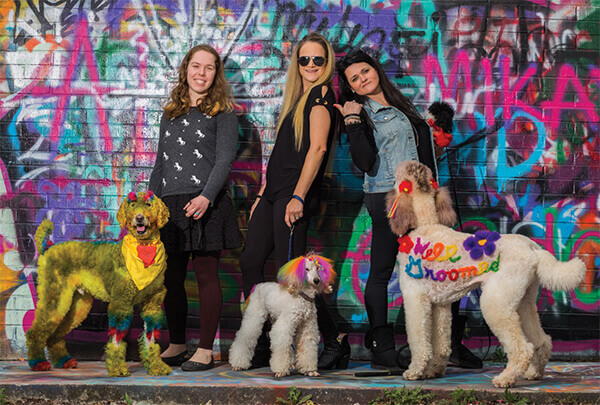 After the dog walk, I went to dinner with my mother and sister. I was so glad to have them there! After dinner, it was off to bed for me—I had a long day ahead of me! Sunday morning was a whirlwind, getting ready for the red carpet premier of Well Groomed. After Gucci, Encore and I got ready, we headed to the red carpet for more photos. Gucci was in his tuxedo.
After the paparazzi were finished, the dog sitters came and picked up the dogs. We went into Alamo Drafthouse Cinema and watched the perfect film of Well Groomed. It was very emotional. At one point, I sat back and closed my eyes to take it all in. I heard people laugh, cry and applaud with such emotion. After the film was over, I was taken by surprise with a Question and Answer session with the audience.
Cat, Nicole, Rebecca, myself, and the whole cast and crew went on the stage. The sitters then brought the dogs back to us, and they joined us on stage as we answered questions. No one had anything negative to say. One word describing the film that stood out to me was "heartfelt".
After we finished the film, we went to the after party which was over the top. We sat there and talked and laughed about the different memories in making this film. The crew stated that this was the most humbling film to make and how it was hard to cut 240 minutes down to 90 minutes.
Monday morning as I was walking the dogs in downtown Austin, I heard many people yell out of car windows and from across the street, "Oh my gosh, there is Gucci and Encore!" This also called for about 100 selfies with Gucci and Encore. We went back to the theatre for the second viewing of the film. Monday was filled with lots of pictures with the public—it really made us feel like movie stars!
After the film, we did another Q&A session, and the last question asked was, "What was your favorite part of the film?", and I answered, "The ending, because I would have never dreamed I would have won first place in Hershey". The audience all applauded with excitement, and it gave me chills.
Tuesday morning I started my road trip back home. As I reflected on the entire weekend, I realized it was one of the best experiences of my life. I want to thank Rebecca Stern for everything she did to make this all possible and my friends and family for the love and support of my crazy hobby over the last 27 years.
The only thing that could've made this weekend any better was if my husband, my girls and my dear friend Angela Kumpe could have been there to experience it all with me."