By Melissa Viera

Grooming professionals strive to make pets look their best with teddy bear styles and ring–ready breed trims, but grooming is not always about getting the styles just right. Grooming can be urgent and life–changing for animals without loving homes and families.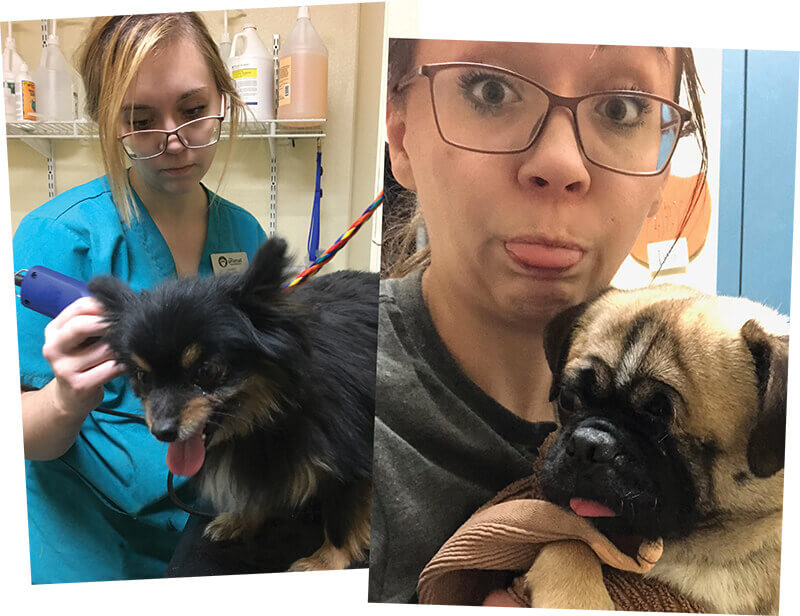 For Kasey Van Dyke, The Rescue Groomer, grooming is not about styling pets to meet customer requests. Kasey Van Dyke works directly with the animals making sure that she does everything she can to help them. Cutting back overgrown nails and removing thick matting on dogs is a difficult but important part of Van Dyke's job.
As a full–time groomer at The Animal Foundation, the municipal animal shelter in Las Vegas, NV, Van Dyke transforms animals in desperate need of care.
"The shelter animals are often highly stressed and distrustful, so I have to focus on their comfort levels and allow that to dictate what the result is. Many of them are severely matted or have skin issues," explains Van Dyke.
Giving pets cute personality trims or pretty, hand–scissored finishes are rarely an option during day–to–day grooming of rescue animals as Van Dyke explains.
"The focus shifts from creating a perfect teddy bear head or pattern line, to finding a way to safely carve them out from inches of mats so they can go to the bathroom and move their ears."
Even though she sees some of the most severe matting and neglect an animal can experience, Van Dyke is driven by the fact that her work matters for each individual animal that she is helping. "Sometimes they just look naked but you can always tell how much better they feel," says Van Dyke.
Van Dyke was curious about a career in grooming before she landed her first grooming job, but she did not always know that she would end up becoming a groomer. For Van Dyke, it made sense, given her love of animals.
"I never expected to get into grooming, but after my husband and I moved to San Antonio for his job, I couldn't find a place to work. I figured I would get an office job and be dissatisfied until retirement."
The job search continued for over a month when Van Dyke spotted a job opening that sounded like just what she needed. She went to the interview for a position as a dog grooming apprentice at a corporate salon and she was both delighted and surprised when she found out that the job was hers.
She quickly realized that grooming was something she could see herself doing in the long–run, and after working as a groomer in San Antonio for about a year, she moved to Las Vegas.
"I was really drawn to The Animal Foundation as they were looking to hire an on–staff groomer."
Van Dyke knew first–hand just how special helping a rescue animal is after adopting her own senior cat from a shelter in Utah. She explains that she could see how much her cat needed and appreciated having a person.
Helping animals in need using her skills as a groomer made sense all around for Van Dyke.
"I was excited about the prospect of helping animals who had experienced tough times and needed extra love."
While helping animals and grooming are both extremely rewarding, Van Dyke's role as The Rescue Groomer is far from easy. "The biggest challenge comes from the emotional investment," she explains.
"Since so many of these animals come from unknown or rough backgrounds, I've found the best way to create a positive grooming experience is putting myself in a mindset of being their person for that little while I have them. It can be difficult to see them in poor condition, but seeing how happy and loving they are, how grateful they are to have someone paying them attention and treating them kindly makes me excited to come to work every day."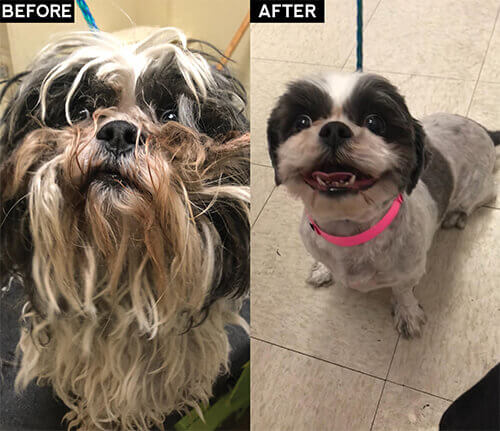 Van Dyke enjoys being a part of a growing grooming industry and networking with other groomers, and she gets inspired by the work of others.
"We all have different skill levels and areas of expertise that we can share with each other. By sharing tips and experiences with each other, we create better grooming practices for the animals."
All groomers are faced with challenges and bad days and Van Dyke explains the importance of reaching out to other groomers when faced with challenging times.
"Every groomer feels burnt out at some point. Picking different skills and techniques you want to perfect gives you focus. Talking to other groomers gives you support."
Van Dyke sees herself grooming for many years to come and even when faced with difficult days, she knows that she can make a difference not only helping animals feel better, but helping them find the forever home that they deserve.
"Seeing the dogs I groom come out of their shell and be adopted is the most inspiring and motivating thing."
For groomers that want to help rescue animals, Van Dyke recommends volunteering when you can at local shelters. As she explains, grooming animals in poor conditions that are difficult to see might not be easy in the moment, but the transformation and the results that the grooming will have on the animal immediately by helping them feel better, as well as helping them find a forever home, makes the hard work worth it.
"Grooming at a shelter is the most rewarding, heartbreaking, encouraging, and satisfying place I can imagine grooming. Emotionally exhausting? Yes. Challenging? Definitely. Worth it? Absolutely," concludes Van Dyke.