By Kathy Rose

Simple renovation construction or a complete new salon build–out is an exciting adventure. Unfortunately this can also prove to be a stressful process. Hiring the right contractor can make or break that experience. Researching prospective contractors is vital!
Your first step is to contact your local building department or consumer protection agency. They can provide information regarding licensing requirements for contractors in your area. It is important to know that some laws may vary regarding commercial and personal construction. Armed with knowledge of the legal requirements related to commercial construction, you can begin the process of finding your contractor.
Start your search for a contractor early in the planning stages of your salon. Once a relationship has been established, your contractor can provide a good resource for construction information regarding many aspects of salon renovation, design and build–out. You should be able to provide a basic concept of your design plans when speaking with prospective contractors, even if you have not nailed down a specific location.
With your initial legwork of choosing a location completed, a contractor can provide valuable insight into modification of the space and may even assist you in final location decision by providing rough cost estimate comparisons. Contractor input regarding renovation costs and plausibility of your design ideas may assist you in finding the right location that will fit your budget.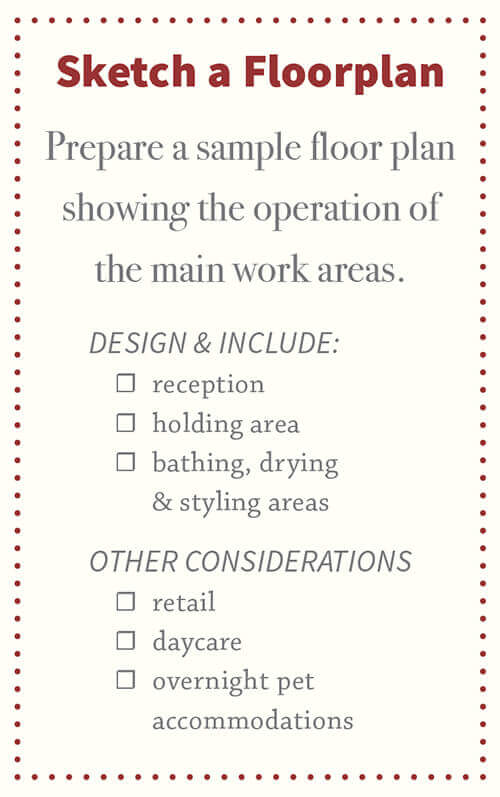 It is wise to have a general idea and a sketch of an effective grooming salon floor plan. A contractor may not be familiar with how an organized grooming salon operates or even the process involved. Prepare a sample floor plan showing the operation of the main work areas with a broad indication of plumbing, electric, and lighting needs. Design and include: reception, holding area, bathing, drying and styling areas. Depending upon the scope of your facility, other considerations may include retail, daycare and overnight pet accommodations.
Understanding the basic concepts of operating a grooming salon will help you choose your location and assist the contractor in providing a bid that will economically adapt your design to an existing space. Keep in mind it is usually more cost effective to adapt your design to the space than to adapt the space to your design.
The best place to start your search for a contractor is by word of mouth. Ask friends, family and local business owners who they recommend. Get references and testimonials from prior jobs. A good contractor will have a list of references with phone numbers of previous clients. If there is a large gap between jobs, ask questions. Remember that references are of no value, unless you contact these previous clients.
Chances are you will need at least one permit from the department that enforces building ordinances and codes. It is possible that electrical, plumbing or other specialized jobs may require separate permits. A licensed general contractor should be able to determine the legal requirements for renovations and secure the necessary permits or provide sub-contractors that can provide the necessary permits. Confirm this in your initial consultations with prospective general contractors.
Once you have narrowed it down to a select few candidates, request a copy of their contractor's license including the name and telephone number of the licensing agency and the license expiration date. Contact your state's licensing board for tradesmen and contractors. All states that license contractors and tradesmen keep a list of license holders. Except for plumbers and electricians, most hourly paid tradesmen do not require a license, but if any significant amount of work is required a license is needed in most states. The state licensing board can also be a supportive ally in resolving issues if you have a problem with a licensed contractor.
Document the insurance requirements such as personal liability coverage, property damage and worker's compensation. Make sure to see certificates from all sub–contractors. Contact your state's division of Workman's Compensation for regulations pertaining to your area and make sure the contractor is in compliance.
Once you have secured the space to be renovated, make sure to detail the scope of work to be completed. Clearly identify the services and materials that will be provided. Establish a written schedule with completion dates and penalties for preventable delays.
Get a written contract. This should include a bid based on the job, and a price breakdown for labor, materials, permits, subcontractors, etc. Don't make any changes without documentation and the financial effect on the bid. This is called a Change Order.
Determine if sub–contractors will be hired and if so, make sure you have copies of their licenses and insurance requirements. Confirm your contractor will be onsite to over see all work being performed.
The contractor should provide a schedule for payment that corresponds with a timeline for completed work. The payment schedule should be detailed and include a clause permitting you to withhold at least ten percent until all inspections are passed and you have received a release of lien from the contractor and all sub–contractors. This is vital and will help to eliminate the chance of future leans being placed by sub–contractors who were not paid by the general contractor. An average deposit at signing is twenty percent, but may vary dependent upon the scope of work and your area.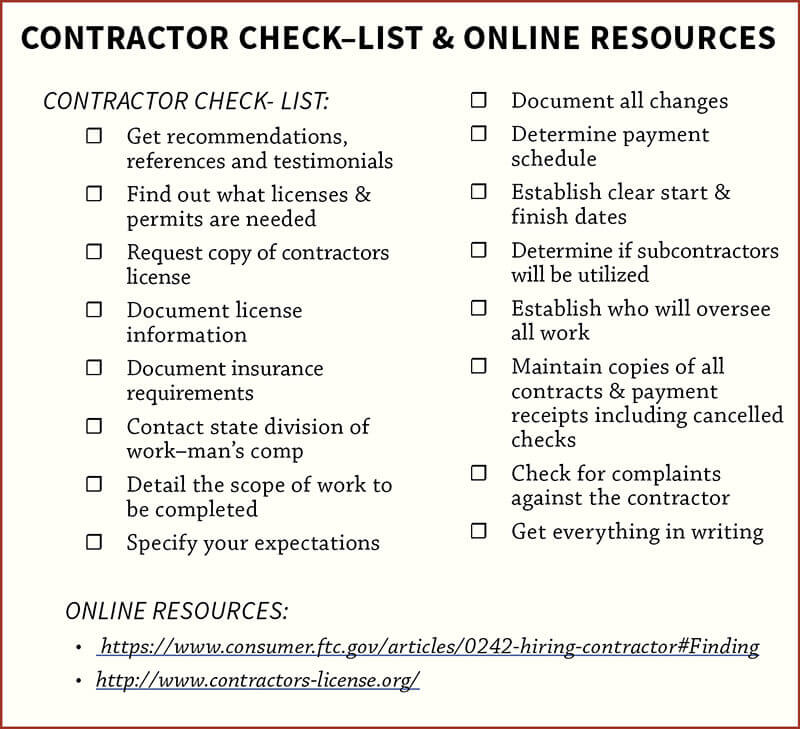 Build–out of a new salon or renovation of an old one holds the expectation of future rewards. Doing your homework and following a few cautious steps can help to make the process not only bearable but also successful. ✂

Kathy Rose is an internationally acclaimed speaker, contest judge and columnist for Groomer to Groomer magazine. A four time GroomTeam USA award winning travel team member, Kathy has designed and built multiple successful grooming salons with nominations for top boutique salon in the country four times and cover of Groomer to Groomer buyers guide.