By Jen Phillips April

When two childhood friends reconnected in 2011, they didn't know they'd marry one another and open a series of dog grooming shops. However, it all came together quickly and seven years later, they have six salons across two states.
William Berry came from the banking world while Khris had spent her career with animals as a groomer, dog kennel owner and dog behaviorist. Khris was tired of the 24/7 pace of running a dog kennel and ready for a change. As the couple spoke about their experiences with pets, it became clear there was an opportunity to apply their combined business acumen to the dog grooming industry.
Khris says, "In an unlicensed, unregulated industry, we're providing standards. Our approach is groomer centric. We focus on education, training, and plenty of communication."
A Rigorous Training Program
The couple has created processes and implemented a thorough training program for their staff across the six salons.
"We have an apprenticeship program. We train our own groomers to meet our high standards," says Khris. "The training program is 18 months of training for support staff including bathers, doggie daycare staff, and receptionists. "For groomers, there is another 3–6 months of training as a groomer after the apprenticeship."
According to William, "We hire people with the mindset they'll be here 5–10+ years."
One of the keys to their success is communication.
"We encourage our staff and groomers to be completely transparent. We encourage them to talk with the pet owners and let them know both the good and bad."
Khris says, "If a groomer muzzled a dog because the dog was aggressive, we don't want them to then say to the dog owner, 'oh, he was great.' Instead, tell them you had to muzzle the dog because he was being aggressive."
Their philosophy is when you communicate even "bad news" like this in a professional way, it leads to a stronger relationship with the client because they know you care.
Khris continues, "We teach our staff on proper dialogue. There's a lot of coaching about how to talk to the client when the dog comes in. We give them a list of questions so they can build a rapport. We want them to know exactly what the customer wants. We also have a consultation process so that the client understands the price, what service their pet will get, and when they'll get their pet back.
"We have animal handling guidelines. We follow the PPGSA, which is the gold standard. We believe every set of eyes in our building speaks for the animals. If you see something, report it," adds Khris.
They've also created an Animal Advocacy Program outlining the steps to take if anyone sees inappropriate conduct.
In addition to education, professionalism and communication, there's a fourth aspect to the "Team Spot" success—and that's location!
Location is Critical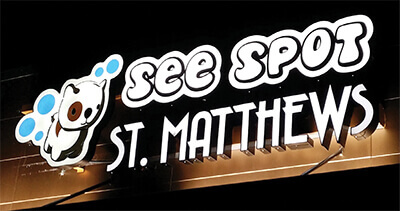 William says, "Location is essential. We want to be a convenience. Three locations are in strip malls where they're surrounded by major retailers in high income areas. We also want the salons close enough so they can create a community. We've been able to create a strong culture with both our groomers and our clients."
While the flagship salon is in Louisville, Kentucky, the Berrys opened one in Florida in 2017 when Khris's son and daughter–in–law moved to Florida. Now they have three salons in both states and some staff have gone to Kentucky to work and vice versa.
These cross–training opportunities help the staff get to know another salon and the other members of the staff. When asked about communication, Khris and William both laugh, "We over–communicate. The Florida staff feels like they know Kentucky and vice versa. We have multiple communication threads and talk daily."
Khris says, "Dog grooming is a career with a high burnout and injury rate. We want to make it enjoyable and lucrative. The more we support one another, the more we all flourish."
She also says, "We've created a culture of teamwork. If they see someone struggling, everyone helps. One groomer had surgery and couldn't lift the dogs for a few weeks. So, everyone else helped."
William chimes in, "We tell every employee you're going to see us do exactly the same things we ask you to do. We cover lunches, the front desk, daycare, sweep, mop, vacuum. A good team requires open communication."
A Family–Run Operation
Khris says there are five family members involved. She, William, and her son serve as the admin team. They handle billing, scheduling, inventory, HR, etc. Her daughter–in–law is the head of training and her daughter heads the flagship store in Louisville.
Khris says her son and daughter were literally raised in the dog grooming business and have won many awards. Collectively, the family's dog grooming experience adds up to roughly 113 years including son, daughter, daughter–in–law, Khris and William.
When Khris isn't working in the day–to–day of running the salon, she speaks at industry events. While William is newer to the grooming industry, he brings his experience in finance and forecasting to the team. "I'm passionate about the business and we're always looking ahead. My background is projecting 6–12 months ahead. We don't start the day wondering how we're going to do it. We've already figured that out."
What's next for See Spot Grooming & Doggie Daycare? William and Khris have their sights set on growing the brand to ten salons. We're sure they will! ✂️