By Michell Evans

"I need advice on how to update my salon.  I have been open for 14 years and have never changed a thing.  I have been noticing that it looks cluttered, dingy and just does not have a fresh smell anymore.  I wondered if you have any ideas for how to update without breaking the bank.  I have been pretty good about keeping up with equipment replacements and repairs but it is desperate for a face lift." –Helen
I am so glad to hear that you are going to update! The first thing to address is the budget. Small bank loans are pretty easy to get. It is important that you accompany your salon's update with a price increase. Make sure that the price increase is enough to cover the monthly payment and then some. Your clients will love to see the improvements and they want to see your business succeed.
A small bank loan of say $3,000 at an interest rate of 10%, paid off in 24 months would require a payment of $138.43 per month. A $5,000 loan at the same rate for 36 months would be $161.34 per month. You can see that a relatively small price increase would cover the payment. However, you may want to consider a more substantial increase. Remember that the customers will be WOWed by the new fresh look!
Start with curb appeal. You would be surprised at how easy and inexpensive it can be to put down a cute door mat and hang a flowering pot on either side of the door. Be sure to check your lease agreement and local ordinances and make sure it  is allowed. Use hanging pots rather than planters because the planters turn into glorified, yet useless, fire hydrants in no time.
You can order indoor/outdoor rugs that have your name and logo woven right in. Ask yourself what your customers see when they look at your salon from the parking lot. Is there anything that can be covered or re–arranged so that the front of your salon looks neat and organized? Remember to look through the windows.
Once the customer steps inside, what do they hear, see and smell? Try to avoid having barking dogs or barking employees where the customers can hear them. Try playing spa music to invoke an instant relaxed feel. These options are not possible in some salon arrangements, but there are other options like scheduling the barking dogs for a short appointment at the end of the day.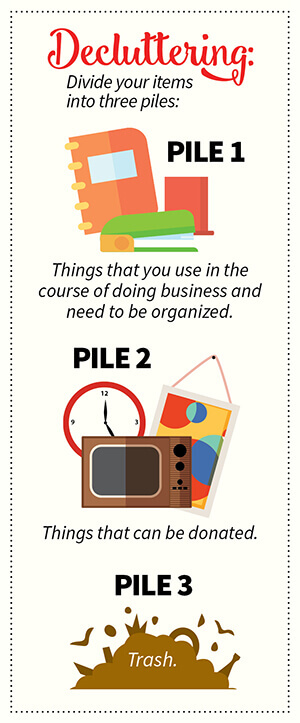 You mentioned clutter. When the client walks into your salon, it is important that they see a well–managed space. If the lobby is cluttered it might make them feel overwhelmed. Worse yet, it might make you seem overwhelmed. No one is comfortable in a place of clutter, even if they don't realize it. Decluttering is very inexpensive because it is mostly your own time that needs to be spent. You may need to purchase a few new pieces of furniture to more properly store surplus supplies and manage paperwork. Make three piles; pile #1 is things that you use in the course of doing business and need to be kept and organized, pile #2 is things that can be donated, and pile #3 is trash.
A fresh coat of paint will really freshen up the place. The dingy look that you mentioned can be largely improved by a clean, bright color and crisply painted trim. When painting a grooming salon it is extra important to wash the walls down before painting. If you are not aware of how dog dander sticks to painted walls, just take your hand and wipe it across the wall. It will show that there is a chalky, waxy substance that is covering the walls. If you do not wash this off before painting you may have issues with the paint sticking. Plus, washing this coating off the walls will likely help with the odor that you mentioned.
Deciding whether paying a company to wash the walls and paint, or close your business to do it yourself, is a numbers game. How many days will you have to be closed? Typically a company can do it in 2 days, but what do they charge? Also, it depends on if you have the time. If you have a dropped ceiling with tiles, be sure that they get replaced with fresh new white tiles. These are very inexpensive.
Flooring is one of the most expensive things to replace. It takes a lot of time and it might also require a lot of your own labor. Some companies will move all of the equipment and then put it back, but you still have a lot of preparation to do. Hiring a moving company might just save your groomer's–back from unnecessary stress. They can devise a plan to help you pack–up and move out, and then move back into the space. One good thing about this process it that you will be forced to sort your things.
Flooring is one of the most common culprits for "the odor". If it is much worn and smelly it might have to be done throughout the entire space. But if it can be cleaned up pretty well, maybe you can get away with just changing the flooring in the entrance area.
New artwork and a few plants go a long way to spruce the place up! Also some sort of automatic air freshener never hurts. I hope this helps you gain the gumption to get-er–done! You will fall in love with your salon all over again! ✂

I am a multi–Best–In–Show and Best–All–Around groomer. I am the recipient of many Barkleigh Honors Awards including journalist of the year. I am a Silver and Gold medalist for GroomTeam USA. I am the winner of Show Dog Groomer of the Year 2015. I am a (VIG) Very Important Groomer–Ambassador for Purina and I have been teaching as The Grooming Tutor since 2000. And I groom to make a living, just like you. Please send questions to [email protected]