By Chelsey Hall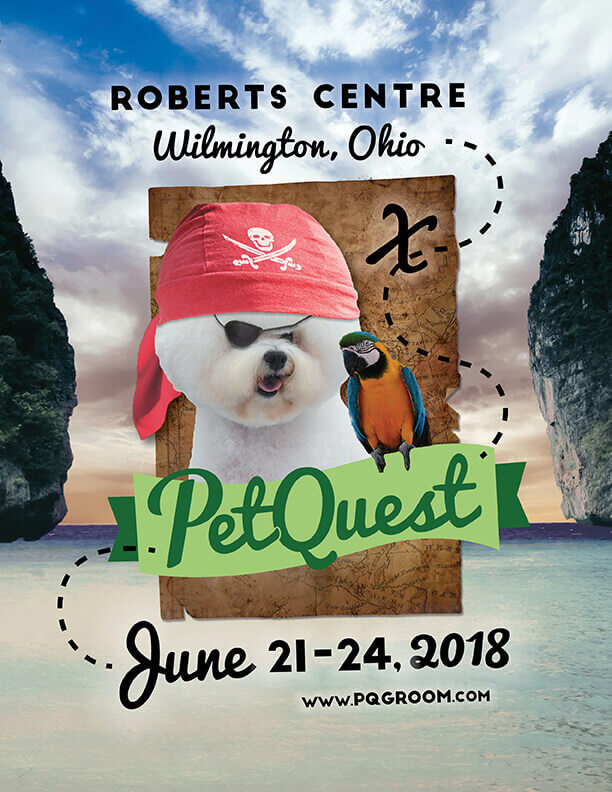 PetQuest is already a very unique show that is considered by many groomers to be their favorite. It has a laid back, comfortable and casual feel to it that is unmatched. "I don't know if it is because it takes place in the summer, and going away feels like a vacation at the time," states Barkleigh president Todd Shelly, "Or, if is the fact that this Holiday Inn is the most dog friendly facility, or a combination of those and other factors, but this show is always a lot of fun."
This year the show will entail an all new Asian Fusion contest among many other exhilarating, never seen before, programs. PetQuest will boast a special game show night with amazing prizes as well as puppy yoga to benefit local rescue groups, which is sure to create a buzz of excitement for all attendees. This expo will be the most involved, fun and exciting event of its kind!
"PetQuest is my favorite show of the year. The accommodations are very pet friendly. The hotel has potty pick-up stations stocked with bags and garbage cans outside, fenced in dog play yards and a bathing room for dogs with several tubs set up. The hotel staff is friendly. There are several fast food locations in walking distance. And the trade show is fantastic! Every year there are more vendors selling great products, yet the trade show still has a small-town community feel to it. I can't say enough good things about PetQuest." States Jill Pipino, long time attendee.
Lastly, one of the best added features this year and for the first time ever, we are offering a three-installment payment plan for educational packages. This will open up the door for many attendees who are interested in the higher packages such as the Do-It-All, but may have been hesitant because of cost. Don't miss this one-of-a-kind experience! Go to www.PQGroom.com for more details.