By Kathy Hosler
Photos Provided by Cynthia Kohl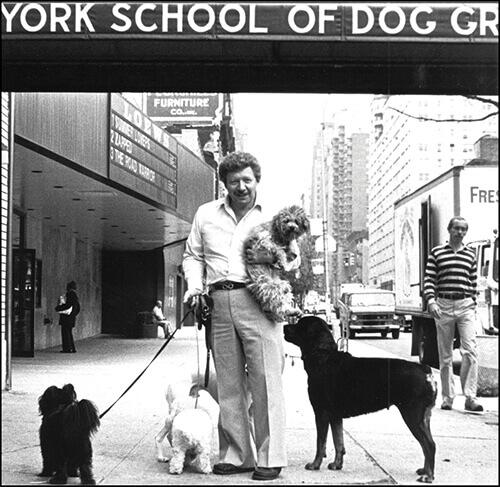 "Last September I was walking through the Groom Expo trade show with Sam and Cynthia Kohl," says Vicki Zwart, owner of Heritage Pet Center in Parker, Colorado. "Strolling toward us was the industry renowned 'Dogfather', Joey Villani. When Joey spotted Sam, he called out to him—"Here comes the legend!" As Sam and Joey shook hands, I began to think about the story behind Joey's comment."
Becoming famous wasn't Sam Kohl's goal when he entered the pet care field. But, you would be hard pressed to find anyone in our industry today that has not benefited in one way or another from Mr. Kohl's multi–faceted contributions; whether it be from the many in–depth books he has written, the innovative tools he has designed, or the thousands of groomers he has taught.
Originally Sam planned to become a veterinarian, but that dream was not to be. After high school, Sam enlisted in the Marine Corps where he learned to do things 'by the number'. When he left the military, Sam and four of his friends started a delivery service. And, although the business was successful, Sam longed to do something with pets.
He opened one tropical fish store, and then two full–line pet shops. Soon, people were coming in and asking him to groom their dogs. So, Sam read everything he could find about it and went to dog shows to see how the professionals groomed.
Next he took a course at the New York School of Dog Grooming that was owned by Ben Stone. After his graduation, Ben—recognizing Sam's love for the dogs and ability to groom—offered Sam a partnership in the school. Then, in 1970 Sam and his wife, Cynthia bought the school.
It was a very small operation in the beginning, but over the years they opened two satellite locations and became the largest and most prestigious grooming school in existence, with students coming from all over the world to enroll.
There was very limited information available for teaching students when Sam took over the New York School of Dog Grooming. He knew that they needed a solid, well defined course of study in order to teach uniformly.
He and one of the school's instructors, Cathy Goldstein, contacted every breed club of the American Kennel Club (AKC) to ask exactly how each breed should be groomed. This was a monumental task, since the grooming instructions needed to be converted for pet grooming. When completed it helped develop a standardized basis for grooming each breed, just for the students at his school.
In 1972 Sam started creating his first book, The All Breed Dog Grooming Guide®. Sam credits his by–the–numbers military training for helping him with the book. His step–by–step instructions, complete with illustrations and grooming diagrams of each breed, made it easy to learn how to properly groom them. Through the years, this book has been recognized as the bible of the grooming industry and it has sold well over 100,000 copies.
Soft–spoken and shy, Sam never desired to be in the spotlight—he just wanted to make life better for all groomers and the pets that they care for, and his school was the perfect platform to accomplish that. In addition to training his students to groom, he also taught them how to care for their equipment and themselves, communicate with clients, and operate and build a successful business.
When the Kohls sold the school in 2000, they had trained over 10,000 students. Those graduates formed the nucleus of much of today's groomer population. Sam and Cynthia are very proud of the skills and professionalism their students have brought into the grooming world.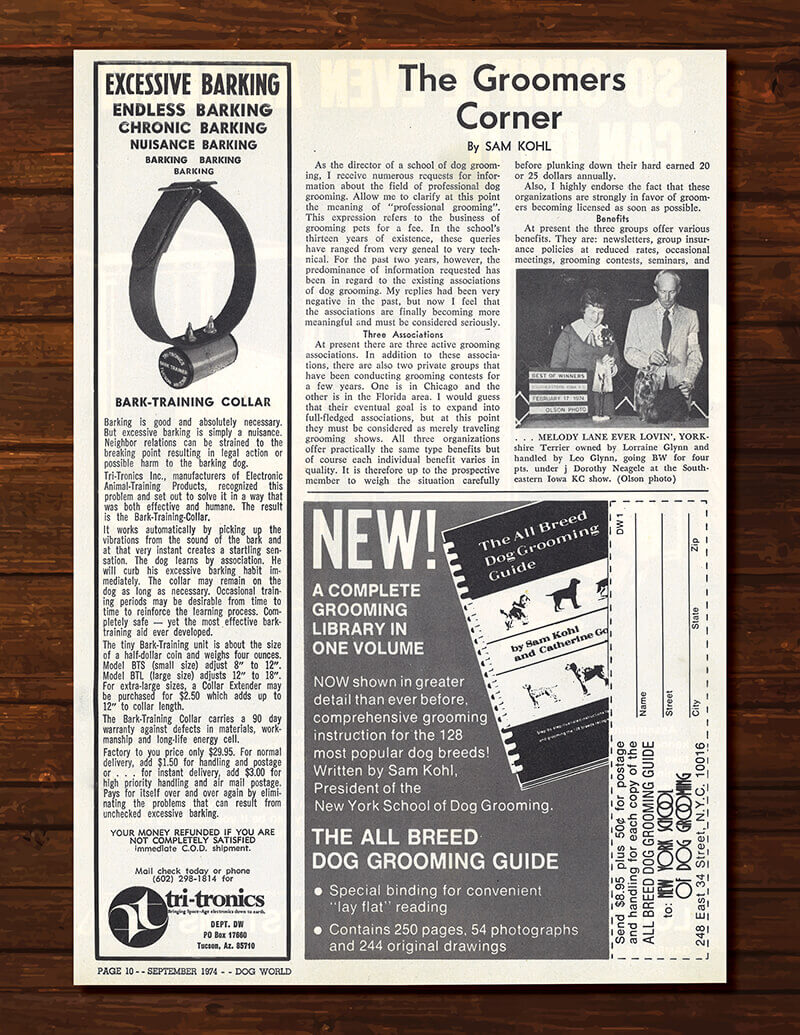 Always the visionary, Sam also saw a great need for improving the equipment that groomers use every day. "Tools that will help make a groomer's life easier and more efficient have long been my passion," says Sam intently. "And, the beauty, comfort, and well being of the pets is always uppermost when I design or improve a tool."
"His first tool innovation came when I complained that using a hemostat to pull hair from a Poodle's ear was painful due to its locking clamps," said Cynthia Kohl.
"No problem," said Sam. Soon he developed and marketed the Hairmostat® ear–hair puller with comfortable vinyl handles and no hazardous locking clamp.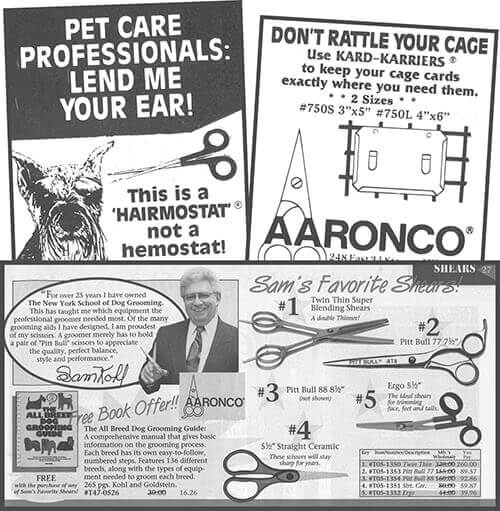 Often, groomers would come to him for suggestions on how to solve their problems. Carla DeGregoria, a groomer from Massachusetts, remarked that shops had an issue with mixing up or losing collars and leashes. Sam helped remedy this problem by inventing the Kard Karrier®, a cage card holder with a built–in hook to hold a leash and collar. He received a U.S. patent for this and also for his next invention, the Rakiteer®, a unique scissors, brush and clipper holder.
His company, Aaronco Pet Products Inc., grew by leaps and bounds as he continued to design tools and write books for the industry. Mr. Kohl continually challenges himself to make things easier for hard working groomers. "Groomers are on their feet all day long, and work for hours and hours," Sam says. "They need tools and equipment that solve a problem, save time, and are ergonomic and comfortable to use."
Every time Sam got an idea for a new tool he would sketch it out and make a prototype out of wood or other material. Then Cynthia would test how it felt in her hand and how well it worked, and together they would refine the design until they were both satisfied with it.
Sam designed the Honeycomb® line of combs. They were each formulated to do a specific job; the Under–coater, Finisher, Pocket Pal, and De–Matter. He was the first to introduce an entire line of scissors with adjustable knobs. And, he introduced the Champ® Black scissors line and the TwinThin®, a combination thinning shear and straight scissor. He also created a complete line of stripping tools.
He encouraged clipper companies to manufacture the #3, #3 1/2, and #8 1/2 blades as well as clipper coolant. He urged them to make appealing colors for the clipper cases, instead of their traditional use of only plain black ones. He was the first to design brightly colored grooming loops and has brought a multitude of other innovative tools to the industry.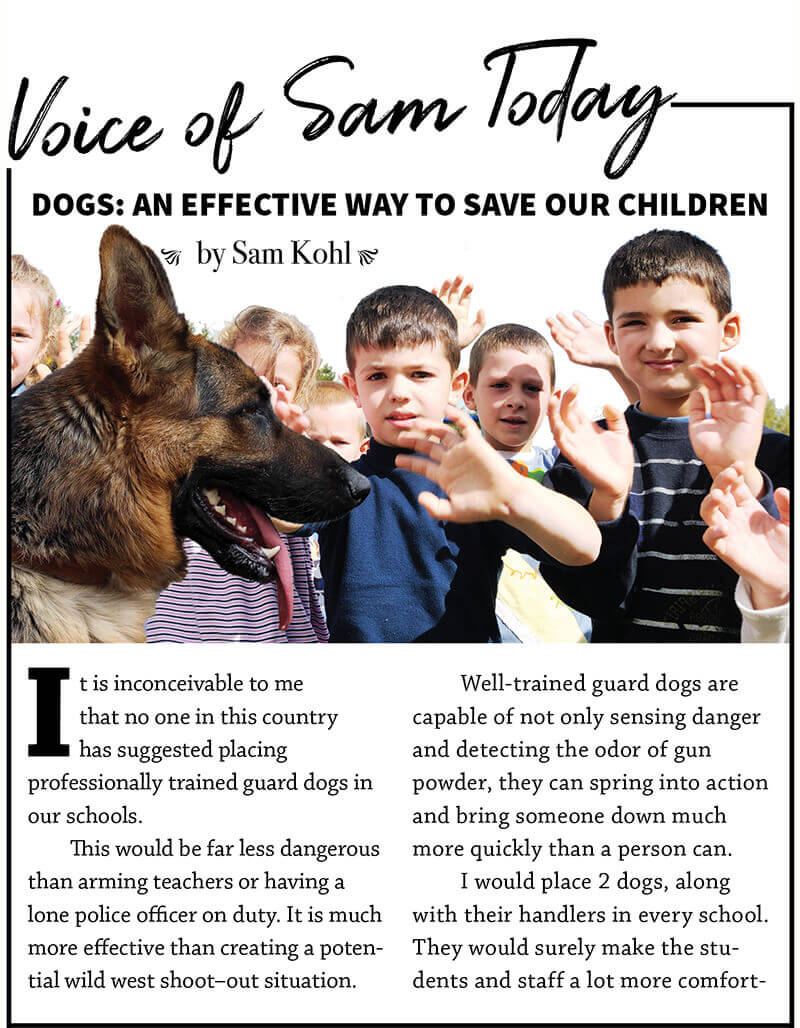 It would be a safe bet to say that most of the world's groomers use tools and equipment every day that were designed or influenced by Sam Kohl. In addition to all of the tools that he has designed and manufactured, Sam also helped other companies improve their tools and equipment.
"I suggested that dryer manufacturers install heavier (take–apart) wheels and that they use lighter motors so that stand dryers would not constantly tip over when they are being used," recalls Sam.
He was instrumental in changing the design of grooming tables, too. Many of the early hydraulic tables were boxy (almost coffin–shaped). He showed how a more tapered and stylish design would benefit groomers by keeping them from hitting their knees when they were working on a pet. And, even small concerns did not escape his attention. He suggested to pet nail clipper manufacturers that they place a vinyl coating on the handles of their clippers. It made them more comfortable to hold and safer to use.
Through the years, Sam Kohl truly became an icon in the grooming industry. He has countless accomplishments and has been the recipient of a myriad of awards—including the Barkleigh Honors Sally Liddick Lifetime Achievement Award.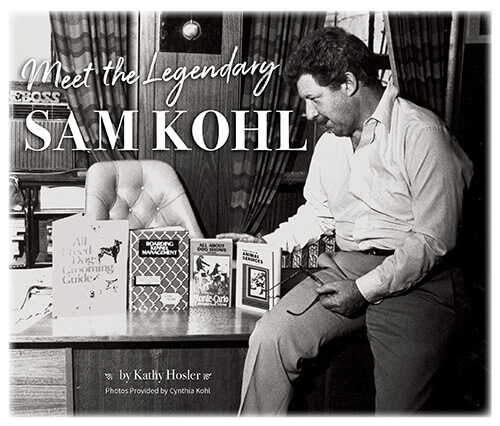 Of everything he has done, Sam says that his greatest reward is the pleasure he gets from people who come up to him at grooming shows to thank him for their careers—whether they are graduates from his schools, or have taught themselves to groom by using his book.
And when they tell him how much they appreciate and use a tool he has designed, Sam smiles warmly and replies, "Thank you. I'm glad that I could help you."
"Now I understand what Joey Villani meant when he called Sam 'The Legend'," exclaims Vicki Zwart. "Sam Kohl is not merely part of our industry. He is our industry!" ✂