By Mary Oquendo

I asked her where she got the magnet from and was told she took it off the side of my mobile grooming van quite some time ago. She didn't have a dog at the time as she was in school, but always knew she would have a dog one day.
And now her dog was getting his first groom.
I love magnets as a marketing tool. Why? They are useful and last forever. Once on the refrigerator, always on the refrigerator. They hold up artwork, appointment cards, and lists. They are easy to give away and are kept. How many business cards have you received and simply just tossed? My magnet was sitting on someone's refrigerator for at least 10 years before they called me.
Large companies market differently than small to medium sized businesses. Large companies budget oodles of money for marketing. In fact, in 2013 Petco's marketing budget was over 15 million dollars. I don't know about you, but I don't have that kind of money lying around. Large companies use repetitive ads. We are constantly bombarded by their images and messages. It is a very expensive way to get name recognition. We, as small businesses, can't compete in that manner. However, magnets are our answer to repetitive ads. Every time a client walks past or opens their refrigerator, they see our ad.
What should you include on your magnet?

• Your logo. This is a visual representation of your business. Make it memorable and in line with 
the image you wish to portray.
• A picture of you. The reason real estate agents always use photos on their cards is because it is a proven fact that faces sell.
• Contact information. So they can call you and make an appointment.
•  What problem do you solve for them in the form of a question that they can answer yes to? And add a call to action underneath.
Example: Are you tired of your stinky dog? Then call (business) at (phone number) to change that smelly dog back into your kissable pet.
"Why yes, my dog is stinky and I need to call you. And if I forget, I'll be reminded again and again, every time I walk past or open my refrigerator door."
–Potential Client
• Magnet background should be white or light colored. There are studies that indicate it is easier to read text and notice images on white backgrounds. Text should be large enough to read without resorting to glasses.
• Be original in your design. Services such as Vistaprint offer easy to use customized templates. The problem is that they are overused by many businesses. You don't want your magnet to get lost in a sea of similar magnets on a refrigerator.
How to use magnets for marketing:
• Drop them off at veterinarian offices. Many veterinarians have new client and/or puppy welcome packs 
that could include your magnetic business card.
• Most pet stores have community boards. They usually do not have enough pin tacks though. But for magnets, that's not a problem if there is a metal edge around the board. Or simply carry your own pin tacks.
• If you groom for shelters, ask them to include your magnet with their adoption paperwork.
• Bring them to events. Ask the event coordinator if you can include them in any gift bags they give out. Bring plenty. I have never run out of brochures or business cards, but have underestimated the number of magnets I needed.
• Place them on the side of your vehicle. This works even if you are not a mobile groomer. People can walk past and take a card while shopping.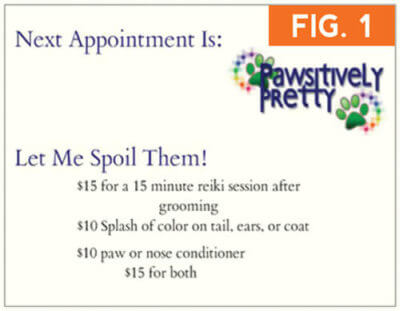 • Give them to current clients. They can, in turn, give them out to friends and family who asked who groomed their dog or cat. This is my current magnet I give out to my clients (Fig. 1). It has a space for them to write their next appointment on, as well as lists some new services I am looking to promote. This magnet has been instrumental for new clients remembering their appointments.
• There is a degree of heft to magnetic cards. They are much heavier than regular business cards. So when you are driving down the road, and someone pulls up along side you, rolls down their window, and asks for your card, you can toss it from your window right onto their car. (True story—It took me only two tosses for the magnet to attach to their car.)
Magnets are a cost effective, consistent, and reliable means to put your business in front of potential clients. And that, my friends, is marketing 101. ✂