By Dawn Omboy

This lucky little white Mini Poo belongs to my Aunt Jeri, my mom's sister who lives in the desert of Southern California and is of Irish decent. On my recent visit, I wanted to surprise Aunt Jeri with a little creative design on her beloved Sam. A groomer friend in the area offered the use of her salon while I was in the area, and I brought my airbrush along for the trip. You just never know when one will come in handy!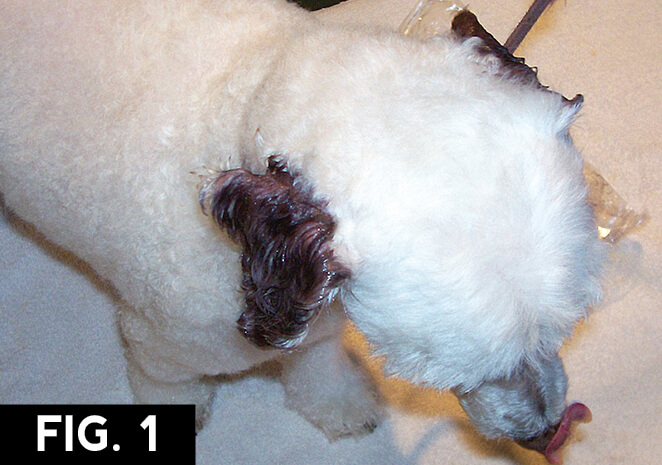 Sam was already in a short clip with not much hair to work with, so a quick airbrush design was perfect for him. This look just thrilled not only Sam's mom, Jeri, but my Aunts Joni and Linda and Cousin Gary, who were also visiting Aunt Jeri.
I started by giving Sam a bath and drying him. Next, I mixed a bit of Revlon Colorsilk Black #10 to color Sam's ears a pretty black. This color will last until it grows out and is clipped away. Using an applicator brush starting from the bottom of the ear, I painted the color onto each ear, coating the hair and working from the bottom up to the top of his ear (Fig. 1).
I coated the top of his head between his ears with undiluted conditioner in case he should shake his head during the 25-minute processing time to prevent color from sticking there. I draped Sam's body with a towel held securely in place by clipping it together around him to prevent black dye from getting on his body where I did not want it. Since his hair was already short (Fig. 2) there would be no excess coat to clip off.
Once the processing time was up, I placed Sam in a small plastic trash bag and secured it around him so that only his head was exposed before putting him back into the bathtub. This would allow me to rinse the color from his ears using cool water and not splatter color anywhere else on the dog. It also cuts table and drying time, making his grooming session much shorter (Fig. 3).
I purposely did not clip Sam's face until after the bath so that any unwanted dye spots on his cheeks could easily be clipped away after his ears were rinsed and dried.
The next step in this simple salon creative is to prepare the design, which I had drawn out on paper, and to line up the dyes in order of use. I also tested my airbrush equipment to make sure it was flowing properly; you can do this on a towel if you like. I prefer a simple, small gravity-fed airbrush with a small portable motor. For me, this works the best, as it is easily portable and easy to keep clean. In between color, I run alcohol through the gun before adding my next color unless I am blending colors.
With the dog standing on a towel, I started this freehand design by looking at what I had drawn out and outlining my pot onto the back leg of the dog. Then I changed colors and began the rainbow that would lead from my pot of gold to halfway forward on the body, where I would place a shamrock. Cleaning the airbrush with alcohol in between colors and testing it on the towel to be sure they were the proper shade, I finished the rainbow (Fig. 4). For the shamrock, draw three hearts joined in the middle with a stem coming out of the bottom.
Now the complete pattern is done, and you can go back to do some shading and outlining to make your pups picture really pop (Fig. 5)! I outlined in black India ink and did a little shading on the pot, then added some green Critter Color to the little bit of black ink for a darker green shade on my leaves. I cleaned the airbrush and hi-lighted them with a bit of yellow, and I was almost done.
For some finishing touches, I used a green stone held in place with eyelash glue in the center on the shamrock. For my pot of gold, I used coin beads secured to the coat as you would a bow on a small rubber band. This entire design, including bath and dry, only took about an hour and a half (Fig. 6).
My Aunt Jeri had never seen a creatively groomed dog in person and was so very happy when her Sammy came home to her as this little Irish man with a shamrock and a rainbow leading to a pot of gold. Her smile was worth a million bucks! I love you, Aunt Jeri!
For creative tips and supplies, visit www.queenofcolor.com. Email [email protected]
Making the world more colorful, one dog at a time…
Queen of Color