This year's pandemic caused many groomers across the country to have to shut down for weeks or months. During that time, some of us took the opportunity to spruce up our workspaces, some took up baking or a new sport, while others binge–watched television and put on weight they did not intend to. But then there are people who channeled the creative energy they normally expend on pets into a whole new hobby.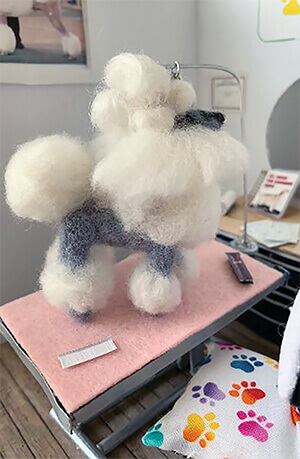 Maria Santella of Sicklerville, New Jersey is a groomer with 32 years of experience, and also teaches grooming at a local technical school. She thought it would be fun to dabble in the world of making room boxes. A room box is a display for three–dimensional, miniature environments. They are much like a doll house, but fashioned with just one room instead of a larger, multi–room structure. Typically made to a scale where one inch represents one foot, the sky is the limit when inventing a space in miniature.
Santella said, "I have always been interested in miniatures, but only started working on them during the coronavirus shutdown. I originally started on a miniature house but wanted to do something different. I thought of just doing a room box of a grooming room. This was my first attempt at anything miniature. Since very few stores were open, I decided to make everything myself."
She found most of the materials used in her wee grooming room around her house. "I used some craft supplies that I already had. An example of some of the materials I used are foam board, popsicle sticks, bottle caps, toilet paper rolls, aquarium tubing, a toothbrush, jewelry findings and printed pictures from the internet."
The tub sprayer looks like water could come spurting out at any minute. She fashioned that from an Apple ear bud! Everything in her room box was crafted at home except the poodle figure, which she purchased on Etsy.com.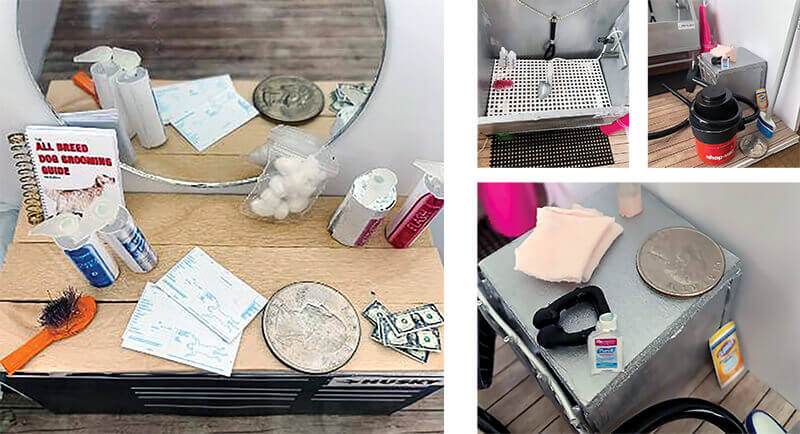 "I found doing this particular miniature was not very hard, but it was time–consuming since I made everything myself. There are a lot of tutorials on YouTube for creating miniatures, but I found little on the subject of pet grooming, so I just had to wing it on a lot of the things I made," Santella says.
From tiny shampoo bottles to soft terry cloth towels, everything a Lilliputian groomer could ever wish for is included in this tiny salon. There are even Barkleigh Clip Cards to keep record of every miniscule pet.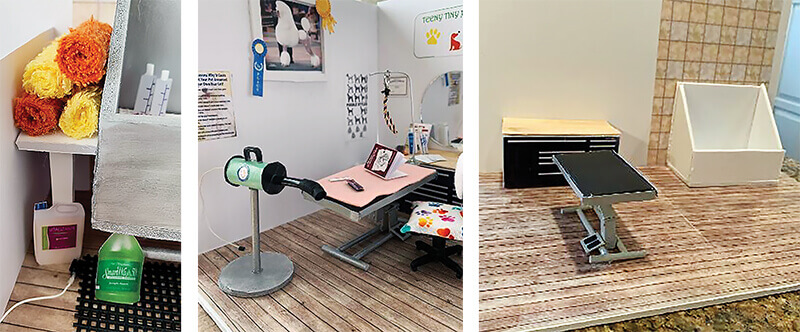 With her first amazing project completed, Santella plans to finish a miniature house done with a modern theme, and she has also started a house with a horror theme. Because building the actual houses does not interest her, she bought both, one at a rummage store and one on the internet. These larger projects will be more time–consuming and complex.
"Room boxes are the way to go for newbies interested in miniature, as you can make any design or theme you can think of in a smaller area, making it as simple or elaborate as you want," concludes Santella. ✂️