Barkle 'N Shine is home to the "MakeRover" where every dog gets to look and feel their best.
Owner and groomer Cathy Sciortino says, "When the dogs come in, we sit on the floor and get to know them. We spend time with the dog and love on them. When they come back, they can't wait to get in the door." 
She says the Ormond Beach, Florida dog grooming salon is known for its customer service and bright, cheery decor that fits the local beach theme. "People always ask us if we're a franchise because our salon looks brand new and it always smells good."
She has one employee, Suzy Suring, who left a corporate HR role to make a new career as a dog groomer. Cathy says, "She loves her job and it shows. Everyone loves Suzy. She's been here seven years."
Despite there being plenty of other dog grooming businesses in the area, Barkle 'N Shine thrives.
"We offer an experience for our guests. We work with the dogs, not against them and they love the personal attention. We take fewer dogs than a lot of places because we want to take our time with them. We take no more than 10 a day. We don't want to just shave them down. We don't want to put the dog through anything that would make them uncomfortable. We want to make them look and feel their best," Cathy says.
One of Cathy's favorite things is getting creative with the dogs who don't have a specific style. "Groomers learn Yorkie and Schnauzer cuts but I love getting creative with other dogs. I recently did a Basset Griffon and I'd never worked on one of those. I did exactly what the mom requested and gave her a teddy bear head and rounded foot. I was proud of that groom. The mom was so pleased she brought her other dog the following week."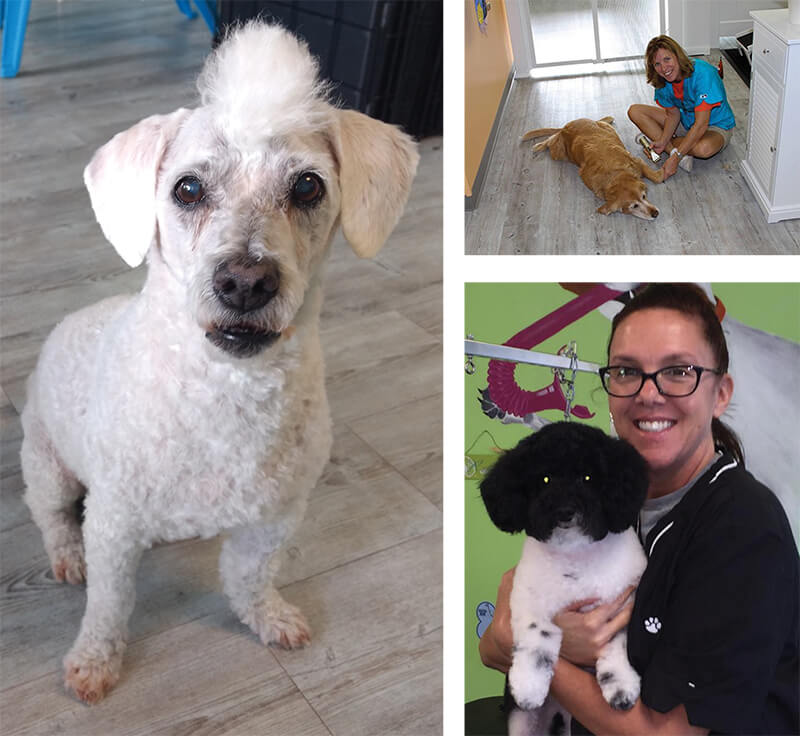 Cathy and Suzy enjoy learning about new dog products and grooming techniques, and sharing their knowledge with their customers. "We educate our customers that bathing is the most underutilized skin therapy. We talk to them about the importance of regular hygiene for their dogs and the amount of brushing that goes into a doodle's coat."
When possible, they enjoy getting to nearby pet events like Fun in the Sun sponsored by the National Dog Groomer's Association. The Orlando-based show holds educational seminars on skincare, health and grooming techniques. Cathy says, "We bring back what we learn to the salon."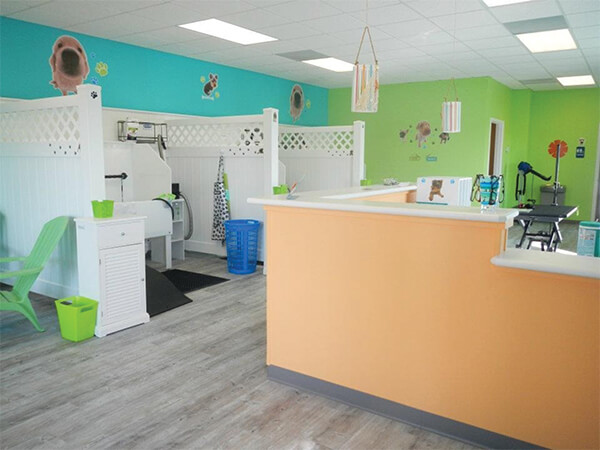 Like many salons, she tries to pre-book customers and keep them on a four– to six–week schedule. Though she's not afraid to refer elsewhere if it seems better for the dog. "If we have a dog who's too aggressive, or too old or feeble, we refer to the animal hospital since they have vet techs."
Barkle 'N Shine's COVID protocol includes taking dogs and payment at the door. Cathy says, "Customers don't come in the salon now." Instead, she meets them at the door while wearing a mask. She takes payment with an iPad and Square, "It's easy and uncomplicated," she shares.
The dog grooming salon is located on the corner of a business park plaza. It has a big window in the front which makes it easy to see inside to the open floor plan where the dogs are groomed. The salon is a sunny space that reflects the beachy surroundings with walls painted turquoise and green. The eye-catching decor combined with the doggies in the window is sure to catch the attention of any passing dog lover.
Through word of mouth, their Facebook page and advertising in a local publication, Suzy and Cathy stay busy giving Ormond Beach, FL pups their "MakeRovers."  ✂️