You may know Jay Scruggs as a popular speaker and judge at top industry events like Intergroom, Groom Expo and many others. He was also an award-winning competitive groomer, garnering titles such as "American Groomer of the Year" in 2001, the first recipient of the "Groomer of the Year Award" at Westminster Dog Show in 2002 and "Grooming Judge of the Year" in 2004.
But, what you might not know, is that when he's not globe-trotting to industry events, he runs a high-demand mobile grooming business in Germantown, Tennessee. A pioneer in mobile dog grooming, he started his business, Here Comes the Groom, in 1996, and is now booked out a year in advance.
"We haven't taken new clients in years and years. I have the same regulars; some dogs are weekly, and others are monthly," Jay says.
Like most groomers, Jay grew up loving animals. He even worked in a veterinarian's office while in high school as an assistant wherever he was needed: "I shaved down dogs, cleaned teeth and kennels, even washed the veterinarian's car," he recalls.
Jay then headed off to college, unsure of what he wanted to do. Three years in, his mom suggested he take a break. According to Jay, "Moms always know. She said, 'You don't know what you want to do. I found a grooming school. Do you want to take a semester off from college and try it?'"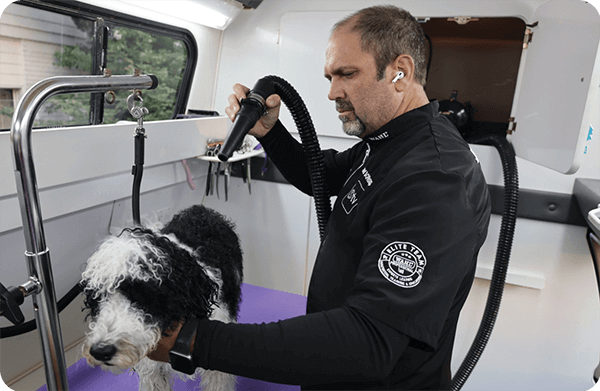 It turns out it was a perfect fit: "The first day I was there, I knew how to hold a clipper from my time at the veterinarian's office. The instructors said, 'We think you're a natural,'" Jay shares.
However, while grooming school went well, his first job wasn't such a perfect fit: "I lasted one day in a shop. It was crazy and hectic," Jay continues. "She told me not to come back; told me I'd never make it in the industry. The following day, I called a mobile groomer and went to work for her. When I won the World Championship in 2001, I sent my first boss a copy of the article and a note that said, 'Remember me?'"
Things have only gotten better for Jay since those early days. He runs his mobile business as a solo operation and plans to keep it that way: "People always say, 'Why not get another van? Expand?' But I like keeping it simple. I'm so particular about what I do. I just raise my prices, and I sleep well at night," he shares.
Jay is also systematic in his approach to work. When it comes to scheduling his appointments, he doesn't travel far: "My schedule is tight. I might travel 5-10 minutes in between customers. If you drive 30 minutes in between customers, you could have groomed a dog in that time period," he states.
When it comes to the grooming work, he also has a process: "It depends on the dog's preference, but I usually do body work, legs, feet, and then head. I have a lot of once-a-week customers and a few monthly clients. Mostly they're bath, brush, and maintenance grooms," Jay continues. "No matted dogs, and that makes it efficient."
His customers pre-book their appointments for the year in November, so it's easy to schedule around competitions and other activities. For example, when not involved in dog grooming, Jay finds time to coach his child's high school basketball team.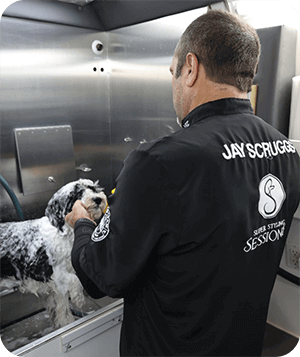 When asked if he had any advice for groomers contemplating whether to open a brick-and-mortar shop or do mobile grooming, he said, "My advice is, first, work for someone in both environments. Some people get claustrophobic in the van, and some don't like working alone all day. Other people like having people and dogs around them all day in a shop environment. Try both out and see what suits you."
Some other advice Jay offered was investing in quality equipment: "You need an excellent dryer, really good clippers, and a hydraulic table. These make a huge difference in your profitability," he adds.
Besides good equipment, Jay says these other factors are important for charging premium rates: "Being on time is key. Keep your van clean. Dress and act professionally. Then you can charge the higher rates of a mobile groomer.
"Many groomers burn out because they're not charging what they're worth," he adds. "I say, 'Our prices start at "X" and go up.' I would never say, 'We start at "X" and go to "Y"' without seeing the dog. If you haven't seen the dog, you don't know the coat's condition. For example, if the doodle hasn't been to the groomer in six months, it will take longer."
In addition to running his successful mobile business and being a well-known groomer, judge and speaker, Jay also runs the subscription-based training platform for groomers called Super Styling Sessions in partnership with fellow superstar groomer Sue Zecco. The team now has over 1,400 training videos available ranging from breed trims to everyday questions answered. Jay is also a Wahl Elite Team Member, a Groomer's Choice Brand rep and has his own line of shears, The Jay Scruggs Signature Series.
Jay is an open book when it comes to grooming and grooming education, and, without a doubt, one of the best. But he says if he hadn't been a groomer, he would have found something else to do with his hands: "I also had a lawn care business as a teenager. I've fixed up and flipped houses with my wife. I've always worked with my hands," concludes Jay. ✂️