Angela Kumpe and creative grooming go hand in hand. With 27 years of experience in the grooming industry, Angela has been one of the biggest driving forces in bringing creative grooming to the forefront.
Her creative designs have won countless awards in competition, she's been featured on several television programs and documentaries, and her work has graced the cover of Groomer to Groomer Magazine seven times!  She has won the Barkleigh Honors award for "Creative Groomer of the Year" four times and "Book of the Year" for one of her two books about creative grooming. She has also built a brand selling everything a creative stylist needs. I proudly get to call her a friend, and we got to chat for a bit to get all the details about her success. 
Jonathan: Good morning Angela, I'm so happy we finally got to sit down and chat! Let's talk about your roots in creative grooming. When did you get into creative grooming and what drew you to the art?
Angela: I started coloring pups long before I started grooming. My aunt Mildred had toy Poodles and she always kept them colored. It was a treat to get to help her color them. We used Kool–Aid and did full–body color or just ears and tail. It was nothing like what you see on stage today, but I absolutely loved it!
As far as creative competitions, I didn't even know trade shows or competitions existed until 1999 when I bought an old grooming salon. While going through a pile of old Groomer to Groomer magazines, I found the first creative cover I'd ever seen, and it was an instant addiction. I opened the magazine and read the article then immediately started looking up trade shows. My first trade show was the Atlanta Pet Fair in 2000, but they canceled the creative because of lack of contestants. So, I entered the creative competition at the Dallas US Pet Pro Classic that year and won 2nd place.
Jonathan: As a creative groomer, how have you seen this unique category of competition change through the years?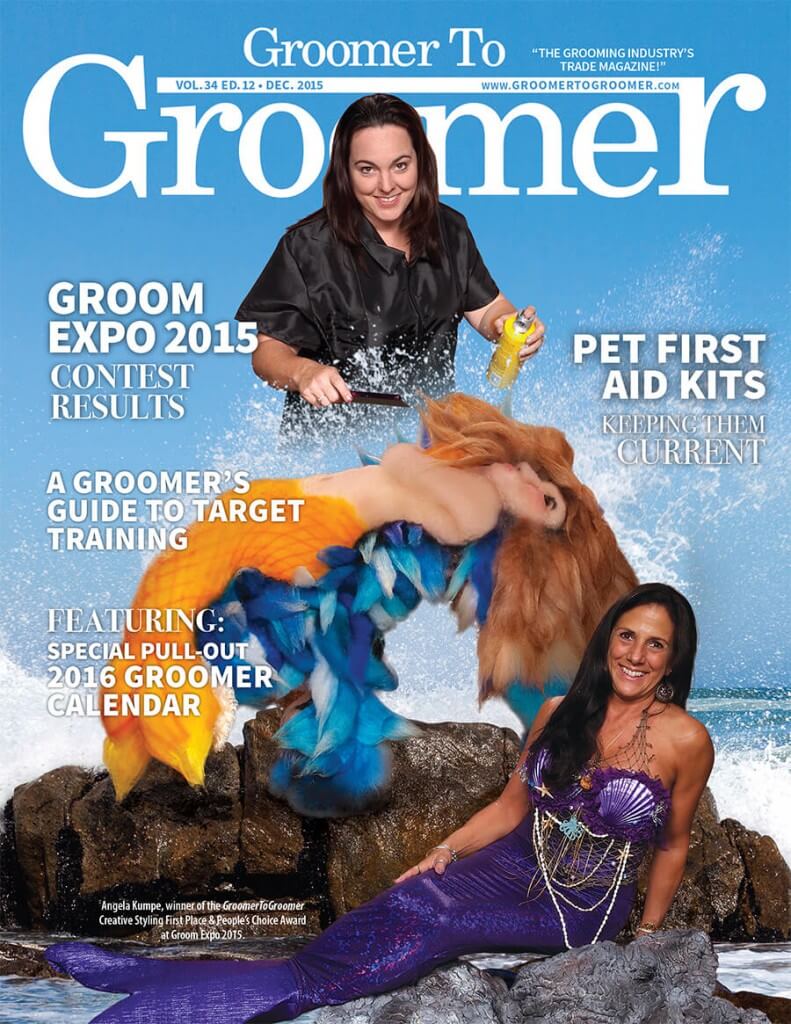 Angela: Creative grooming has evolved drastically over the years! When I first started, simple designs with little or no detail could easily win. Now the designs are three–dimensional and very intricate, and the dye work and carving must be on point to place in today's competitions.
Jonathan: That's so true; the work is astonishing now. You're also an entrepreneur in the creative world and, not only do you run a successful mobile grooming business, you've built a brand selling everything a creative groomer would need. From writing two books to selling countless products, what led you to go from stylist to businesswoman in this niche of the grooming industry?
Angela: To be honest, I started [my business] because I wrote my first book about creative grooming. I got the idea because, once I started placing at most of the trade shows, everyone started calling and asking how to do creative, so I figured I would write a book about it. After getting booths to sell the book, everyone wanted the dye, brushes, tools etc., and it just grew from there.
Jonathan: Now that you've accomplished so much as a creative competitor and businesswoman, you moved on to be a creative competition judge and now a mentor. What did you look for as a creative judge and what does it take to impress you?
Angela: Well now that I've retired from the ring, I don't judge because I want to mentor and that would be a conflict of interest. However, before I retired I judged at some shows. I look for clean, crisp dye lines, even color application and detailed work. The overall design needs to be unique and have detail carved in, not just added on or colored in.
Jonathan: Speaking of those creative grooms, when you're not turning Poodles into bumble bees, you're at home on your "mini farm" with a handful of animals. Tell us about what your home life is like taking care of your animal family.
Angela: I'm one of those crazy people who never sleeps! I groom 12–18 dogs a day in my mobile, run an online store, prepare for trade shows and then take care of a bunch of critters. But I love it! My cows, which are named Bullet, Sassy and Burger are big pets, especially my longhorn steer, Bullet. One day I want to saddle–break him but I never seem to get the time. My chicken and rooster, Bonnie Ann and Clyde, are here because I think they're cute. My husband thinks it's for the eggs. I have Polish chickens simply because I like their crazy headpieces. The pig, Betsy, is a rescue that was my sons and she just roams free until deer season, then we will have to pen her up for safety.
Jonathan: Speaking of your animal family, you recently added a new member to the lot, a tiny silver toy Poodle named Frog. How did he come into your life and will we see some colorful designs on him in the future?
Angela: Well, I lost my soul puppy, Worm, at the age of 16 in January. Many groomers knew Worm because she was like a MasterCard—I never left home without her! Even though I was crushed, I knew I needed another tiny Poodle in my life. I found a breeder a few hours from me and went to look at a white female. I saw Frog and it was an instant attraction, but the only problem was, he wasn't for sale. It took me weeks of harassing the breeder to convince her that he was meant to be mine.
Yes, Frog will have color in the near future. He will be at the trade shows at my booth and, in this house, everyone has a job and his is to sell color!
Jonathan: Atta girl, put him to work! Thanks for chatting Angela and I look forward to seeing Frog sporting a colorful 'do in the near future. ✂️
Following the completion of this article, Angela was awarded the "AKC Leadership Award" at the 2021 Barkleigh Honors.