By Staff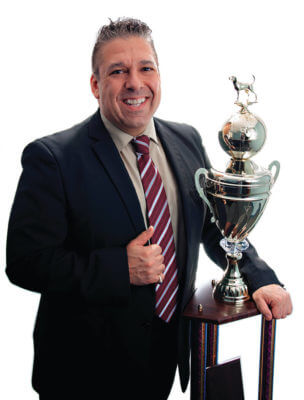 There is a new grooming contest debuting this year, and it's going to be a big one. The World Dog Grooming Championship will crown one groomer $10,000, the cover of Groomer to Groomer Magazine, a huge trophy (as seen on the cover), and other prizes. However, the biggest prize might be having the distinction of being the very first person to be crowned a world champion in an individual grooming contest. There will also be a Rescue Round-up and creative grooming competition.
Groomers from over 20 countries will be competing in this invitational. Each class will have a winner from the USA group and the one from the international group. The international and USA winners will then be judged against each other to determine the best in each class. Those four Best in Class winners will be part of the BIS line-up that will take place in the World Dog Expo Championship Arena on Sunday. The American Kennel Club and Nature's Specialties were the first to sign on as sponsors. More sponsors are being added.
Barkleigh Productions, in association with Joey Villani and Dave Walker, is producing the first ever, internationally focused dog expo. World Dog Expo is set to kick off June 9th of 2017 at the Meadowlands Expo Center, just outside NYC.
With the involvement of Villani and Barkleigh, the show will be heavily influenced by the grooming industry. "We see negative grooming stories in the news, but we don't see near enough stories about the positive things groomers do day in and day out," states Barkleigh president, Todd Shelly, "This show will put groomers front and center in a very positive way."
There will be a fully functioning grooming shop set up inside the main entrance. Show attendees will be encouraged to ask questions and observe the entire grooming process from check-in to check-out. There will be stations set up showing each stage of the process.
In addition to the grooming contests on center stage, groomers will be prominently featured as seminar speakers in World Dog Academy. "Groomers have a wealth of knowledge and we are going to spotlight that at this show." Explains Villani. Groomers will also be featured with vets and trainers in the "Ask the Experts" booth.
Because World Dog Expo is a show for the general public, there will be much more to the show in addition to the grooming. This premiere event will capture the attention of dog enthusiasts from around the world. Plus, as the first event of its kind, and with the growing international fascination with dogs, it is expected that this event will generate a buzz throughout the New York media market.
The three–day spectacular event will celebrate dogs everywhere in a large–scale, cutting edge multimedia format. With multiple stages, both inside and outside the impressive facility, attendees will enjoy world championship caliber events including dock diving and disc dog. They can also see amazing dogs compete in fly ball and agility, just to name a few. World Dog Expo will also feature an exciting breed showcase area, highlighting over one hundred breeds known from all over the world. A world championship grooming competition will spotlight the art of pet grooming as never seen before. And the show will work to promote dog rescue, fostering and adoption.
Aside from the spectator events, World Dog Expo will include educational seminars on proper care and nutrition, pet first aid, as well as other classes for pet owners. It will also feature industry specific classes for professionals in the pet care industry.
One of the main attractions of World Dog Expo will be the notable trade show event, featuring a huge array of dog–centered products across hundreds of booths. The trade show will be positioned throughout the two main halls, plus an outdoor events area. Attendees will be able to find the newest and best products for their canine companions. ✂