"Cats don't hate water, it's all about how you introduce them to it," says Certified Feline Master Groomer (CFMG) LaDean Gordon. "Out of the thousands of cats that we have groomed over the years, we have had maybe five who were truly hydrophobic. The rest just needed proper introduction and reassurance."
LaDean debunks a lot of popular myths about cats in her cat–only grooming salon, Purrocious Styles in Hampton Roads, VA. "There are myths about how cats shouldn't be groomed because they 'hate water' or it'll strip the natural oils in their fur. But none of that is true. Professional grooming is good for the cat's hygiene, just like it is for a dog's. Regular grooming removes dirt and extra hair so the cat doesn't swallow it and suffer with hair balls. It also prevents matting and pelting of the fur."
According to LaDean, "A lot of owners don't know cat grooming is a thing until they need it."
She says some pet insurance plans now cover cat grooming, and she has 17 veterinarians in her area who refer cats to her. Purrocious has over 800 cat clients on their books.
When LaDean and her family arrived in Hampton Roads, VA in 2014, she decided to open a cat grooming salon. "I'd owned a cat and dog grooming salon previously, but here, I saw a need for a cat–exclusive salon. There were no cat groomers in this area, but there was a dog grooming salon on practically every other block. And since my daughter Dezarai and I were Certified Feline Master Groomers (CFMG), it was the best thing to do."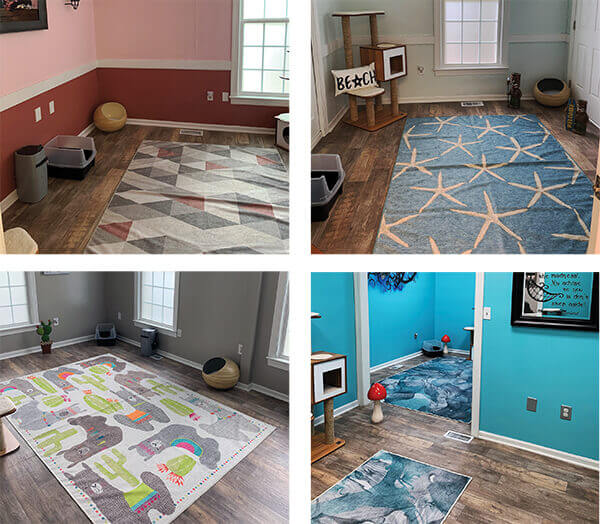 She opened Purrocious in a remodeled home office in 2015. "I wanted to start small and grow the cat clientele." In 2018, she moved the salon to a commercial building, and in June of this year, completed an expansion project. Now she rents a 2,200 sq. ft. facility complete with a new cat boarding resort.
LaDean says many cat owners are nervous when they bring their kitty in for the first time. "The owners are nervous that the cat will have a bad experience. We try to record video of the experience—'this is what your cat is like in the bath, or in the dryer.' It helps relieve the owners when they see their cat is calm."
She then walked me through a first–time visit. "The owner brings the cat in and we discuss the various grooming options and services we offer. Then, we do a temperament assessment which starts with looking at the cat in the carrier. Their behavior in the carrier is a good indicator of how comfortable they are and will be with the process. We always inform the owners it could be two to two and a half hours, because if the cat gets nervous, we want to slow down the process and reassure the cat."
They'll bathe and brush out the cat. Do the nails. If the cat is badly matted and needs shaving, they'll do that too.
"Some cat owners want their cat to have a lion clip so we need to see if the cat will accept it. We have a clipper–tolerance test, but some cats don't like the vibration on the skin. Sometimes we can work up to it over time. Cat grooming is based on trust and respect. We respect the cat's boundaries, and most get better with each groom as you build trust," LaDean says.
Speaking of boundaries, it's no secret to many pet professionals that cats prefer a dog–free environment. Even if the cat gets along with the family dog, that's "their" dog. Strange dog smells and barking are a completely different matter and they stress the cat out.
LaDean adds, "The risk of injury to both cat and groomer are higher when the cat is stressed. You need to be able to read cat body language. Some dog groomers treat cats as though they're dogs because they're not trained to groom cats."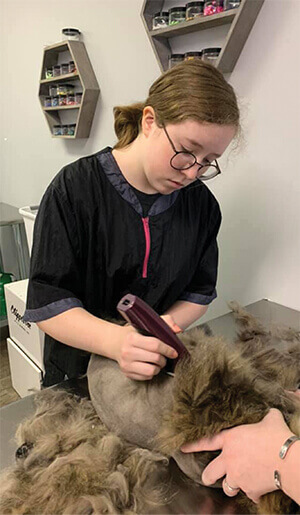 She's a stickler for safety, health and education. "We're certified in pet CPR and we're certified Fear Free to facilitate a positive experience. We're also certified by Iv San Bernard for healthy skin and coat." Most recently, she and her daughters were COVID–Certified through MOEGO pet software.
LaDean's younger daughter, 13–year–old Tabetha, recently became the world's youngest CFMG, passing her final practical exams through the National Cat Groomers Institute just this August.
Besides her obvious passion for cat grooming, LaDean has a message for other pet groomers: "We need cat groomers. There are less than 500 cat groomers in the whole world, and millions of cats. Cat grooming is so rewarding. If you love cats and it's something you feel like you can do compassionately, then invest in the training. It's amazing. It makes such a difference to the cats." ✂️