By Jen Phillips April

"We're going to someone's home to provide a one–on–one service. That's special," shares Maggie Springer of Diamond in the Ruff.
This philosophy has built a thriving company culture and a full slate of clients for her mobile grooming operation in Edmond, Oklahoma.
"When it's the dog's birthday, we get them a doggie cupcake and take a birthday card. When a dog passes away, we send a sympathy card. We also pick up the phone when people call. We have a full–time office person who answers the phone every time. It's important to me that we go the extra mile. We want people to know that we care," says Maggie.
That commitment to caring started with Maggie as an owner/operator back in 2009. "I learned about mobile pet grooming while living on the East Coast. I thought it was really cool."
When she decided to move back to her home state of Oklahoma, she found a small grooming trailer in California. "I went out there and drove it back. It was 5×8. It was like a clown car."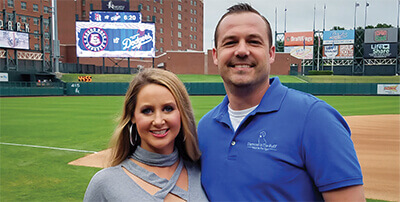 Now, Diamond in the Ruff has seven mobile spas and a staff of 10 to serve clients in and around Edmond, Oklahoma. Maggie's husband, Josh, has joined her in the venture. He handles the maintenance and advertising side of things, including video, photography and social media. Maggie handles the business side.
Maggie says, "Our mission statement is to create the most positive and creative grooming experience for the dog and the owner."
To fulfill this mission, she knows it starts with a dedicated team.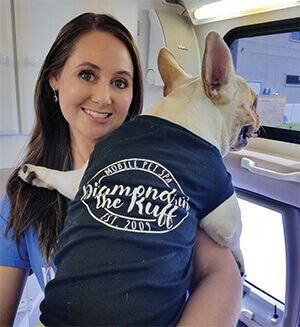 According to Maggie, "All of our Diamonds [staff] have such a high level of passion for their work and have outstanding business ethics and values. I love to see them grow in their career and as people. We promote learning and provide them with paid continued education opportunities every year. In appreciation for their hard work, we also pay 50% of their monthly health insurance premiums and offer many benefits, bonuses, and perks. When you find the right people to join your team, you must treat them like the gems they are!"
She also says, "Groomers are creative people. We encourage them to practice their art and continue their education. There's always a new haircut or a new Doodle."
Maggie built Diamond in the Ruff by networking with others. "I joined networking groups and connected with a community of other small business owners to get started. I was fully booked within my first four months and put all clients on reoccurring appointments."
She no longer grooms, but focuses on the business side, including book–keeping, benefit coordinating, HR, payroll and other tasks. "I oversee the company to ensure we are all running to the best of our ability. I still network within our community and enjoy supporting and collaborating with other small businesses," says Maggie.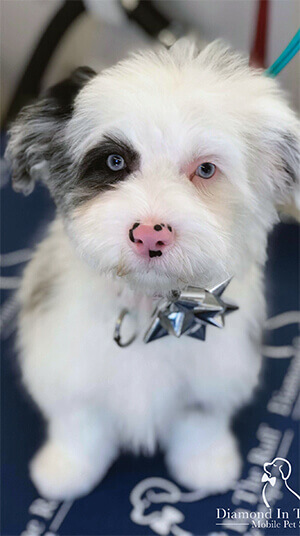 She's also committed to local charities and rescues. "I am passionate about serving our community and believe it teaches and instills ethics, compassion, and understanding that cannot be taught in a classroom."
Diamond in the Ruff has created a contact–free procedure post–COVID. "Our office staff handles all client interactions digitally or over the phone, emphasizing customer service and convenience. They create bookings, collect virtual payments, and confirm grooming instructions."
On the groomer side, they wear masks and gloves to retrieve the pet from a secure backyard or crate, eliminating direct human contact. Mobile spas are disinfected after each appointment with a CDC–approved disinfectant proven to be effective against Coronavirus.
"Health and safety is always our number one priority," says Maggie.
It's clear that Diamond in the Ruff will continue to set the standard for mobile grooming. ✂️